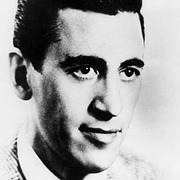 J. D. Salinger
(1919–2010)
Yleistieto
Kanoninen nimi

Virallinen nimi

Syntymäaika

Kuolinaika

Sukupuoli

Kansalaisuus

Maa (karttaa varten)

Syntymäpaikka

Kuolinpaikka

Asuinpaikat

Koulutus

Ammatit

Suhteet

Salinger, Margaret (daughter)
Douglas, Claire (1) (wife|divorced)
Maynard, Joyce (domestic partner)
Hemingway, Ernest (friend)
Maxwell, William (friend)
Ross, Lillian (friend) (

näytä kaikki

12)
Shawn, William (friend)
Burnett, Whit (teacher)
Hand, Learned (friend)
Hadley, Leila (friend)
Hotchner, A. E. (friend)
Salinger, Matt (son)

Organisaatiot

US Army (U.S. 12th Infantry Regiment ∙ WWII)
Counter Intelligence Corps (CIC)
The New Yorker
Ramakrishna-Vivekananda Center of New York

Palkinnot ja kunnianosoitukset

Lyhyt elämäkerta

Jerome David Salinger was an American writer best known for his novel The Catcher in the Rye. Salinger published several short stories in Story magazine in the early 1940s before serving in World War II. In 1948, his critically acclaimed story "A Perfect Day for Bananafish" appeared in The New Yorker, which became home to much of his later work. The Catcher in the Rye was published in 1951 and became an immediate popular success. Salinger's depiction of adolescent alienation and loss of innocence in the protagonist Holden Caulfield was influential, especially among adolescent readers. The novel was widely read and controversial.
Tilastot
Teokset

87

Also by

11

Jäseniä

101,250

Suosituimmuussija

#88

Arvio (tähdet)

3.9
Kirja-arvosteluja

1,416

ISBN:t

592

Kielet

39

Kuinka monen suosikki

482