Folio Archives 312: My Family and Other Animals by Gerald Durrell 2006
Liity LibraryThingin jäseneksi, niin voit kirjoittaa viestin.
My Family and Other Animals by Gerald Durrell 2006
This hilariously delightful book is a wonderful read. Set mainly on the Greek island of Corfu, which unlike most Greek islands, is off the northwest coast of Greece at the entry to the Tyrrhenian Sea and adjacent to Albania.
The Durrell family spent five years on this idyllic island and Durrell describes the weird and eccentric characters the family interacts with, along with innumerable animals (particularly dogs) that process through the family home. Geckoes, octopuses, bats and scorpions feature amongst many more.
To describe the book as hilarious is an understatement. I actually bought this from the old Members' Room of the Folio Society when visiting London in 2006, and started reading it on the flight home, but had to stop because my wife insisted my guffaws of laughter were upsetting the other passengers.
The book has xi + 265 pages and is lavishly illustrated with 62 lively colour illustrations and a line drawing frontispiece by Paul Cox. The illustrations vary from quarter page vignettes to double page spreads. There is a four page introduction by Michael Morpurgo. The endpapers are pattern printed in brown and cream and the book is bound in cream cloth blocked with a wrap-around image in gilt and brown. The red-brown slipcase measures 26.2x18.2 cm.
A second edition of the book was published in 2017 in a different binding but with identical contents.
2017 edition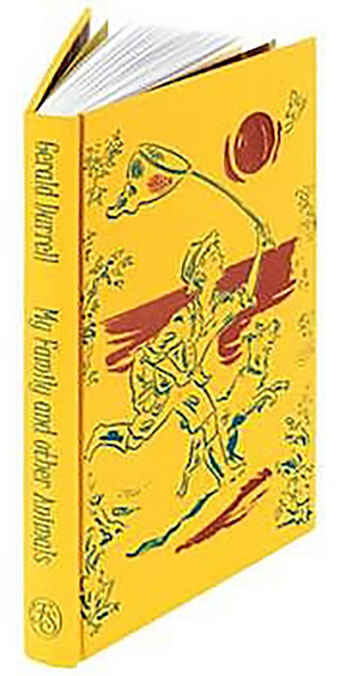 2006 edition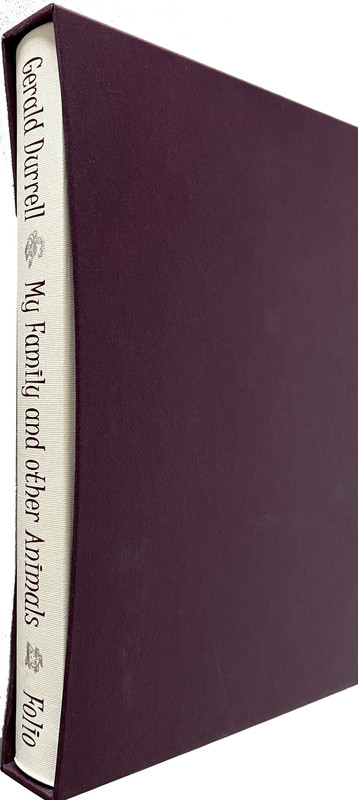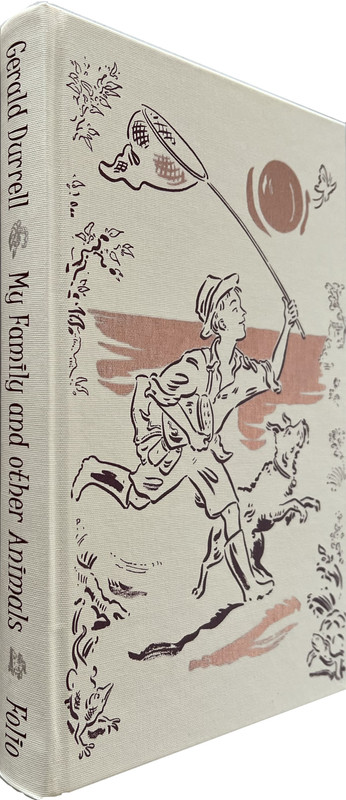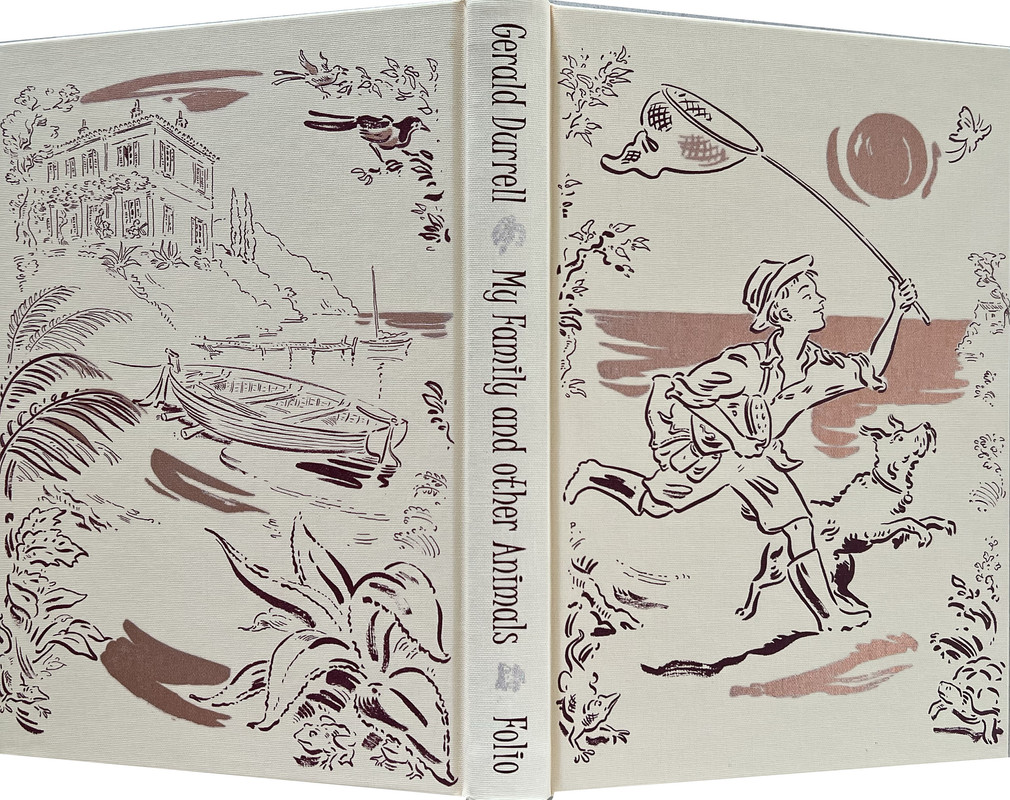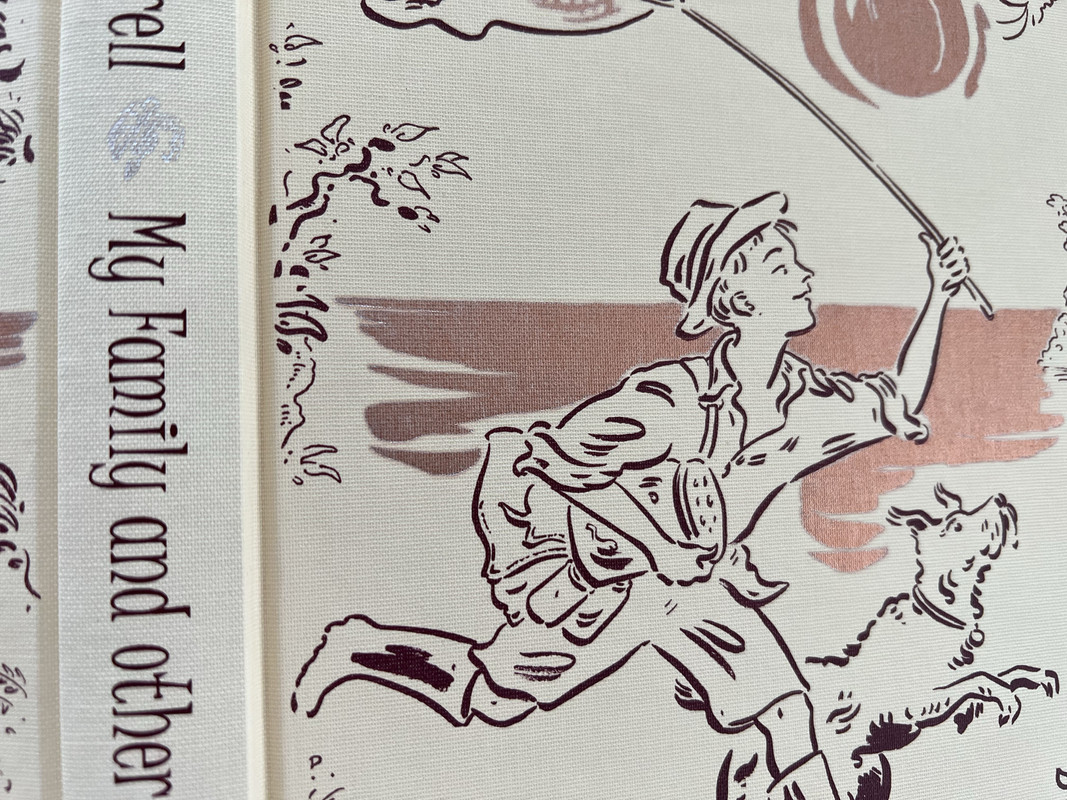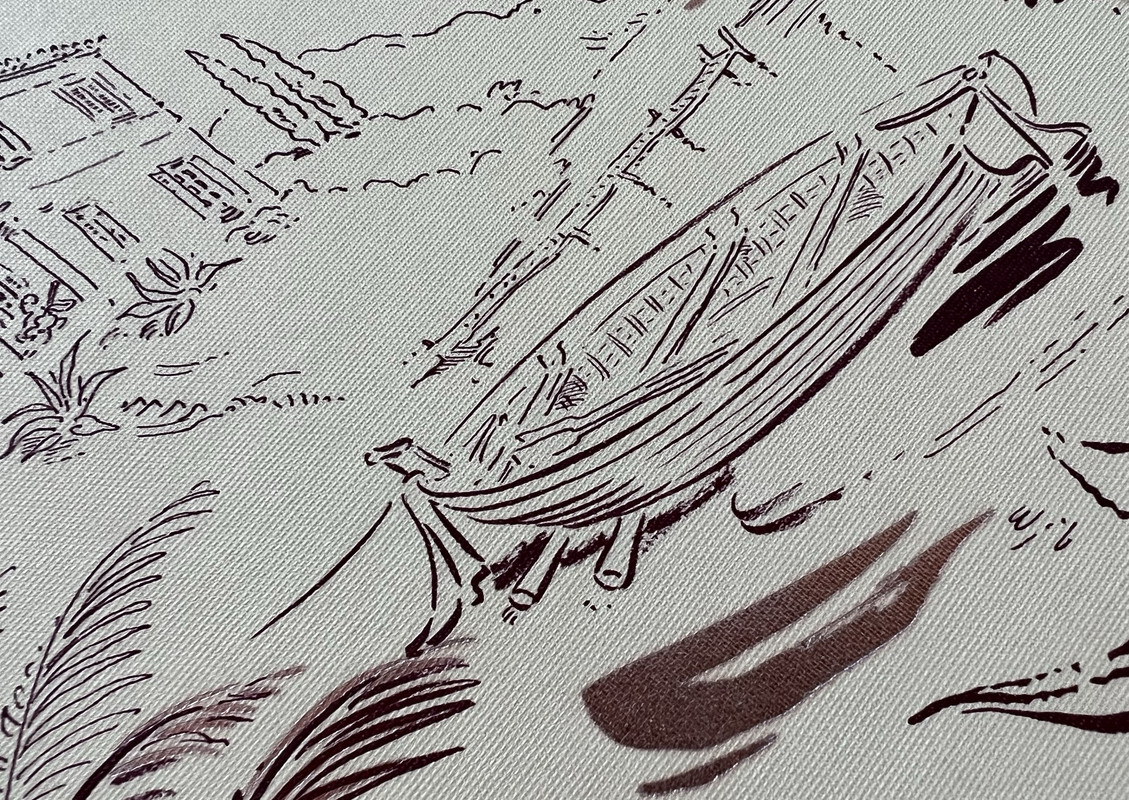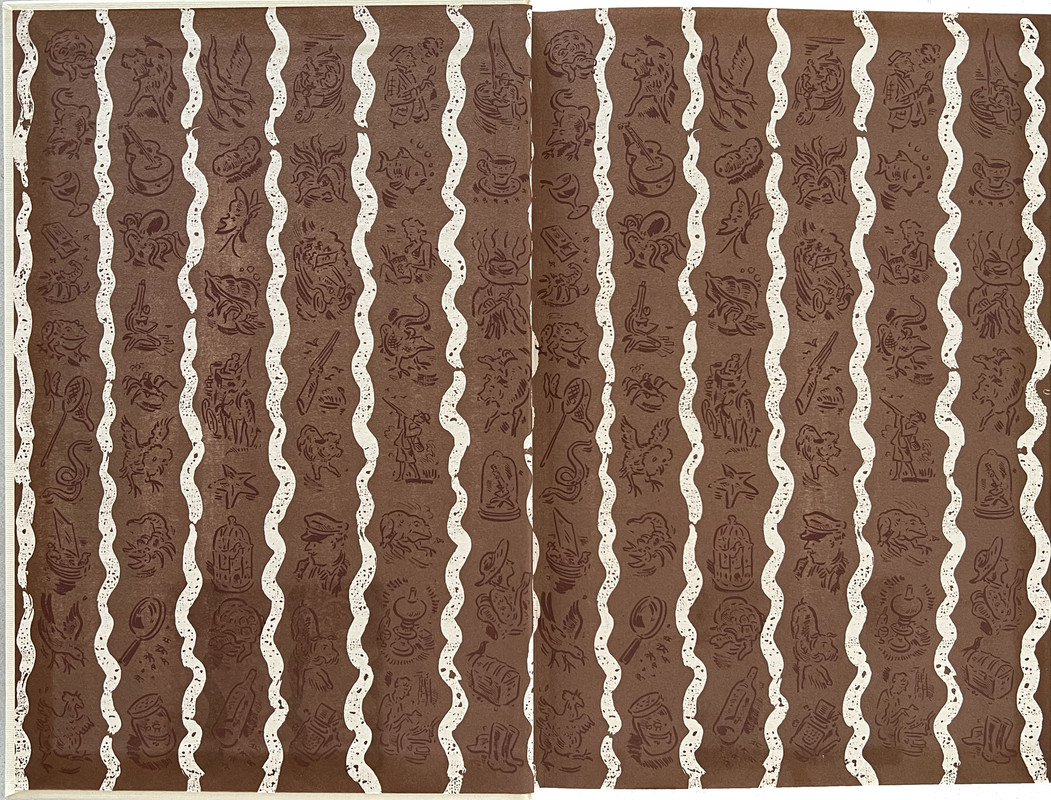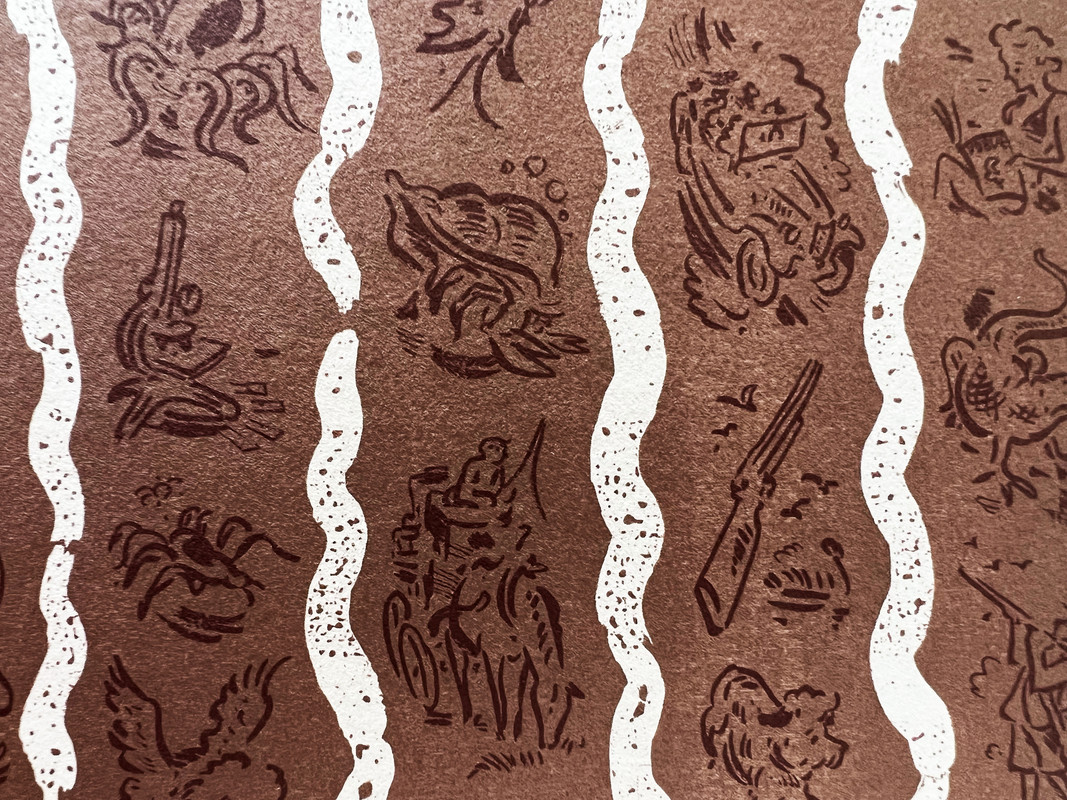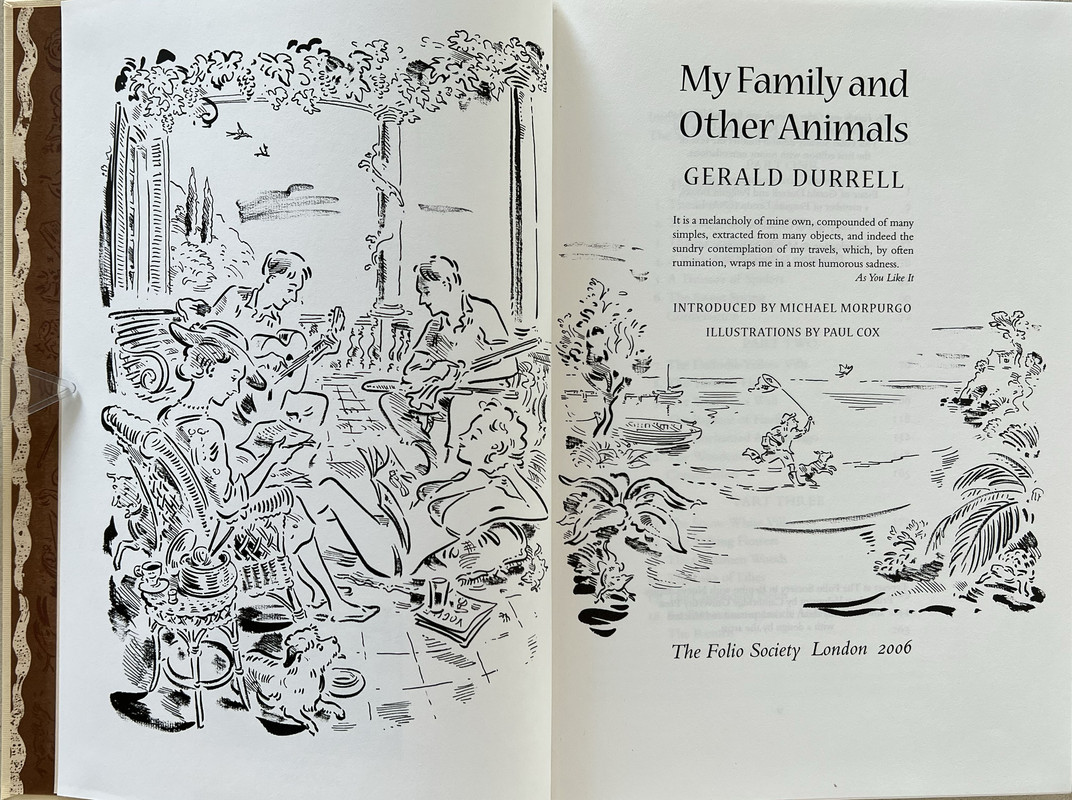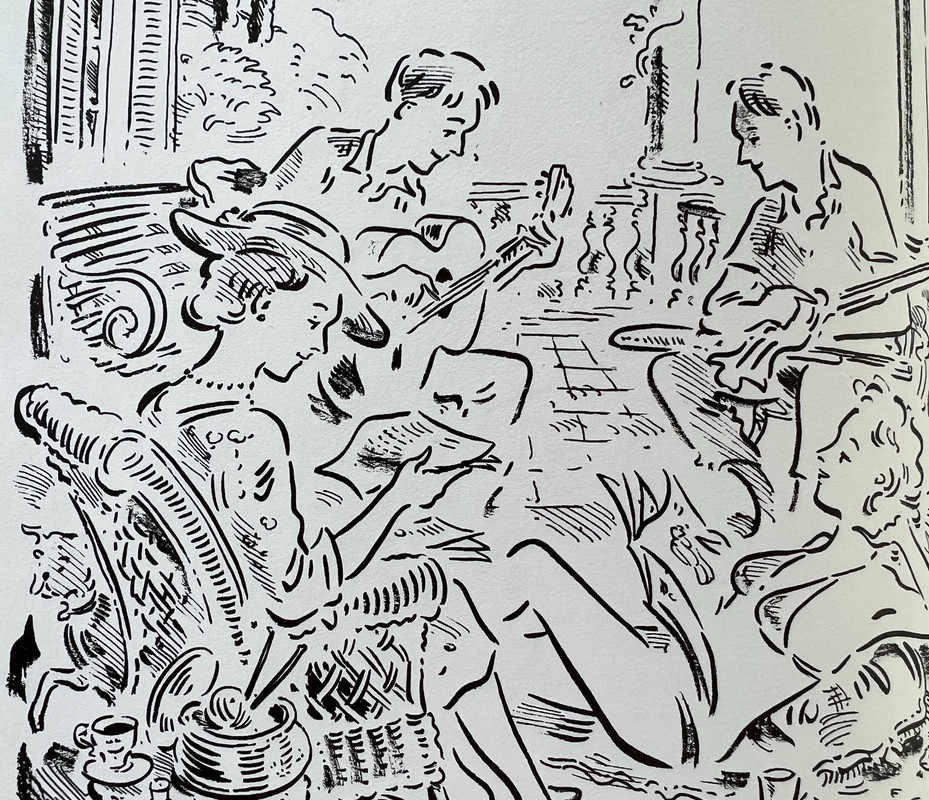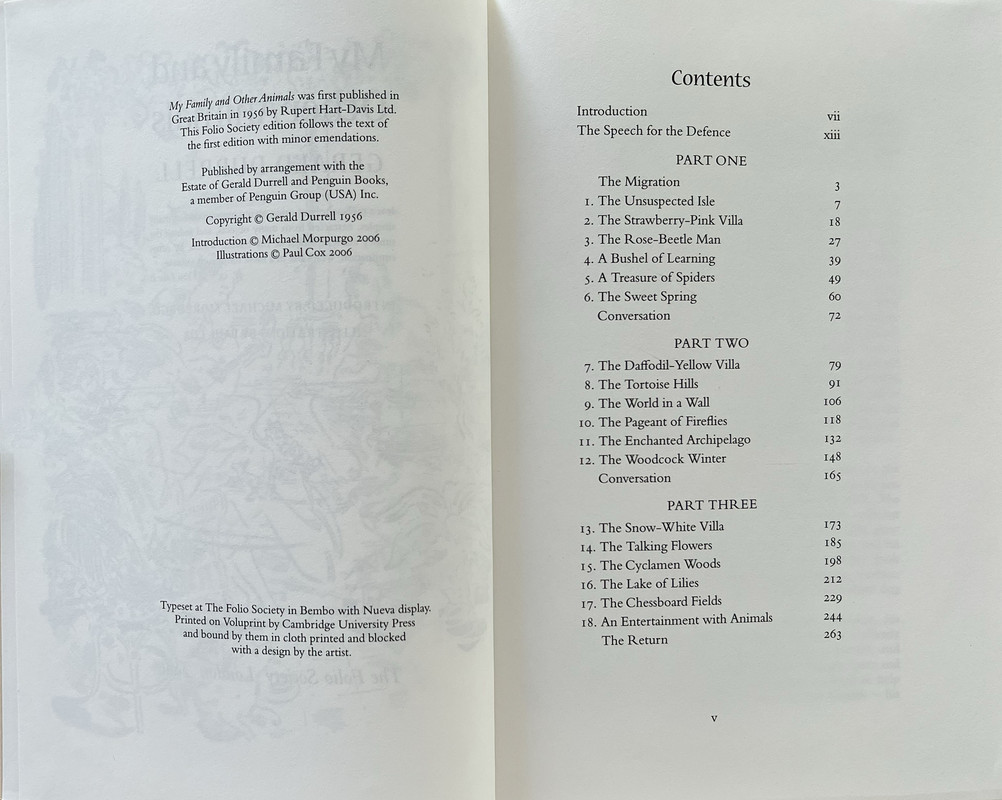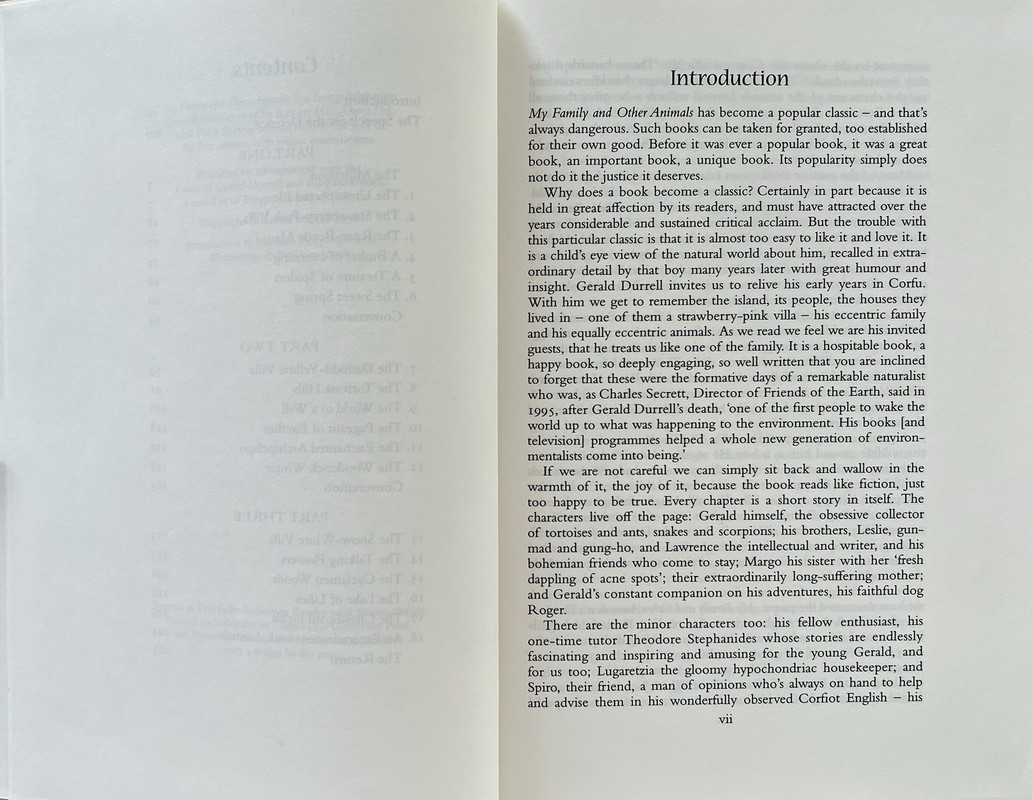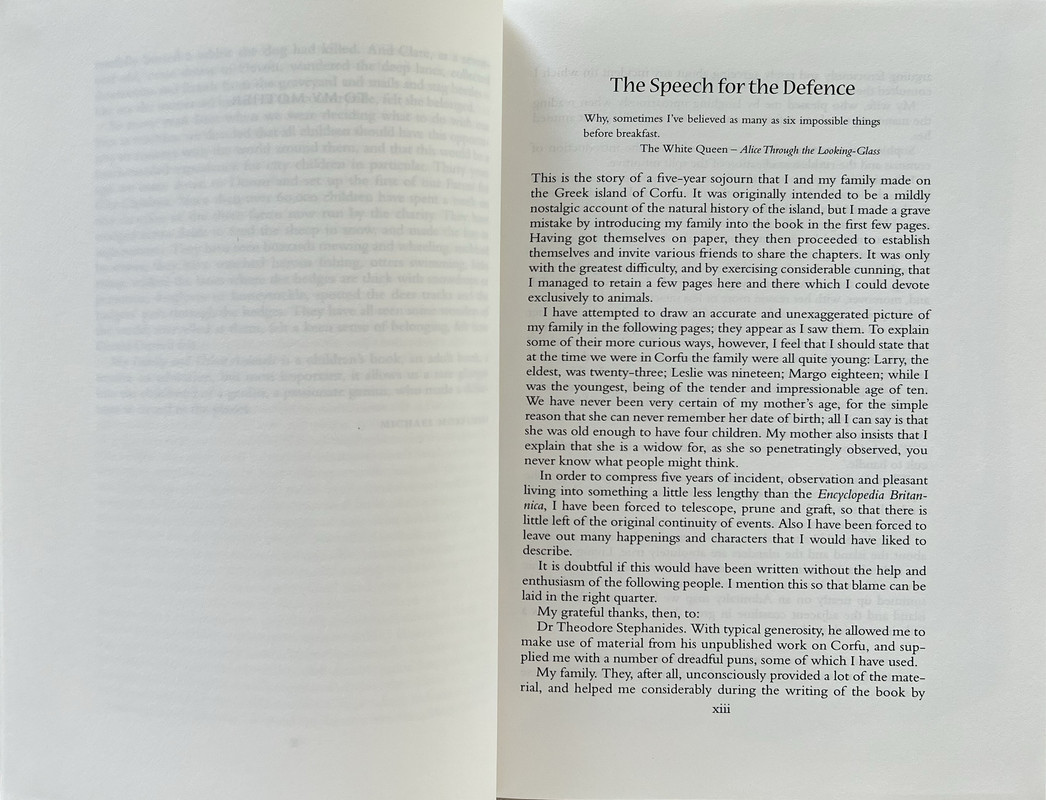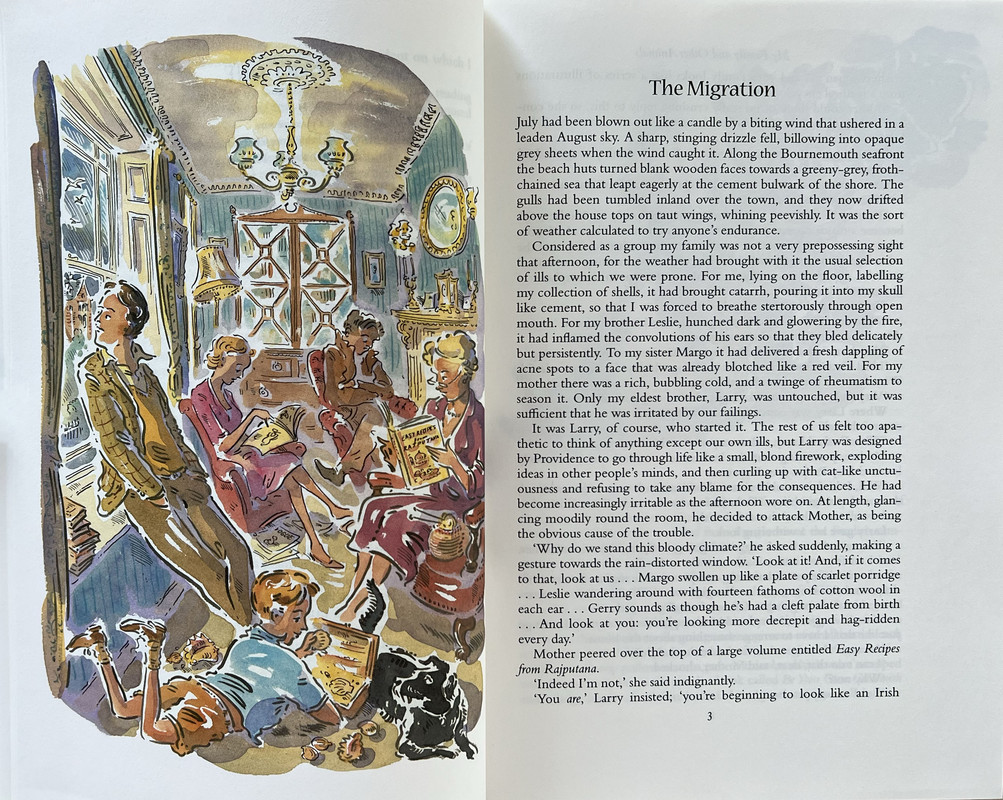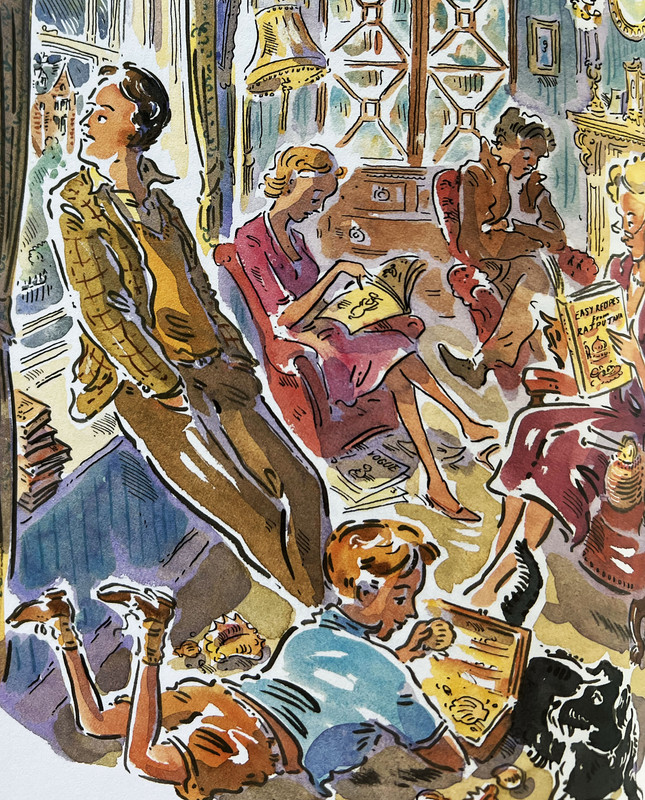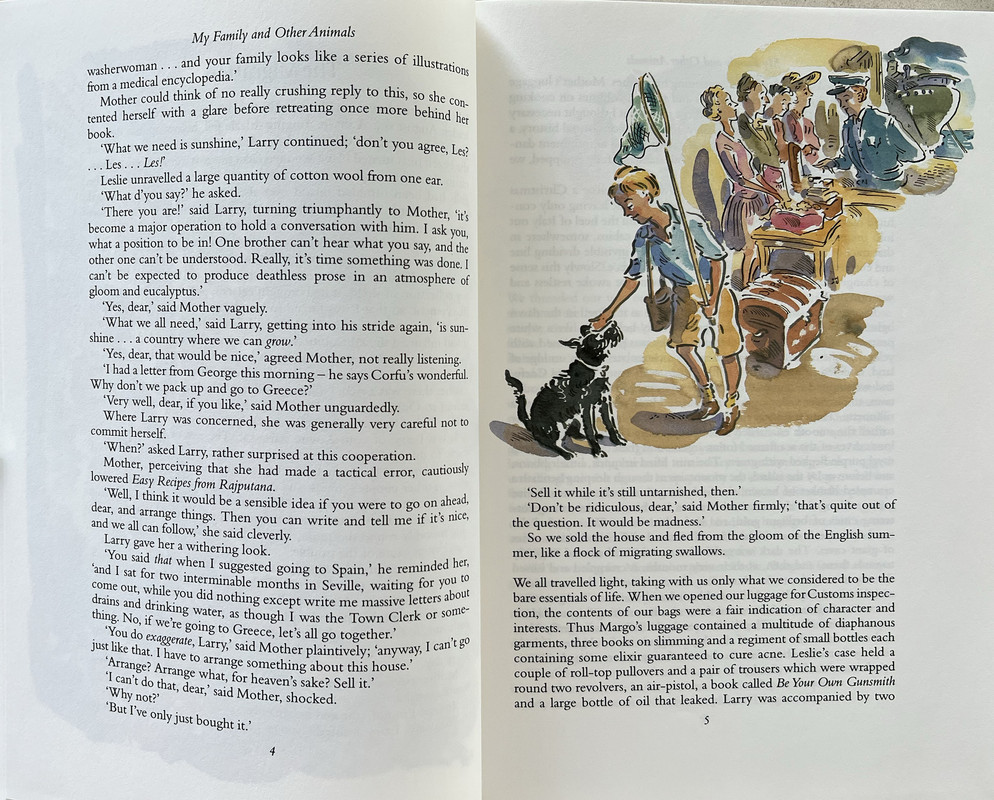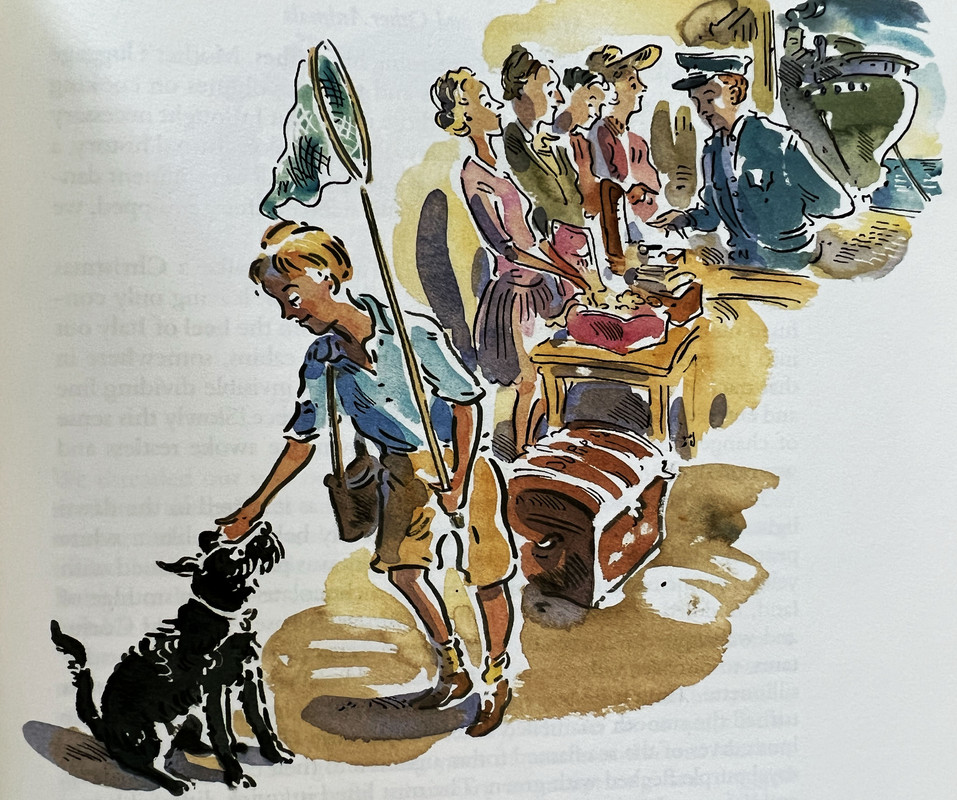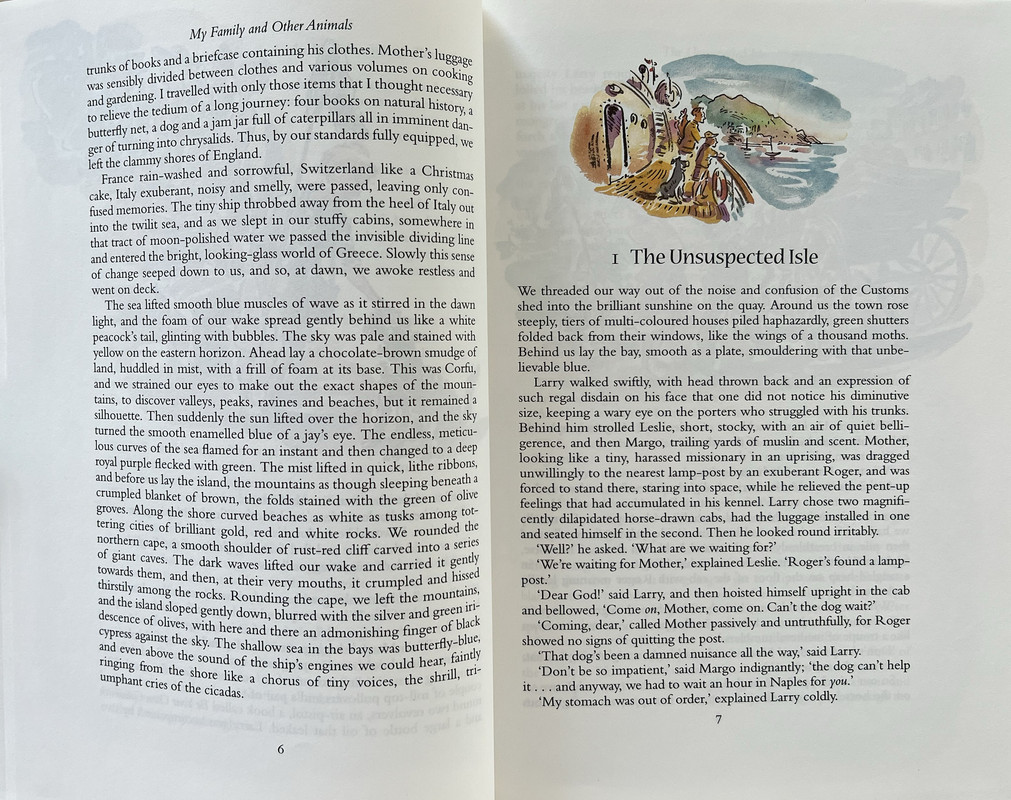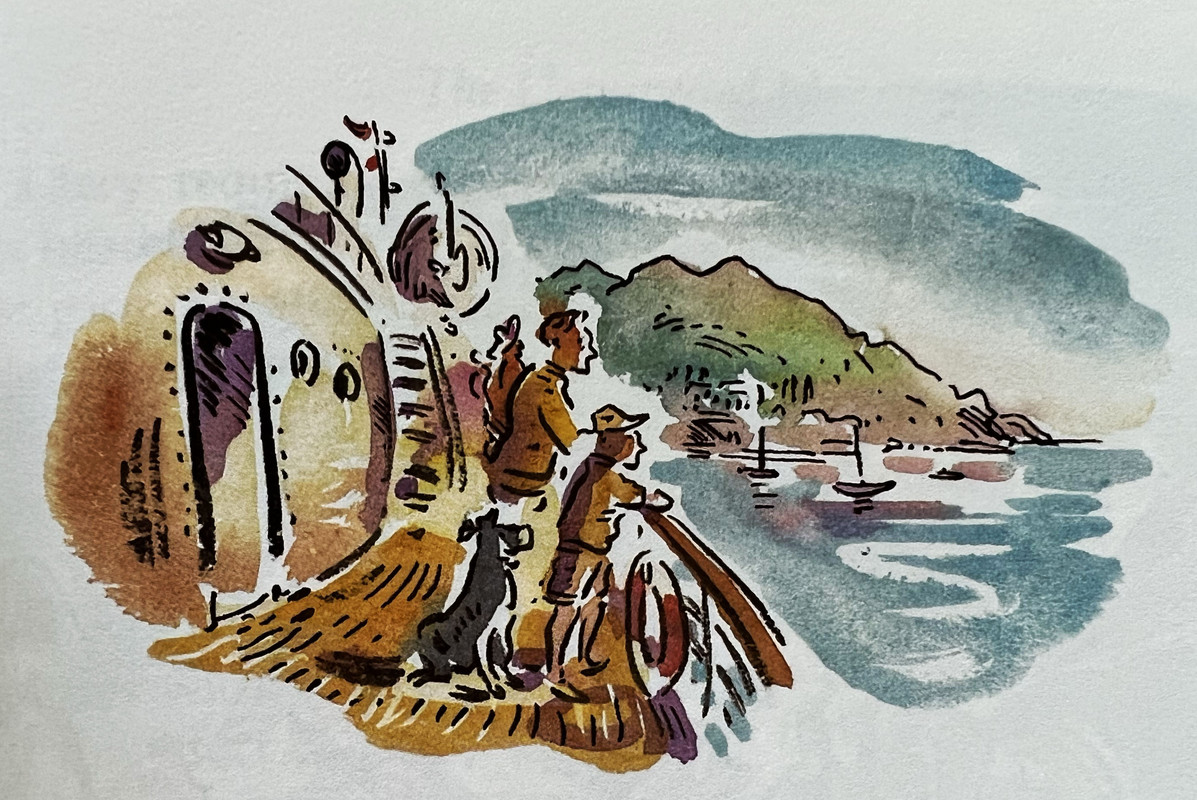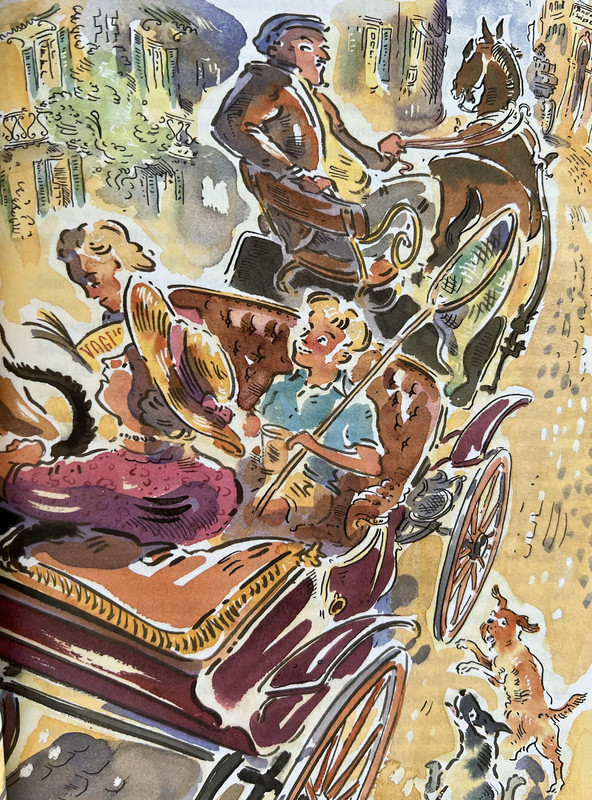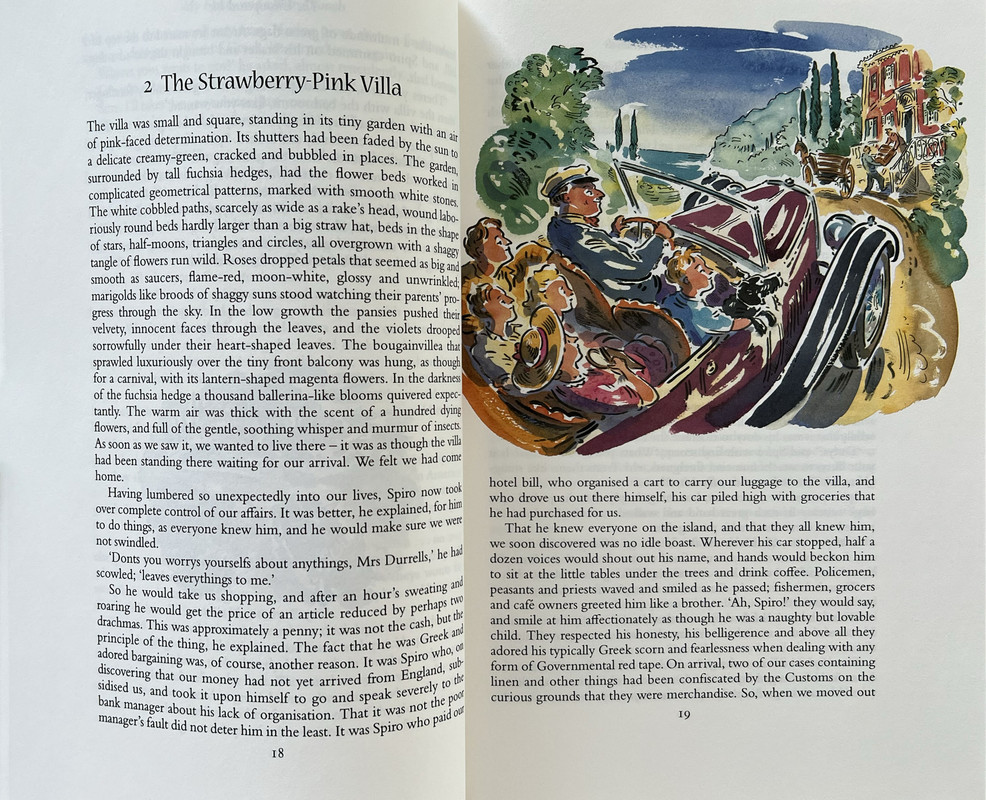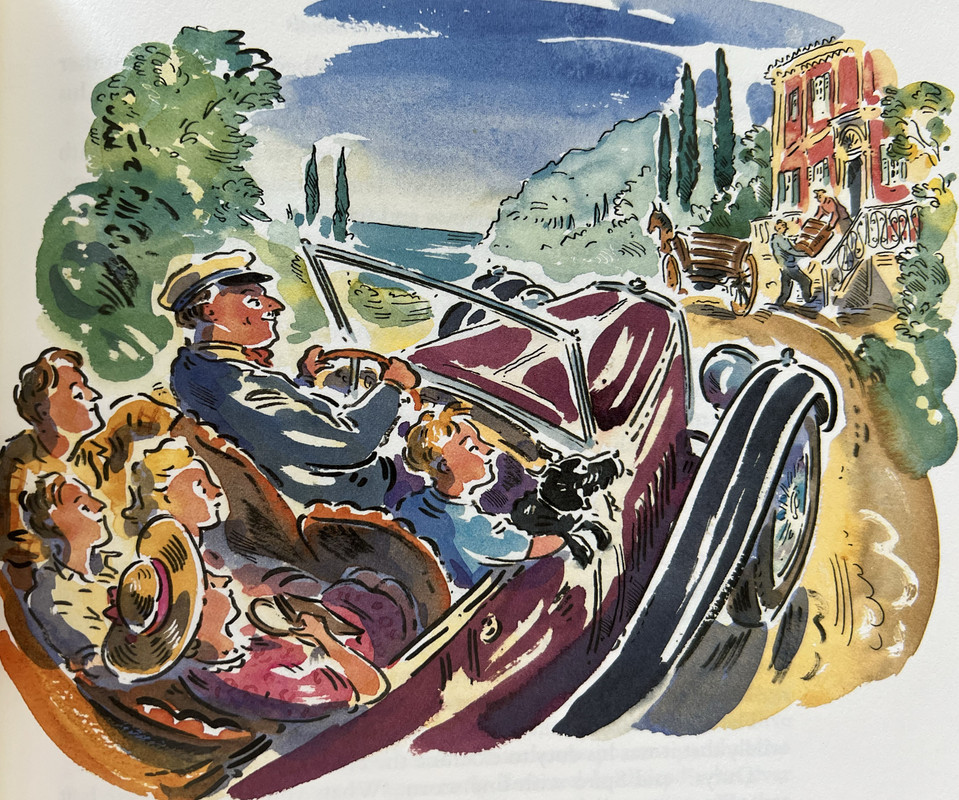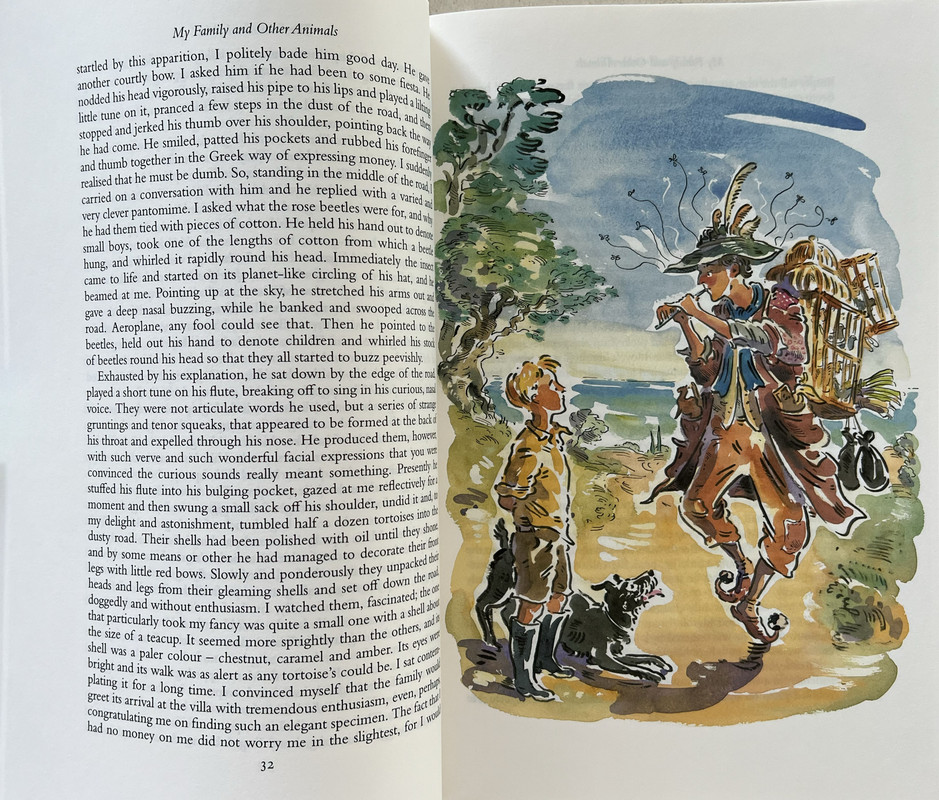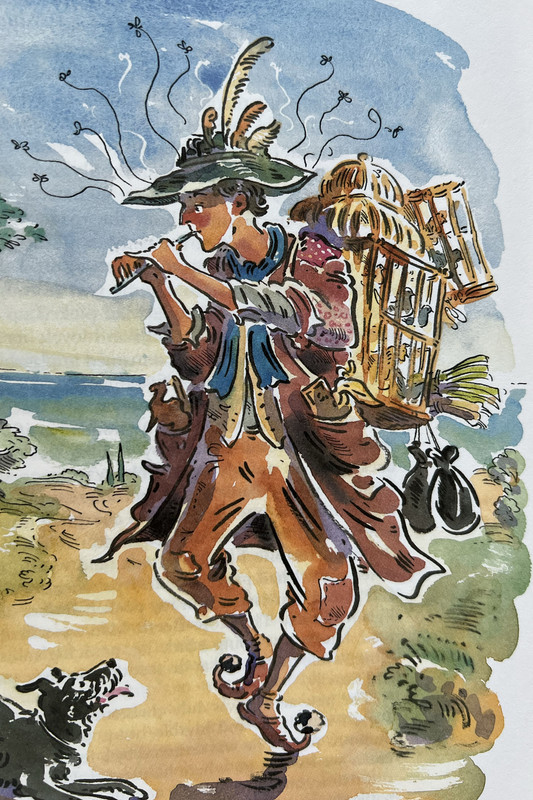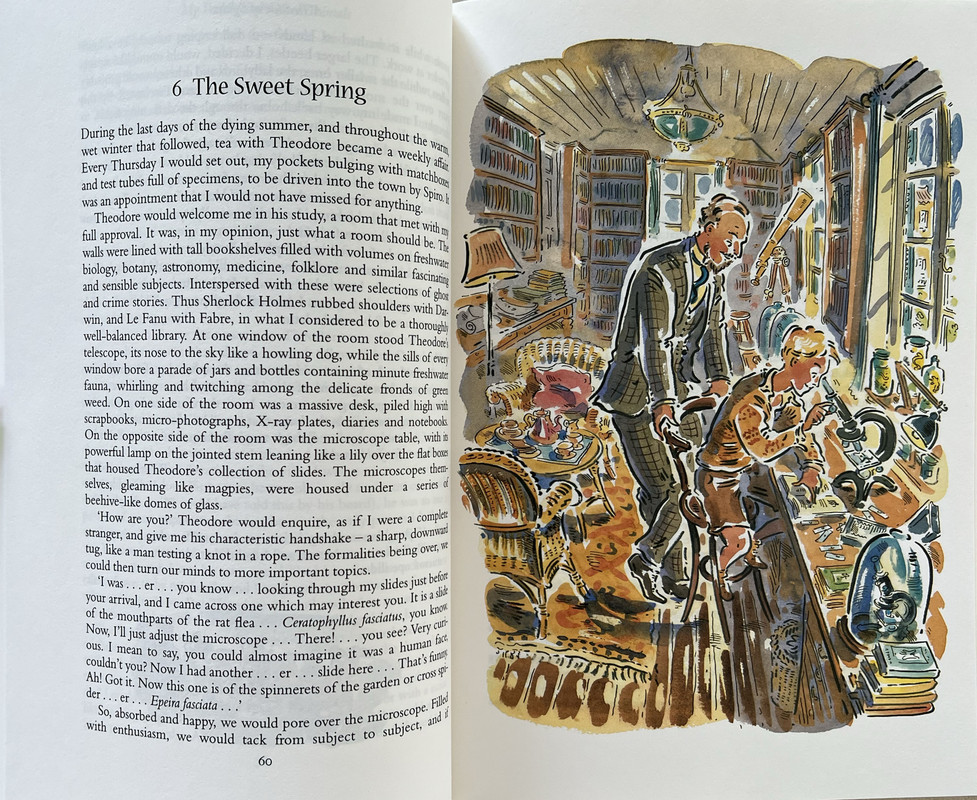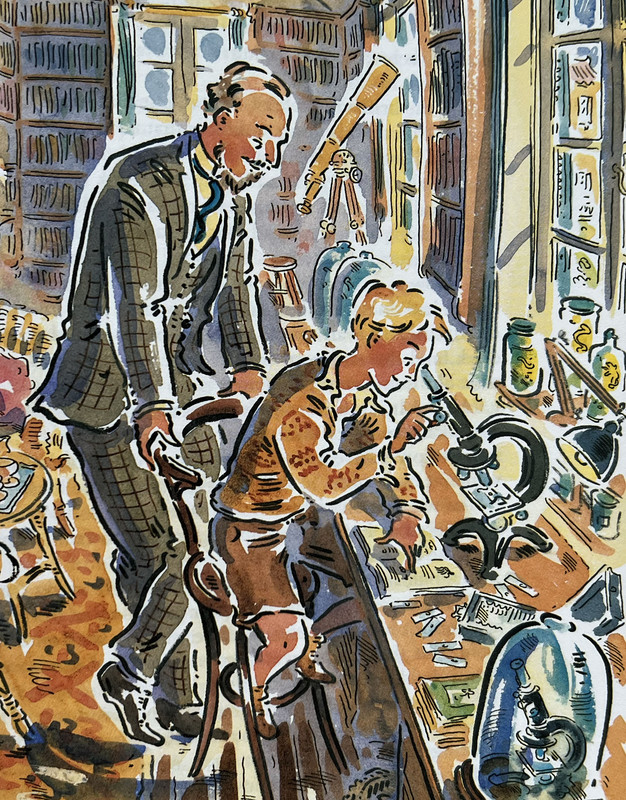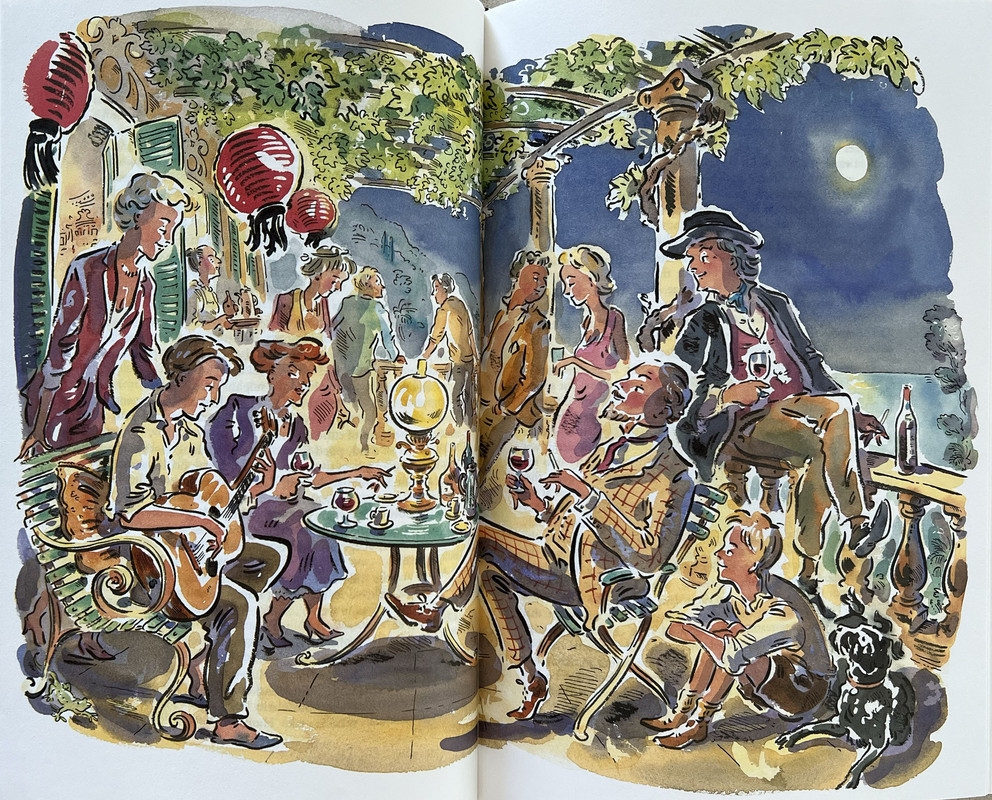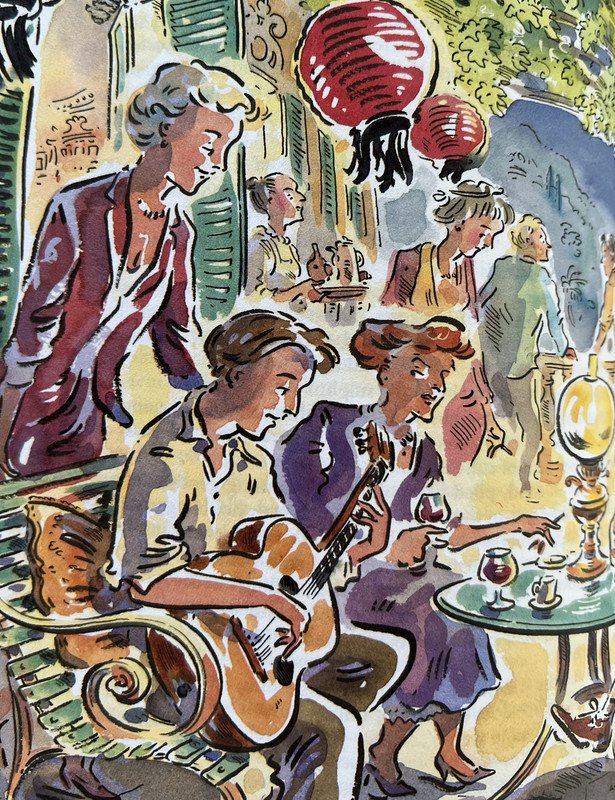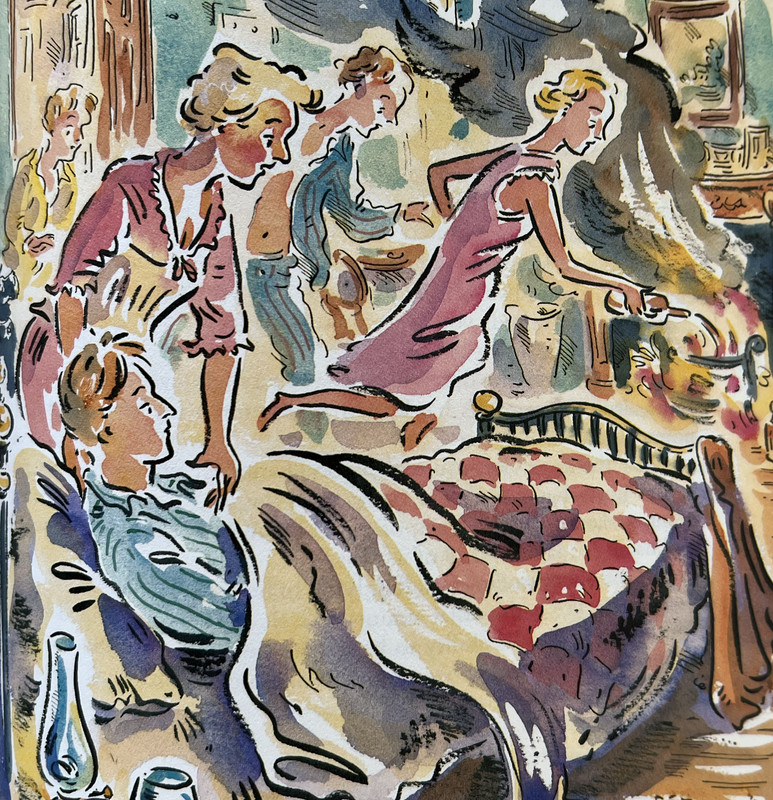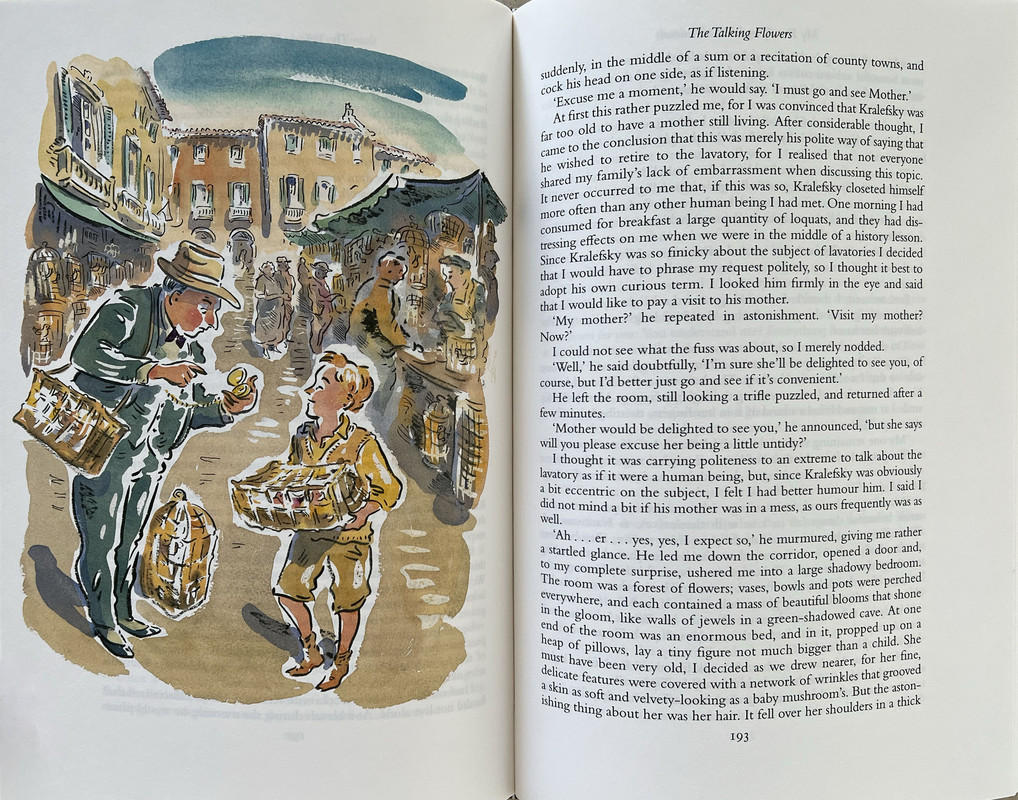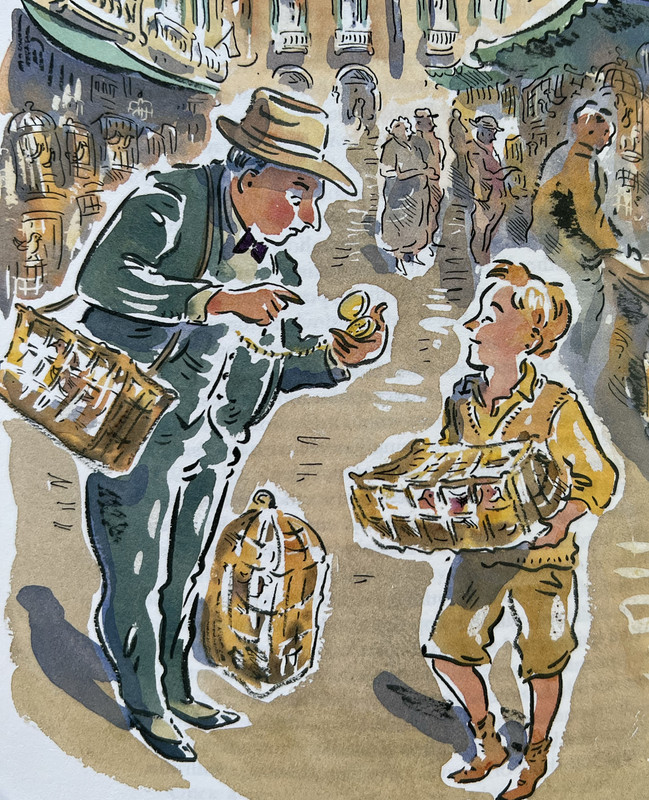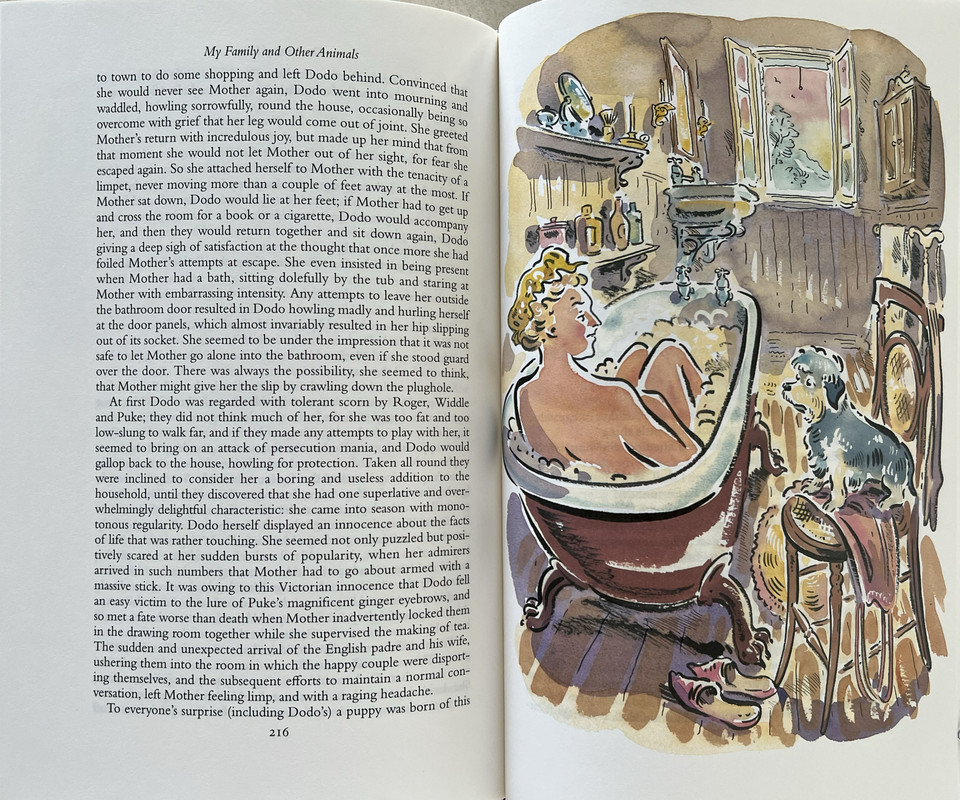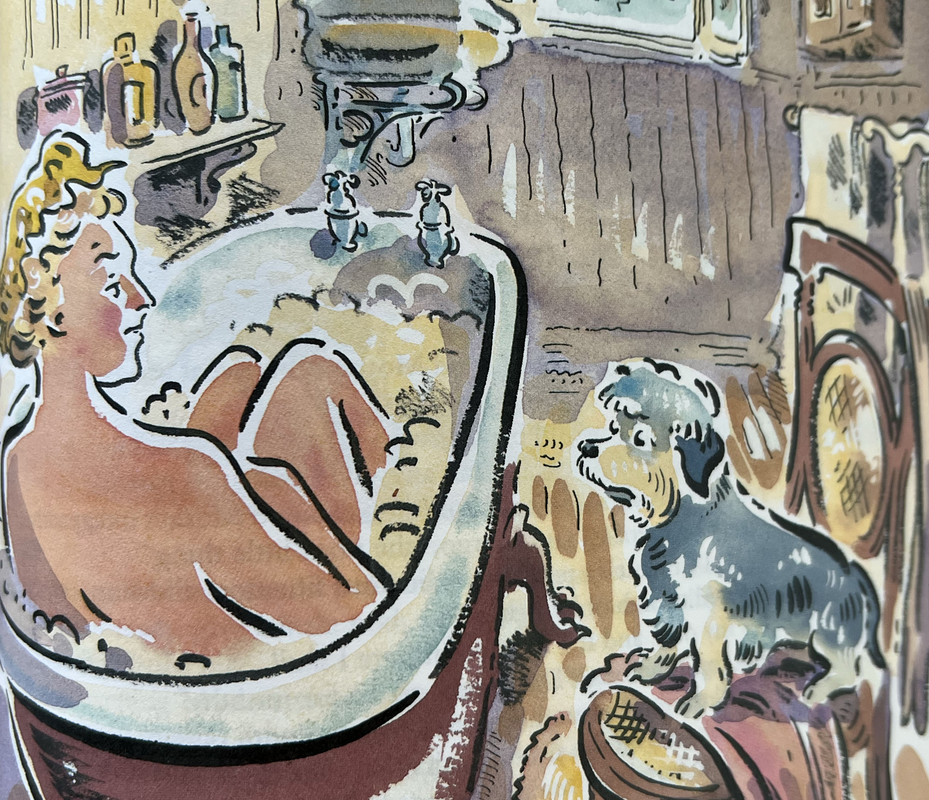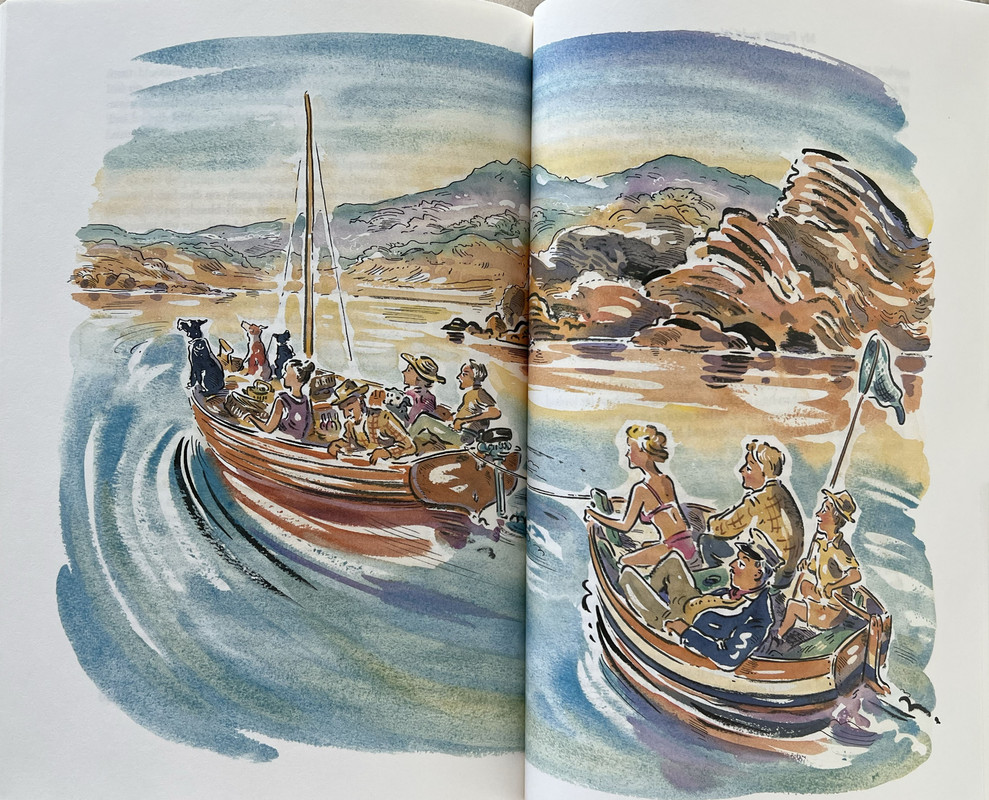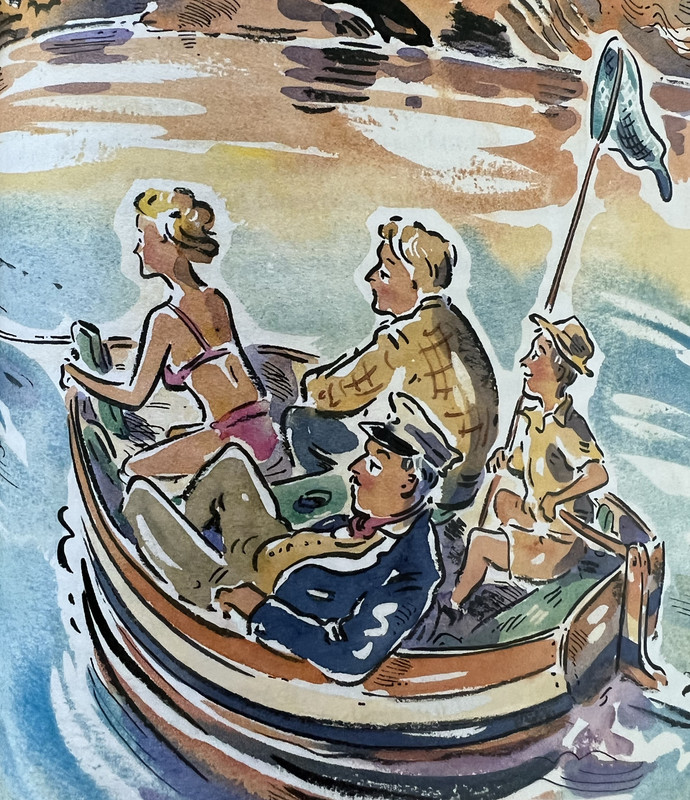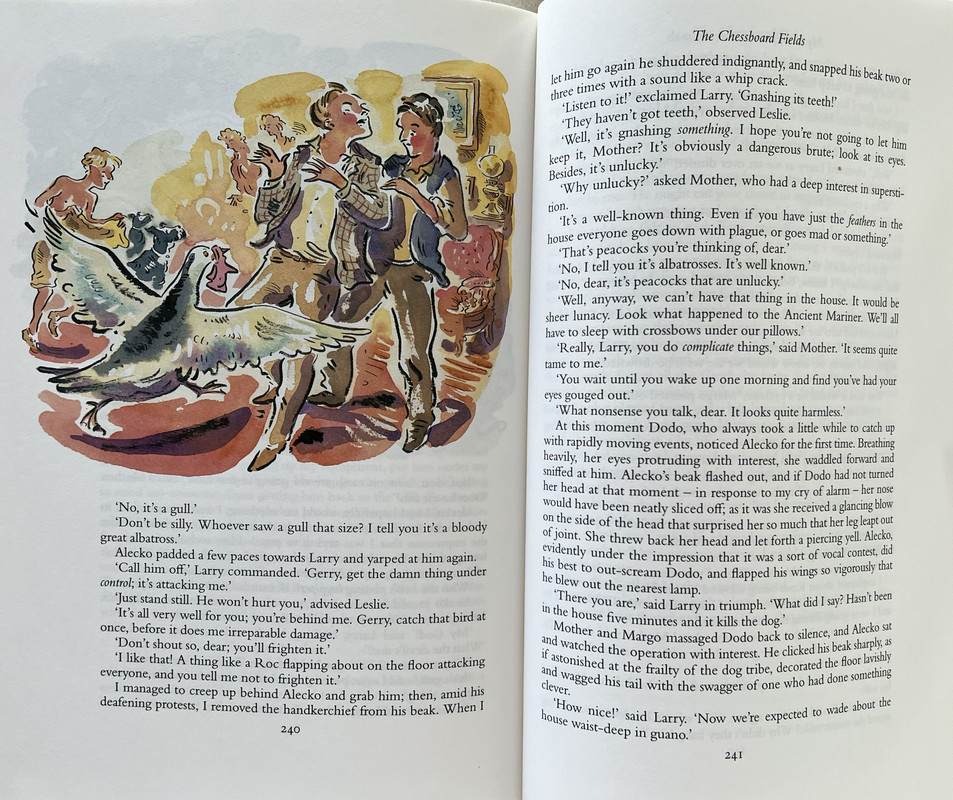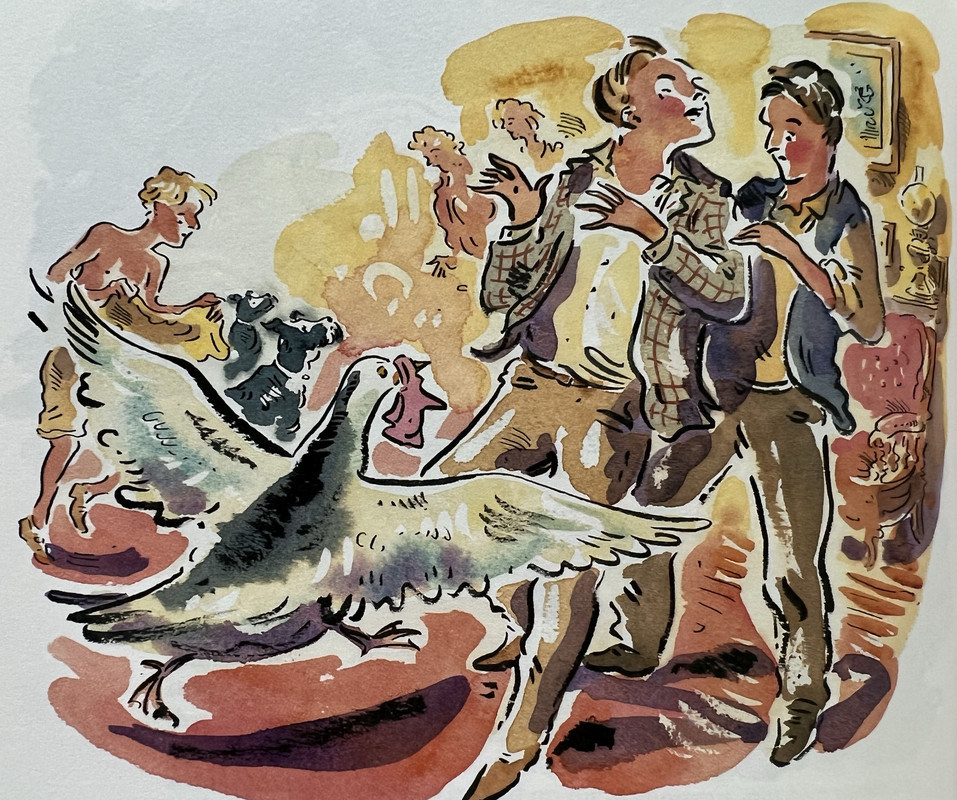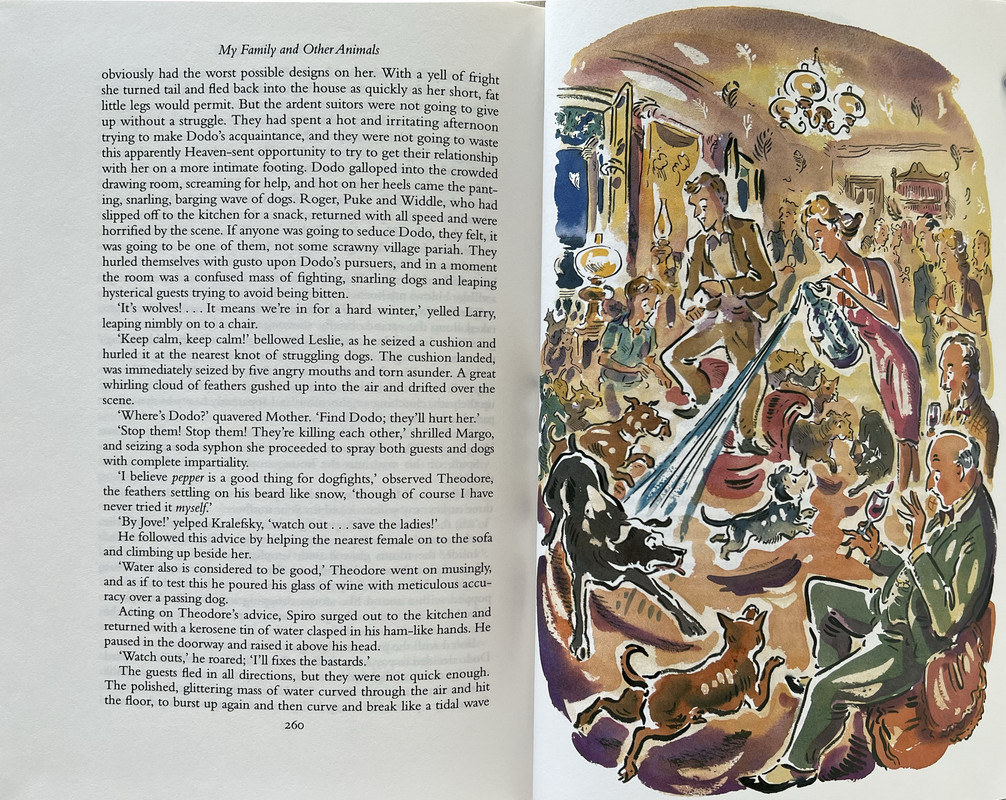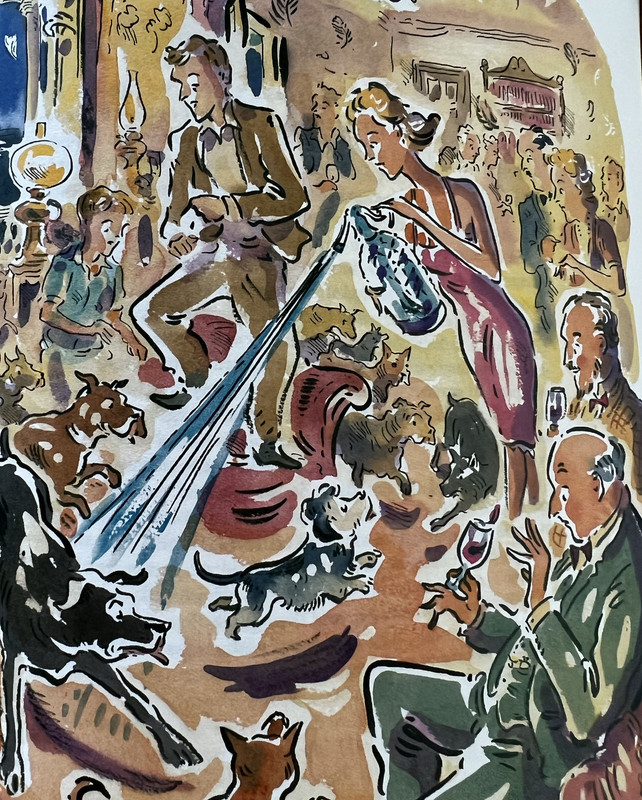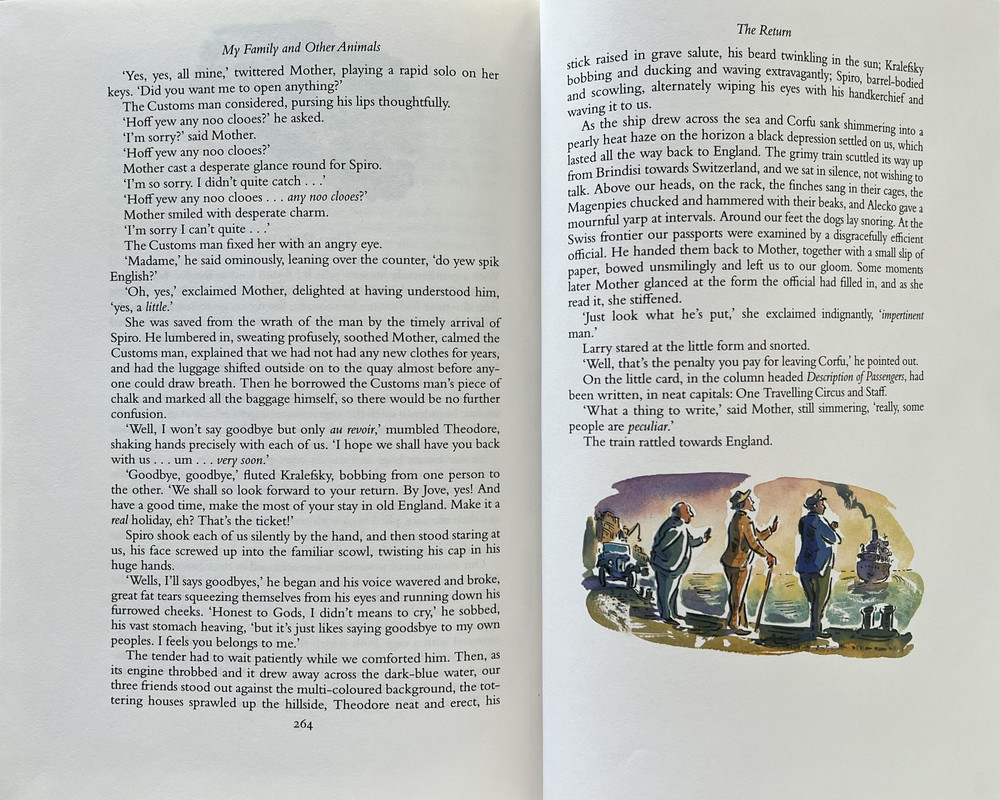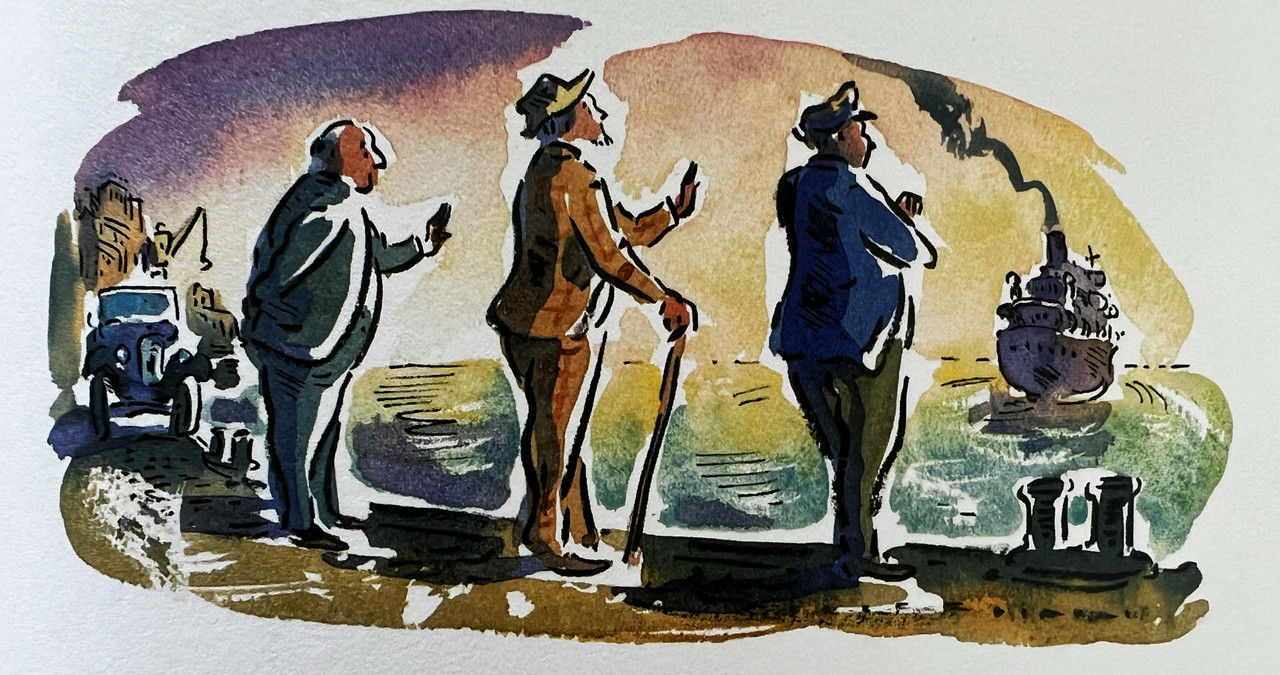 An index of the other illustrated reviews in the "Folio Archives" series can be viewed
here.
Thanks for this review! I too laughed out loud , although not on an airplane, while reading this one. It would be nice if Folio decided to publish the rest of the Corfu trilogy. One can hope.
I wonder why they opted for the garish yellow for the reprint - the original binding is far better. Paul Cox really doesn't do much for me, so I wasn't tempted to get this (or any FS Wodehouse), despite absolutely loving the book (and the Corfu sequels) when I read them as a teen.
>3 ian_curtin:
That's what I was thinking. I didn't buy the reprint (and opted to get the Slightly Foxed edition) because of the bright yellow of the cover. However, at the time I didn't know of the first print. Given that it makes a very nice pair with the earlier printing of Three Men in a Boat, I may look for it second hand.
>3 ian_curtin:
I'm a fan of Paul Cox illustrations for this and the FS Wodehouse, as for me they suit the text.
>4 dyhtstriyk:
I ended up buying the Slightly Foxed Laurie Lee titles, even though I have the Folio editions, justifying the purchases on the basis of the original illustrations. Would like Slightly Foxed to publish the third volume,
A Moment of War
.
>5 CarltonC:
I've only recently discovered Laurie Lee (via Folio), and just love those two books - so nostalgic / bittersweet. Beautiful prose, which for some people might be over-egged, but I love it. Prose to bathe leisurely in.
>6 Jeremy53:
If you liked the Laurie Lee (as you say beautiful prose but sometimes overegged), then in Slightly Foxed editions, which you may already have, but I would also recommend (although I don't know whether they are still available):
Drawn from Memory
When I Was a Little Boy
Hons and Rebels (also in a Folio edition, which I don't have)
A Late Education (an early one, so probably not available)
I also really enjoyed Still Life - Sketches from a Tunbridge Wells Childhood, but that may be an acquired taste.
>7 CarltonC:
Thanks! Almost nabbed Hons and Rebels in Folio recently...haven't pulled the trigger on Slightly Foxed yet - but have subscribed to newsletter and am lurking...drooling...won't be long.