Help us pick a new group picture!
Liity LibraryThingin jäseneksi, niin voit kirjoittaa viestin.
For a group discussion this month, the time has come to pick a new group photo. Toss in a suggestion, or just vote on the remaining ones. If you're suggesting a picture, please give it a number so that members can discuss it easily.
Please feel free to suggest anything except for book or other media covers. If you don't know the artist, that is okay: other members can help. Also don't worry if your suggested image has any watermarks, shadows, etc. The final chosen version will be cropped, and we will contact the artist to request a non-watermarked version in exchange for linking to their online store/website.
Suggestion 1:
Courtesy of
humouress
, I believe by artist
Donika Mishineva (née Nikova)
, non-watermarked, cropped, and altered (?) from
the original
:
Suggestion 2:
Resting II, by artist
GDBee Art
.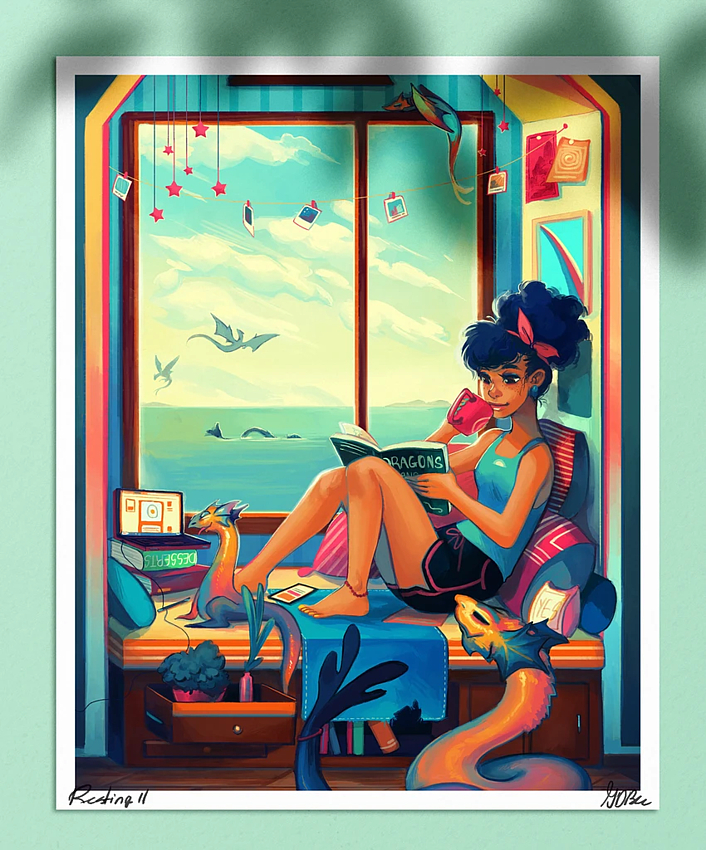 What other suggestions do you have? What opinions do you have of the suggested ones?
ETA: PS. Any members who want to make suggestions are welcome to check out the Green Dragon's HTML formatting guide
here
.
Okay, the group picture has officially changed!
When I asked the artist for permission, she linked to a website where you can get this art as a desktop wallpaper at a number of different resolutions.
Check it out, if you are so interested!
It looks great! Thank you for doing this.