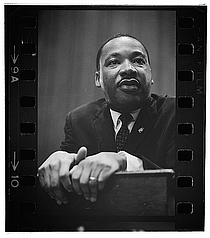 Kirjat

613

Kokoelmat

Avainsanoja

Pilvet

Väline

Liittynyt

Feb 2, 2016
Oikea nimi

Dr. Martin Luther King, Jr.

About My Library

The books included here are those in the Morehouse College Martin Luther King Jr. Collection, held at the Archives Research Center of the Robert W. Woodruff Library. See the

Book Listing

for information about accessing the collection. The books reportedly contain Dr. King's handwritten annotations, though these are not noted in the listing.

About Me

Dr. Martin Luther King, Jr. (15 January 1929–4 April 1968), Baptist minister and leader in the American civil rights movement.
Yhteyksiä muihin jäseniin
Ystävät
Tämä sivusto käyttää evästeitä palvelujen toimittamiseen, toiminnan parantamiseen, analytiikkaan ja (jos et ole kirjautunut sisään) mainostamiseen. Käyttämällä LibraryThingiä ilmaiset, että olet lukenut ja ymmärtänyt käyttöehdot ja yksityisyydensuojakäytännöt. Sivujen ja palveluiden käytön tulee olla näiden ehtojen ja käytäntöjen mukaista.