The Rabble Discuss Cabell: James Branch Cabell &c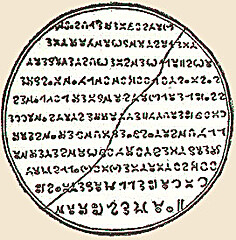 This group is named after the mnemonic the author produced to indicate the correct pronunciation of his surname: 'Tell the rabble my name is Cabell.' He first made his name (but not much money) as a writer of romantic but droll short stories and novels. He had an artistic breakthrough with the anti-romantic dream-romance The Cream of the Jest (1917), but it was not until Jurgen (1919) was tried for obscenity that he suffered an explosion of popularity and became one of the most lionized literary figures of the 1920s. This phenomenon culminated in the publication of his collected works in the 18-volume Storisende edition (1927-1930) in which he arranged his fantasies and his now-revised-to-fit earlier works into the 'Biography of the Life of Manuel,' Manuel being the leading character in Figures of Earth (1921) and the progenitor of many of Cabell's male characters down through the fictional centuries. However, after about 1930 the Great Depression and creeping modernism led to a reaction against Cabell's supposedly effete approach to literature; and although he continued to produce fiction and nonfiction of merit until his death in the 1950s he was almost forgotten as a literary figure.

In the 1960s he experienced somewhat of a revival in the wake of the great popularity of The Lord of the Rings, when the demand for something, anything, remotely like Tolkien caused obscure works of merit by Cabell, Dunsany, Peake, Eddison, Morris and other early fantasists to be reprinted (and several Cabell societies to be formed and scholarly journals published). But the rabble soon discovered these writers to be not very Hobbitish, and, the demand satisfied by eighth-rate Tolkien clones, Cabell receded again into the relative obscurity wherein now he bides and all we mourn for. Nonetheless, James Branch Cabell continues to find favor with the more enlightened fans of fantasy and esoteric literature, with collectors, and with lovers of his droll, highly polished manner. The eternal author stands, tongue in cheek, sword (ahem) in hand, awaiting our judgment.

UPDATE January 2013 -- Check out the new James Branch Cabell website-in-progress, The Silver Stallion at http://www.silverstallion.karkeeweb.com/cabellmain.html . It's an offshoot of discussions that started right here on The Rabble Discuss Cabell.
Viestiketju

Viestiketju

Viestit

Viimeinen viesti

Straws and Prayer-Books cabell's reading list
10

lukematonta

/ 10

paradoxosalpha

,

heinäkuu

29
From the Hidden Way - translations
2

lukematonta

/ 2

Crypto-Willobie

,

marraskuu

2022
Brewer Order
7

lukematonta

/ 7

rpuchalsky

,

lokakuuta

2022
Notes and Translations on Chivalry?
23

lukematonta

/ 23

elenchus

,

syyskuu

2022
Heirs and Assigns
2

lukematonta

/ 2

elenchus

,

syyskuu

2022
Dom Manuel family tree?
18

lukematonta

/ 18

wreade1872

,

elokuu

2022
New digital project explores the life and legacy of James Branch Cabell, namesake of VCU's library
8

lukematonta

/ 8

Crypto-Willobie

,

tammikuu

2022
Cabell's original titles
8

lukematonta

/ 8

paradoxosalpha

,

syyskuu

2021
Cabell reference in science fiction story
10

lukematonta

/ 10

dscottn

,

syyskuu

2021
Gaiman's steal on Cabell
5

lukematonta

/ 5

Crypto-Willobie

,

heinäkuu

2021
Cameo appearances of Cabell's Books in the Books of other Authors
35

lukematonta

/ 35

paradoxosalpha

,

huhtikuu

2021
Celebrating JBC's birthday at Good Show Sir
3

lukematonta

/ 3

paradoxosalpha

,

huhtikuu

2021
1907 Article on Cabell
4

lukematonta

/ 4

dscottn

,

huhtikuu

2021
Happy Anniversary!
13

lukematonta

/ 13

elenchus

,

helmikuu

2021
Cabell Bargains
91

lukematonta

/ 91

elenchus

,

helmikuu

2021
3201 Monument Avenue, Richmond, Virginia
8

lukematonta

/ 8

dscottn

,

helmikuu

2021
German ballad (1907) about a knight called Manuel
32

lukematonta

/ 32

wirkman

,

tammikuu

2021
Cabell Editions
28

lukematonta

/ 28

dscottn

,

joulukuu

2020
Cabell Comics?
16

lukematonta

/ 16

dscottn

,

joulukuu

2020
"The Vampire," a First Story by Cabell
6

lukematonta

/ 6

dscottn

,

joulukuu

2020
The Certain Hour
29

lukematonta

/ 29

Crypto-Willobie

,

joulukuu

2020
Favorite Cabell Illustrations
8

lukematonta

/ 8

dscottn

,

joulukuu

2020
My Fellow Cabellians
15

lukematonta

/ 15

Crypto-Willobie

,

marraskuu

2020
Cabell's Heirs?
51

lukematonta

/ 51

elenchus

,

marraskuu

2020
This just in ...
8

lukematonta

/ 8

Crypto-Willobie

,

lokakuuta

2020
Good Show BAF!
4

lukematonta

/ 4

paradoxosalpha

,

lokakuuta

2020
Use or abuse?
3

lukematonta

/ 3

elenchus

,

syyskuu

2020
VCU >> JBC
3

lukematonta

/ 3

elenchus

,

helmikuu

2020
The Economics of...
4

lukematonta

/ 4

Crypto-Willobie

,

tammikuu

2020
Ian Wallace
9

lukematonta

/ 9

elenchus

,

tammikuu

2020
How many?
11

lukematonta

/ 11

elenchus

,

tammikuu

2020
Storisende complete 18 volume set for sale
1

lukematon

/ 1

rahkahuna

,

joulukuu

2019
Happy 100th birthday Jurgen!
2

lukematonta

/ 2

Crypto-Willobie

,

syyskuu

2019
fix-ups
7

lukematonta

/ 7

elenchus

,

heinäkuu

2019
Story of the Month
5

lukematonta

/ 5

Crypto-Willobie

,

heinäkuu

2019
Order to read Cabell
24

lukematonta

/ 24

wirkman

,

toukokuu

2019
A new work by Mr. Cabell? sneak preview...
7

lukematonta

/ 7

Crypto-Willobie

,

toukokuu

2019
Harrowby's occult cosmology
7

lukematonta

/ 7

wirkman

,

toukokuu

2019
19th anniversary of this essay - Cabell, Heinlein esoteric tradition, etc
4

lukematonta

/ 4

Crypto-Willobie

,

toukokuu

2019
Favorite Account of Cabell by Someone Not Cabell
17

lukematonta

/ 17

Crypto-Willobie

,

toukokuu

2019
Happy Walpurgisnacht, April 30. Jurgen's journey begins...
5

lukematonta

/ 5

Crypto-Willobie

,

huhtikuu

2019
Rogues' Gallery
9

lukematonta

/ 9

wirkman

,

helmikuu

2019
Cabell Library
13

lukematonta

/ 13

John_Thorne

,

helmikuu

2019
Books Cabell has "blurbed" or introduced
34

lukematonta

/ 34

Crypto-Willobie

,

helmikuu

2019
Cabell and Religion
8

lukematonta

/ 8

wirkman

,

helmikuu

2019
Cabell quote - hivemind?
8

lukematonta

/ 8

wirkman

,

helmikuu

2019
Story of the Month for Jan 2019
3

lukematonta

/ 3

absurdeist

,

helmikuu

2019
Beyond Life
16

lukematonta

/ 16

Crypto-Willobie

,

tammikuu

2019
Cabell t-shirt
7

lukematonta

/ 7

Crypto-Willobie

,

tammikuu

2019
Music Behind the Moon
5

lukematonta

/ 5

elenchus

,

tammikuu

2019
"Geas"
11

lukematonta

/ 11

wirkman

,

tammikuu

2019
Townsend of Lichfield
9

lukematonta

/ 9

Crypto-Willobie

,

tammikuu

2019
Collecting the Biography
8

lukematonta

/ 8

Crypto-Willobie

,

tammikuu

2019
Occultists adulate Cabell
5

lukematonta

/ 5

paradoxosalpha

,

joulukuu

2018
Zadig
9

lukematonta

/ 9

wirkman

,

joulukuu

2018
Story of the Month for May 2018 - The Image of Sesphra
3

lukematonta

/ 3

Crypto-Willobie

,

syyskuu

2018
Happy 100th Anniversary! / July Story of the Month
5

lukematonta

/ 5

elenchus

,

heinäkuu

2018
The White Robe is being read over on LT group 'The Weird Tradition'
4

lukematonta

/ 4

wirkman

,

toukokuu

2018
Story of the Month, April 2018 - The Head of Misery
5

lukematonta

/ 5

elenchus

,

huhtikuu

2018
Story of the Month, March 2018. The Feathers of Olrun
3

lukematonta

/ 3

elenchus

,

maaliskuu

2018
New books by Cabell?
3

lukematonta

/ 3

lansingsexton

,

maaliskuu

2018
Cabell Story of the Month
11

lukematonta

/ 11

elenchus

,

maaliskuu

2018
Cabell overstock for sale
4

lukematonta

/ 4

elenchus

,

tammikuu

2018
Cabell @ 'A Shiver in the Archives' blog
2

lukematonta

/ 2

elenchus

,

joulukuu

2017
Characterizing Cabell
4

lukematonta

/ 4

Crypto-Willobie

,

joulukuu

2017
Changes and Additions to James Hall's Cabell Bibliography
1

lukematon

/ 1

Crypto-Willobie

,

joulukuu

2017
Special Delivery (screening the mail)
8

lukematonta

/ 8

elenchus

,

marraskuu

2017
Great grandfather's Cabell collection
20

lukematonta

/ 20

elenchus

,

marraskuu

2017
The Dream Women
11

lukematonta

/ 11

wirkman

,

kesäkuu

2017
"What's New" at The Silver Stallion: The James Branch Cabell Website
34

lukematonta

/ 34

rainlights

,

maaliskuu

2017
Three fled before them, screaming
15

lukematonta

/ 15

rainlights

,

maaliskuu

2017
Sixteen Authors to One
7

lukematonta

/ 7

elenchus

,

helmikuu

2017
An Important Cabellian Centenary
6

lukematonta

/ 6

elenchus

,

tammikuu

2017
James Branch Cabell in Anthologies
3

lukematonta

/ 3

Crypto-Willobie

,

joulukuu

2016
Association copies
16

lukematonta

/ 16

vaniamk13

,

syyskuu

2016
high place
8

lukematonta

/ 8

Crypto-Willobie

,

heinäkuu

2016
The Devil's Own Dear Son
4

lukematonta

/ 4

elenchus

,

toukokuu

2016
Passel of Cabell
12

lukematonta

/ 12

elenchus

,

toukokuu

2016
Happy Birthday, JBC
3

lukematonta

/ 3

rainlights

,

huhtikuu

2016
Yet newer Cabell links at VCU's Cabell Library!
2

lukematonta

/ 2

elenchus

,

maaliskuu

2016
Distressing Damsels
5

lukematonta

/ 5

rainlights

,

tammikuu

2016
Opera or Movie?
3

lukematonta

/ 3

Crypto-Willobie

,

tammikuu

2016
Cabell's Three Modes of Romantic Life
4

lukematonta

/ 4

elenchus

,

lokakuuta

2015
The Few Who Love Cabell
14

lukematonta

/ 14

rainlights

,

kesäkuu

2015
How to find Cabell?
28

lukematonta

/ 28

lansingsexton

,

kesäkuu

2015
Passing of Kalki editor Paul Spencer
4

lukematonta

/ 4

elenchus

,

huhtikuu

2015
Ideational gonfalon
6

lukematonta

/ 6

Crypto-Willobie

,

joulukuu

2014
Copyright status of Papé's plates
13

lukematonta

/ 13

Crypto-Willobie

,

joulukuu

2014
Recent JBC Reprints?
8

lukematonta

/ 8

Crypto-Willobie

,

joulukuu

2014
Some Cabell blogposts on the "SFF Chronicles: science fiction & fantasy community forums"
2

lukematonta

/ 2

elenchus

,

joulukuu

2014
Introducing James Branch Cabell
16

lukematonta

/ 16

elenchus

,

marraskuu

2014
Kalki: Studies in James Branch Cabell - tables of contents
19

lukematonta

/ 19

Crypto-Willobie

,

marraskuu

2014
Silver Stallion to the Rescue
2

lukematonta

/ 2

Crypto-Willobie

,

lokakuuta

2014
Cabell Bargains
4

lukematonta

/ 4

Crypto-Willobie

,

heinäkuu

2014
Cabell reviews
15

lukematonta

/ 15

Crypto-Willobie

,

heinäkuu

2014
New Cabell pages on the Virginia Commonwealth University website
3

lukematonta

/ 3

DCBlack

,

toukokuu

2014
Facebook Cabell Group
15

lukematonta

/ 15

rainlights

,

huhtikuu

2014
Cabell in Correspondence
3

lukematonta

/ 3

absurdeist

,

maaliskuu

2014
Favorite Cabell Quotations?
13

lukematonta

/ 13

Crypto-Willobie

,

tammikuu

2014
Harper's Magazine
4

lukematonta

/ 4

wirkman

,

tammikuu

2014
This is a feature balloon