Holocaust Literature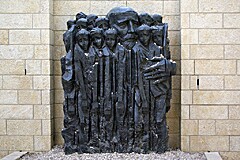 This Holocaust literature group is a place for discussion and exploration of fiction and nonfiction related to the Holocaust.

"To forget would be not only dangerous but offensive; to forget the dead would be akin to killing them a second time."
Elie Wiesel (1928-2016)

The image on the right is the Memorial to Janusz Korczak at Yad Vashem, Jerusalem.
Viestiketju

Viestiketju

Viestit

Viimeinen viesti

Pinned

— Message Board
34

lukematonta

/ 34

cindydavid4

,

maaliskuu

5

Pinned

— Interesting Articles
47

lukematonta

/ 47

rocketjk

,

toukokuu

18
CBL reads and remembers
96

lukematonta

/ 96

cbl_tn

,

toukokuu

7
What We Are Reading: Nonfiction
55

lukematonta

/ 55

jessibud2

,

huhtikuu

9
Pre-Holocaust Reading
4

lukematonta

/ 4

cindydavid4

,

huhtikuu

6
What We Are Reading: Fiction
46

lukematonta

/ 46

avatiakh

,

maaliskuu

31
What We Are Reading: Memoirs
28

lukematonta

/ 28

rocketjk

,

helmikuu

16
What We Are Watching: Films and Documentaries
33

lukematonta

/ 33

jessibud2

,

helmikuu

6
Labfs39 attempts to understand and remember
71

lukematonta

/ 71

labfs39

,

tammikuu

14
avatiakh (Kerry) reads to understand
44

lukematonta

/ 44

avatiakh

,

joulukuu

2022
Whisper1 first thread in this specific group topic
2

lukematonta

/ 2

labfs39

,

elokuu

2022
Exposing the Fakes
8

lukematonta

/ 8

labfs39

,

huhtikuu

2022
What We Are Reading: Graphic Novels & Graphic Memoirs
21

lukematonta

/ 21

cbl_tn

,

maaliskuu

2022
What We Are Reading: Children & Young Adult
22

lukematonta

/ 22

avatiakh

,

maaliskuu

2022
Tess "To Forget the Holocaust is to kill twice"
20

lukematonta

/ 20

labfs39

,

helmikuu

2022
What We Are Reading: The Righteous Among Nations
7

lukematonta

/ 7

Tess_W

,

helmikuu

2022
Paul's reading because we must remember
12

lukematonta

/ 12

PaulCranswick

,

tammikuu

2022
1

lukematon

/ 1

labfs39

,

tammikuu

2022
1

lukematon

/ 1

labfs39

,

tammikuu

2022
This is a feature balloon