2020 ROOT CHALLENGE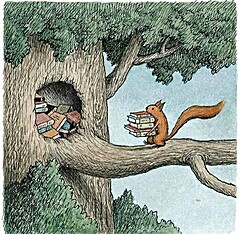 Tästä ryhmästä on virallisesti tullut uinuva. Sitä sattuu...
If you want to revive this group, or create a new group on the same topic, see this page.
Together in 2019 we well exceeded our goal with 3,300+ of our own books and reached our goal for the fifth consecutive year! ROOT was successful but there are still books to be read. We will be Reading Our Own Tomes (those old books that deserve their time in the limelight). Join in the fight against unread books! But ROOT also says how we support each other in the effort and cheer each other to their own goal.

Many of us have mountains of books that are just waiting to be read and this is our way of making that decision to read those books. Newer and prettier books are always catching our eyes so older books fall farther to the bottom of the pile. This group is designed to help everyone see those books that have been hiding, and read them with the same joy as a new book arriving from the bookstore.

At the end of each month, we tally up the books that have been read by the members so far, so that we can see if we are still on target to reach our group goal.

To everyone - please be sure that you have joined the group.
To all our new members - When joining the group, please set a numerical goal and create a ticker and copy it into your own personal thread as well as the group ticker thread - ...please create a new ticker, do not reuse the current one After a certain period of time they stop functioning regularly so a new one is preferred.
THE TICKER THREAD IS https://www.librarything.com/topic/314603

This will help tremendously at the end of each month when the totals are calculated to show our progress. As we watch the group tickers move, we will root on each other to reach our individual goals and win the fight against unread books.
Viestiketju

Viestiketju

Viestit

Viimeinen viesti

MissWatson ROOTs less ambitiously in 2020
227

lukematonta

/ 227

KWharton

,

helmikuu

2021
m 2020 Roots
44

lukematonta

/ 44

connie53

,

tammikuu

2021
DECEMBER ROOT - Progress Thread
183

lukematonta

/ 183

fuzzi

,

tammikuu

2021
Humouress ROOTing in 2020
75

lukematonta

/ 75

humouress

,

tammikuu

2021
Cheli is ROOTing again!
43

lukematonta

/ 43

connie53

,

tammikuu

2021
Familyhistorian's ROOTs for 2020
212

lukematonta

/ 212

Familyhistorian

,

tammikuu

2021
2020 Ticker Thread
83

lukematonta

/ 83

bookworm148

,

tammikuu

2021
Jackie's 2020 ROOT thread
291

lukematonta

/ 291

Jackie_K

,

tammikuu

2021
Brakketh ROOTs once more
32

lukematonta

/ 32

brakketh

,

tammikuu

2021
Connie ROOTS again in 2020; part 3
145

lukematonta

/ 145

connie53

,

tammikuu

2021
Coach of Alva's 2020 Roots
95

lukematonta

/ 95

Coach_of_Alva

,

tammikuu

2021
rabbitprincess reads ROOTS with will and determination, and grace, too, in 2020
263

lukematonta

/ 263

Robertgreaves

,

tammikuu

2021
Bragan's 2020 ROOTing
151

lukematonta

/ 151

bragan

,

tammikuu

2021
Nickelini's 2020 ROOTs
69

lukematonta

/ 69

Nickelini

,

tammikuu

2021
Robertgreaves is ROOTing again in 2020 part 2
103

lukematonta

/ 103

Jackie_K

,

tammikuu

2021
Kristel's 2020 ROOts
67

lukematonta

/ 67

connie53

,

tammikuu

2021
floremolla's 2020 ROOTS
109

lukematonta

/ 109

floremolla

,

joulukuu

2020
EAM Back for More ROOTs
54

lukematonta

/ 54

enemyanniemae

,

joulukuu

2020
Erratic Charmer's 40 in 2020
82

lukematonta

/ 82

Erratic_Charmer

,

joulukuu

2020
detailmuse ROOTs through 2020
155

lukematonta

/ 155

DetailMuse

,

joulukuu

2020
This-n-That ROOTs for Twenty in 2020
65

lukematonta

/ 65

This-n-That

,

joulukuu

2020
QuestingA reads books already owned 2020
58

lukematonta

/ 58

QuestingA

,

joulukuu

2020
Nebula_21's ROOT Challenge 2020
28

lukematonta

/ 28

nebula21

,

joulukuu

2020
Henrik Madsen ROOTS again - will it ever end?
114

lukematonta

/ 114

connie53

,

joulukuu

2020
lindapanzo's 2020 ROOTS
23

lukematonta

/ 23

lindapanzo

,

joulukuu

2020
Curioussquared ROOTs again in 2020
145

lukematonta

/ 145

rabbitprincess

,

joulukuu

2020
Jean (Majkia) Pulls Those ROOTs
172

lukematonta

/ 172

majkia

,

joulukuu

2020
Leslie ROOTs again in 2020
75

lukematonta

/ 75

leslie.98

,

joulukuu

2020
karenmarie's archaeological dig - 2 from each year on LT plus 4 - first layer
134

lukematonta

/ 134

karenmarie

,

joulukuu

2020
Vestafan ROOTs still further!
43

lukematonta

/ 43

Jackie_K

,

joulukuu

2020
Lilisin ROOTs in 2020
48

lukematonta

/ 48

rabbitprincess

,

joulukuu

2020
fuzzi's Rehomed (never "Culled") Books Thread for 2020
52

lukematonta

/ 52

fuzzi

,

joulukuu

2020
Rebeki ROOTs on in 2020
69

lukematonta

/ 69

Rebeki

,

joulukuu

2020
Back for some longer ROOTs
28

lukematonta

/ 28

KWharton

,

joulukuu

2020
LoraShouse ROOTs again in 2020
53

lukematonta

/ 53

LoraShouse

,

joulukuu

2020
Elizabeth/readingtangent's 2020 ROOTs
22

lukematonta

/ 22

readingtangent

,

joulukuu

2020
Moneypenny's 2020 ROOT Log
49

lukematonta

/ 49

Miss_Moneypenny

,

joulukuu

2020
Anita (FAMeulstee) keeps on rooting in 2020
92

lukematonta

/ 92

FAMeulstee

,

joulukuu

2020
mstrust ROOTs for herself
95

lukematonta

/ 95

mstrust

,

joulukuu

2020
fuzzi's 2020 Vision of ROOTing Out the Books and Emptying the Shelves!
68

lukematonta

/ 68

fuzzi

,

joulukuu

2020
Benita's Big Bad Book Pile 2020
137

lukematonta

/ 137

connie53

,

joulukuu

2020
Martencat clears some more roots in 2020
51

lukematonta

/ 51

martencat

,

joulukuu

2020
Ritacate's first ROOT challenge
35

lukematonta

/ 35

ritacate

,

joulukuu

2020
Sallylou's ROOT reading in 2020
67

lukematonta

/ 67

connie53

,

joulukuu

2020
Sibylline's 2020 Root Thread!
38

lukematonta

/ 38

connie53

,

joulukuu

2020
Torontoc reads books from her shelves.
57

lukematonta

/ 57

rabbitprincess

,

joulukuu

2020
HelenNZ Root Goal 2020
39

lukematonta

/ 39

connie53

,

joulukuu

2020
BookDoc16: ROOTing Again!
29

lukematonta

/ 29

rabbitprincess

,

joulukuu

2020
LadyBookworth reads in 2020
30

lukematonta

/ 30

LadyBookworth

,

joulukuu

2020
H-mb's ROOT challenge
31

lukematonta

/ 31

h-mb

,

joulukuu

2020
rocketjk's off-the-shelve 2020 adventures
54

lukematonta

/ 54

rocketjk

,

joulukuu

2020
Crazy4reading ROOTs in 2020
63

lukematonta

/ 63

connie53

,

joulukuu

2020
si: 2020 ROOT Challenge
46

lukematonta

/ 46

si

,

joulukuu

2020
DisassemblyOfReason's 2020 ROOT Challenge
19

lukematonta

/ 19

connie53

,

joulukuu

2020
So I just found this group...
4

lukematonta

/ 4

connie53

,

joulukuu

2020
Clue Reads More in 2020
43

lukematonta

/ 43

connie53

,

joulukuu

2020
Robertgreaves is ROOTing again in 2020 (Part 1 continued)
49

lukematonta

/ 49

connie53

,

joulukuu

2020
Merryann's ROOTs for 2020
32

lukematonta

/ 32

connie53

,

joulukuu

2020
CA_DMV - Better Late than Never!
14

lukematonta

/ 14

connie53

,

joulukuu

2020
NOVEMBER ROOT - Progress Thread
86

lukematonta

/ 86

humouress

,

joulukuu

2020
I Want to Do ROOT Buddy-Reads
3

lukematonta

/ 3

Settings

,

marraskuu

2020
OCTOBER ROOT - Progress Thread
79

lukematonta

/ 79

fuzzi

,

marraskuu

2020
SEPTEMBER ROOT - Progress Thread
96

lukematonta

/ 96

leslie.98

,

lokakuuta

2020
AUGUST ROOT - Progress Thread
78

lukematonta

/ 78

cyderry

,

syyskuu

2020
Connie ROOTS again in 2020; part 2
155

lukematonta

/ 155

connie53

,

syyskuu

2020
lanaing 2020 ROOT - better late than never
5

lukematonta

/ 5

connie53

,

elokuu

2020
JULY ROOT - Progress Thread
102

lukematonta

/ 102

Familyhistorian

,

elokuu

2020
I have a dilemma
23

lukematonta

/ 23

Familyhistorian

,

elokuu

2020
Robertgreaves is ROOTing again in 2020
199

lukematonta

/ 199

Robertgreaves

,

heinäkuu

2020
Bcteagirls Roots Challenge
9

lukematonta

/ 9

connie53

,

heinäkuu

2020
JUNE ROOT - Progress Thread
94

lukematonta

/ 94

lilisin

,

heinäkuu

2020
rainpebble ROOTs in 2020
19

lukematonta

/ 19

connie53

,

kesäkuu

2020
Sace Randomly ROOTs to 18
36

lukematonta

/ 36

mstrust

,

kesäkuu

2020
Elizabeth's 2020 ROOTS
26

lukematonta

/ 26

readergirliz

,

kesäkuu

2020
MAY ROOT - Progress Thread
97

lukematonta

/ 97

cyderry

,

kesäkuu

2020
Catherine (Pensive Cat) Really Needs to Read Her Own Tomes
25

lukematonta

/ 25

PensiveCat

,

toukokuu

2020
easy-reader's ROOT for 2020
6

lukematonta

/ 6

cyderry

,

toukokuu

2020
Quaisior's 2020 ROOTs
7

lukematonta

/ 7

connie53

,

toukokuu

2020
Jenn's 2020 Mt TBR climb
11

lukematonta

/ 11

connie53

,

toukokuu

2020
Alexa's 2020 ROOTs
38

lukematonta

/ 38

connie53

,

toukokuu

2020
APRIL ROOT - Progress Thread
153

lukematonta

/ 153

humouress

,

toukokuu

2020
2020 What's your goal?
49

lukematonta

/ 49

Quaisior

,

toukokuu

2020
madhatter22's 2020 ROOTs
10

lukematonta

/ 10

connie53

,

toukokuu

2020
Connie ROOTS again in 2020; part 1
167

lukematonta

/ 167

connie53

,

toukokuu

2020
Barbara (Ameise1)'s 8th ROOT
38

lukematonta

/ 38

Ameise1

,

huhtikuu

2020
MARCH ROOT - Progress Thread
154

lukematonta

/ 154

humouress

,

huhtikuu

2020
Mary-Mignano ROOT Reader Ticker Tape
8

lukematonta

/ 8

Mary_Mignano

,

maaliskuu

2020
Jenknox's Root Challenge!
9

lukematonta

/ 9

jenknox

,

maaliskuu

2020
FEBRUARY ROOT - Progress thread
114

lukematonta

/ 114

cyderry

,

maaliskuu

2020
How to make a ticker
2

lukematonta

/ 2

connie53

,

helmikuu

2020
Barbara's 2020 ROOT Challenge
12

lukematonta

/ 12

lilisin

,

helmikuu

2020
JANUARY ROOT - Progress Thread
125

lukematonta

/ 125

readergirliz

,

helmikuu

2020
klarusu's library has got out of hand and needs to be ROOTed in 2020
19

lukematonta

/ 19

connie53

,

helmikuu

2020
Jack's 2020 First Time ROOTin'
15

lukematonta

/ 15

Jacksonian

,

tammikuu

2020
LondonLori's 2020 Roots
5

lukematonta

/ 5

connie53

,

tammikuu

2020
Val_Reads 2020 ROOT Challenge
6

lukematonta

/ 6

cyderry

,

tammikuu

2020
Moriarty's First ROOT Challenge!
6

lukematonta

/ 6

cyderry

,

tammikuu

2020
CurrerBell rejoins the school
7

lukematonta

/ 7

CurrerBell

,

tammikuu

2020
Glad to be back!
10

lukematonta

/ 10

mstrust

,

tammikuu

2020
Arubabookwoman's 2020 ROOTs
13

lukematonta

/ 13

MissWatson

,

tammikuu

2020
This is a feature balloon