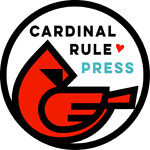 Cardinal Rule Press produces high-quality children's literature that empowers children through timeless messages of hope, courage and the Golden Rule.
We are a traditional publishing company located in southeast Michigan that produces a select number of books each year; all of which make a difference in the world while reflecting modern-day diversity.
Cardinal Rule Press leads the way in providing messages that empower families, schools and communities through inspirational children's books and educational programs and events that support our books' powerful themes.
Kotisivu

Twitter

Facebook

Instagram