maaliskuu 2023
Erä
Giveaway Ended

:

March 27 at 06:00 pm EDT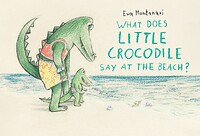 Quick Look
What sounds does Little Crocodile hear on a trip to the beach?
The sunscreen goes squirt
The wave goes splash
The fish goes blub
The seagulls go ark, ark
The watch goes tick, tock
And the crocodile says... WAHHHH!
In this charming book of sounds, Little Crocodile goes camping and visits the beach with Big Crocodile and experiences sand, sun, independence and play, ultimately enjoying their day... after a small meltdown, of course! Little ones will delight in the adorable illustrations and fun read-aloud, and parents will delight in the sly humor and familiar emotional rollercoaster of a toddler's day.
Väline

Paper

Lajityypit

Children's Books, Picture Books, Kids

Tarjoaja

Tundra Books (

Kustantaja

)

Linkit
Legacy Member Giveaway
Erä
Giveaway Ended

:

February 16, 2012 at 10:46 am EST
Quick Look
Who invented the airplane? Hint: not the Wright Brothers. This gorgeous picture book tells the TRUE story. A Parents Choice Award winner. "Exciting!" says the Wall Street Journal. "One of Eight Books That Just Might Change Your Life" says Wyld About Books.
Väline

Paper

Lajityypit

Tween, Nonfiction

Tarjoaja

griffgor (

Tekijä

)

Linkit