All Formats

Ebook

4

Digitaalinen äänikirja

2
All Genres

6

Fiction and Literature

6

Horror

1

Recent Fiction

1

General Fiction

3
maaliskuu 2023
Erä
Giveaway Ended

:

March 27 at 06:00 pm EDT
What sucks about waking up next to a dead girl on a Saturday is, more than likely you're gonna miss brunch.
Just ask Sammy Junior-full-time house painter, part-time street artist and, as of Saturday morning, prime suspect in a South Tampa homicide investigation. One more hassle he simply does not need.
Then there's Penny Sullivan, a fifteen-year-old runaway who shows up in South Tampa that same Saturday morning with only her dead sister's street smarts, a whole lot of survivor's guilt, and a Canada backpack.
Misunderstandings lead to Penny joining Sammy's crew, giving her a glimpse of the house painting business-where mind-numbing boredom inspires an acid-trip world of distraction, art and healing relationships.
A funny, fast-paced story about friendship and love, tragedy and redemption, and the always intriguing business of house painting.
Väline

Formats

EPUB

Delivery

I will send an attached digital file to member's email address

Lajityypit

General Fiction, Fiction and Literature

Tarjoaja

ja_barrett (

Tekijä

)

Linkit
April 2020
Erä
Giveaway Ended

:

April 27 at 06:00 pm EDT
The only problem with getting everything you ever wanted is that it forces you to reassess everything you ever wanted in the first place. Thirty-two-year-old Dan Johnson has it all; a nine-digit net worth, a gorgeous fiancé and a luxury riverside brownstone. The only problem is, he doesn't want any of it. And the endless distractions of digitized society give him no head space to figure out what he does want. So, Dan unplugs. He abandons all things digital technology, effectively retreating from society to live an analog lifestyle geared at perfecting the art of avoidance. When a case of mistaken identity launches Dan into a series of bizarro relationships and absurd events, it represents an unexpected path to reconnect him with a world he never knew existed. Dark, offbeat and laugh-out-loud funny, Unplugged is a coming of middle-age story about finding authentic connections and meaning in today's hyper-digitized society. Text is in PDF format.
Väline

Lajityypit

General Fiction, Recent Fiction, Fiction and Literature

Tarjoaja

Black Rose Writing (

Kustantaja

)

Linkki
July 2019
Erä
Giveaway Ended

:

July 29 at 06:00 pm EDT
In the wake of the 2008 financial crisis, Jack Sullivan, former CEO and current stay-at-home dad, struggles to find an outlet for his frustrations with the unfair financial systems of corporate America. Meanwhile, Daisy, his precocious twelve-year-old daughter, has recently garnered a substantial following for her new blog, documenting surreptitious "social experiments" performed on her unaware family. When Daisy's blogging activities are outed, Jack decides to leverage his daughter's popularity with American youth to communicate the greed and hypocrisy inherent in the corporate professions of many parents. Inspired by her father's rants, the popularity of Daisy's blog soars, resulting in an unlikely sequence of events that ultimately has a very positive impact on way that people treat each other in American society. Text is in PDF format.
September 2018
Erä
Giveaway Ended

:

September 24 at 06:00 pm EDT
Is it too much to ask that a managed care facility refund a year's advance payment when your grandfather dies before he can move in? Frank Johnson doesn't think so, which is why the thirty-three-year-old now lives in a nursing home, locked in a chess match feud with management that doesn't occupy nearly enough of his time. When foster kid Elroy is thrust into his life, Frank decides to turn this forced relationship to his advantage - launching a string of absurd decisions, inappropriate behaviors and unexpected glimpses of tenderness that ultimately turn a New Jersey suburb upside down. A laugh-out-loud celebration of bad choices for good causes, Managed Care is an offbeat story about three misfits on the social fringes of suburbia and their ridiculous campaign to introduce an unfiltered version of intimacy to their stale, impersonal community. Because, according to Frank, it's probably what Jesus would have wanted. text is pdf
October 2017
Erä
Giveaway Ended

:

October 30 at 06:00 pm EDT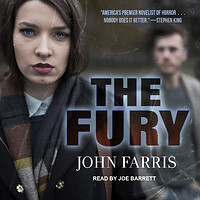 Quick Look
First published in 1976 and made into a successful movie written by the author and directed by Brian De Palma in 1978, The Fury is one of the all-time classics of the horror genre. Gillian Bellaver's family is one of the wealthiest in the world. Robin Sandza's father Peter is a government assassin. The two teenagers seem to have nothing in common. Yet they are spiritual twins, possessing a horrifying psychic energy that threatens humanity. While dangerous and fanatical men vie for the secrets of their awesome power, Peter Sandza, using all the ruthless skills of his trade, makes a final desperate effort to save them. Exploring with extraordinary skill the myths and legends deeply rooted in the subconscious mind, this novel builds, scene by shocking scene, to a night of chilling horror that surpasses anything you've ever experienced . . .
Väline

Lajityypit

General Fiction, Horror, Fiction and Literature

Tarjoaja

Tantor Media (

Kustantaja

)

Linkit
Hachette Showcase Bonus Batch
Erä
Giveaway Ended

:

July 1 at 06:00 pm EDT
Quick Look
(UNABRIDGED DOWNLOADABLE AUDIOBOOK) Also includes Michael Koryta's THOSE WHO WISH ME DEAD! The Nash family is close-knit. Tom is a popular teacher, father of two teens: Eli, a hockey star and girl magnet, and his sister Deenie, a diligent student. Their seeming stability, however, is thrown into chaos when Deenie's best friend is struck by a terrifying, unexplained seizure in class. Rumors of a hazardous outbreak spread through the family, school and community. As hysteria and contagion swell, a series of tightly held secrets emerges, threatening to unravel friendships, families and the town's fragile idea of security. A chilling story about guilt, family secrets and the lethal power of desire, THE FEVER affirms Megan Abbott's reputation as "one of the most exciting and original voices of her generation."* *Laura Lippman
Väline

Genre

Fiction and Literature

Tarjoaja

Hachette Audio (

Kustantaja

)

Linkki