All Genres

1

History

1

Historical Fiction

1

Literature Studies and Criticism

1

Poetry

1

Nonfiction

1
maaliskuu 2023
Erä
Giveaway Ended

:

March 27 at 06:00 pm EDT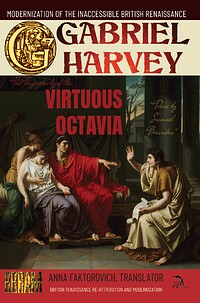 Quick Look
Ebook
The first English self-labeled "tragicomedy" about Octavia's failed attempts to win back her inconstant husband, Antony, from his Egyptian lover, Cleopatra, and to prevent her brother, Octavius, from waging retaliatory war on Antony and Cleopatra.
This volume presents overwhelming evidence for the re-attribution of the "Samuell Brandon"-bylined The Virtuous Octavia (1598) to Gabriel Harvey. The introduction raises questions about potential attribution leads and revealing relevant sources, which are answered with the evidence in the "Primary Sources" section that includes: three letters exchanged between William Byrd and Harvey while both were teaching at Cambridge, the "Octavia to Anthony" poetic epistle from the Arundel Harington Manuscript, and fragments from Plutarch's "Mark Antony" chapter. The "Exordium" includes sections that present revealing clues in seemingly mundane details, such as this play's typesetting. Another introductory section explains how Gerard Langbaine created the first "Brandon" biography solely based on the evidence presented in the Virtuous play, and without any evidence to support that "Brandon" was indeed a real author, and not merely a fictitious pseudonym. The imaginative process Langbaine used to manufacture "Brandon's" biography is used to explain how scholars have communally arrived at the erroneous current attributions for the texts of the British Renaissance.
A section on Harvey's literary style explains how the texts Harvey ghostwrote differ from the patterns seen in the other Workshop ghostwriters' texts. Another section presents visual examples of Harvey's handwriting in his signed annotations on Domenichi's Facetie, on "J. Harvey's" A Discursive Problem Concerning Prophesies, and on Nicolai Machiavelli Princeps, and matches these to the handwriting styles currently assigned to two bylines Harvey ghostwrote under: "Edmund Spenser's" poem on a copy of Sabinus' Poëmata and "Elizabeth I's" letter in Italian to Don Ferdinando de Medici, Grand-Duke of Tuscany. Another section explains how the two dedications to "the virtuous… Mary Thynne" and "the virtuous Lady Lucia Audley" are subversive clues that explain Virtuous Octavia as Harvey's rebuttal to Percy's at first anonymous and later "Shakespeare"-bylined Romeo and Juliet (1597). Romeo's plot has long been suspected to be grounded in the contemporary story of Mary Thynne's marriage to a member of a rival family, as well as the subsequent violence and litigations over this star-crossed-marriage between Mary's mother, Lady Audley, and other members of their two clans. And a section on imitation-clusters explains that Virtuous Octavia falls into several sub-genre clusters that turn into an original formula when they are mixed together. These clusters include imitations and translations of the French dramatist Robert Garnier; adaptations of historical plotlines from Plutarch's Lives; and imitations of Seneca's tragedies. One of the latter tragedies by Seneca is also called Octavia, and it is about Emperor Nero's wife of this same name, which had been translated into English by "T. N." back in 1581. There are also explanation for the seemingly deliberately misdated historical details, such as the mixed references to events that involved M. Marcellus (270-208 BC; 5-time Consul) and G. Marcellus (88-40 BC; 1-time Consul; first husband of Octavia). And sections summarize Virtuous Octavia's critical reception, give ideas to directors on approaches to its staging, and present an extensive synopsis of its narrative.
This verse tragicomedy begins after the Treaty of Tarentum has been signed, renewing the power-split of Roman territories between three Emperors: Octavia's brother Octavius is awarded the West, Octavia's husband Antony is awarded the East, and Lepidus receives Africa. Octavia receives news that Antony is living with Cleopatra. When Octavia attempts to bring military reinforcements and to speak with Antony to convince him to return to her, Antony refuses to allow her to come near him. The news of this infidelity enrages Octavius, who decides it is an affront on his own honor, and uses it as a pretext to wage war against Antony, despite Octavia's continuing petitions for peace and reconcilement. Civil and foreign wars are raging in the background, but most of the play focuses on Octavia's philosophical and emotional struggle to comprehend why Antony has chosen to sin, and how she is stoically determined to remain constant and virtuous. In a brief mention in the resolution, Cleopatra causes Antony's tragic death by tricking him into believing she has killed herself, before indeed killing herself. In the forefront of this conclusion, Octavia explains why she continues to be committed to virtuous conduct, despite all that has happened, and to take care of Antony's children, even when she has to do so outside of Antony's house (from which he has forcefully evicted her).
Väline

Formats

PDF (downloadable via AppBox)

Delivery

I will send a download link via LibraryThing messages

Lajityypit

History, Poetry, Historical Fiction, Nonfiction, Literature Studies and Criticism

Tarjoaja

Anaphora Literary Press (

Kustantaja

)

Linkit