All Formats

Digitaalinen äänikirja

1
All Genres

1

Fantasy

1

Fiction and Literature

1

Suspense & Thriller

1

Horror

1

Mystery

1

General Fiction

1
maaliskuu 2023
Erä
Giveaway Ended

:

March 27 at 06:00 pm EDT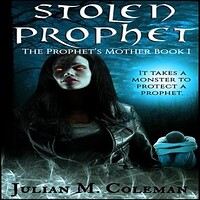 Quick Look
Will It Take a MONSTER to Find a Missing Prophet?
Satisfy your supernatural cravings with this intense and urban fantasy thriller from the author of the IAN 2016 Outstanding Paranormal/Supernatural book of the Year. Right at the beginning of The Prophet's Mother trilogy, Julian M. Coleman weaves a haunting tale of parental loss, heartbreak, and sacrifice.
Evelyn Adamson isn't ordinary. She's a demigoddess pretending an everyday life as a single parent and flower shop owner. Her nine-year-old son Victor is called "prophet" by his classmates, a nickname he hates. Somehow his paranormal ability fails when someone kidnaps him.
Distraught, Evelyn uses her suppressed paranormal powers to hunt the snow-encased city for her beloved baby boy, and then suddenly, dead bodies pile up in the morgue.
Only one person can find the stolen prophet: the logical and determined Homicide Detective, Harry Kurosawa. But first, he must believe the unexplainable, or more people will die.
Väline

Formats

Spotify Audio (downloadable via Spotify)

Delivery

I will send a download link to member's email address

Lajityypit

Fantasy, General Fiction, Mystery, Horror, Suspense & Thriller, Fiction and Literature

Tarjoaja

jmc001 (

Tekijä

)

Linkit