maaliskuu 2023
Erä
Giveaway Ended

:

March 27 at 06:00 pm EDT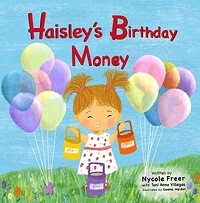 Quick Look
Today is Haisley's birthday and we are ready to celebrate. Come, join the party! There will be cake, games, and even presents!
Haisley is gifted birthday money to celebrate her big day and wonders what she could do with it. Will a fun day with mommy lead her to the answer she's looking for?
Haisley's Birthday Money is beautifully illustrated and filled with rhyme. The cute story is an easy conversation starter with young boys and girls, they will discover that money cannot only be spent but also saved and used to help others.
Great birthday gift for all boys and girls
Great introduction to money and perfect for a child's 1st bank account
Filled with fun rhymes that kids will want to read again and again
Väline

Paper

Lajityypit

Children's Books, Picture Books, Kids

Tarjoaja

Purple Diamond Press (

Kustantaja

)

Linkit