maaliskuu 2023
Erä
Giveaway Ended

:

March 27 at 06:00 pm EDT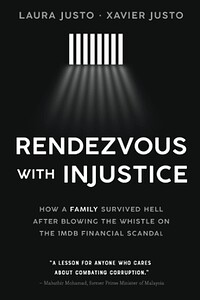 Quick Look
What happens when you blow the lid on a financial scam involving playboy businessmen, the leader of a country, and the laundering of billions of dollars? For Xavier Justo, it meant being thrown in a sordid Thai jail as the mother of all cover-ups kicked into action. For his wife Laura, left alone with their infant son, it meant battling an 18-month onslaught of intimidation, manipulation and lies.
Rendezvous with Injustice is an account of the 1MDB scandal that focuses not only on the crimes of men in expensive suits but also the human consequences felt by those who dared to do the right thing by exposing them. It's a story that involves financial chicanery, unscrupulous lawyers, greed, decadence, and even a fake Scotland Yard detective. Ultimately, however, it's a cry for truth and justice — and a testament to human resilience and tenacity.
Xavier Justo says: "Many were shocked to learn about the scale of the corruption involved in the 1MDB scam. Just as scandalous is that so few of those involved have had to answer for their crimes. Part of our motivation for writing this book is that justice has not been served — and we believe lawyers acting for some of the accused are now playing for time. It's vitally important that the world doesn't simply move on because other financial scandals are in the news".
"What my family had to suffer after we lifted the lid on the embezzlement of billions of dollars from Malaysia still seems stranger than fiction. In a sense, I exposed the crimes but Laura had to expose the criminals so that I could escape their vengeance. We hope our story helps readers to make sense of the rights and wrongs of what will go down in history as a shameful episode in human affairs."
Xavier Justo is a Swiss former financier who in 2010 worked in London for PetroSaudi, "an oil services and production company." After leaving the firm, he came into possession of thousands of files that proved fraud on an eye-watering scale by his former bosses and some Malaysian partners with whom they had conspired to embezzle a major tranche of the country's sovereign wealth fund.
Initially, he sat on the evidence — but when he later met a British journalist named Clare Rewcastle Brown and some well-connected Malaysians who were able to put it all in context for him, the fate of the 1Malaysia Development Berhad — 1MDB — was sealed. In choosing to become a whistleblower, Justo set off a train of events that was to have untold repercussions not only for the individuals implicated and for Malaysia, but for himself and his family, too.
As Laura Justo writes, Rendezvous with Injustice contains all the elements of an outlandish thriller novel: "Billions stolen from a country that badly needed the money; drugs, decadence and gangster-like behavior; twisted lawyers; the scapegoating of an innocent man; and at the center of it all, me, a young mother alone with her child and living in fear."
In his foreword, the former Prime Minister of Malaysia, Mahathir Mohamad, states: "Justo suffered while the real perpetrators walked freely along the corridors of power, unashamed and confident that their crimes would go unpunished. Justo's experience can serve as a lesson for anyone who cares about combating corruption."
Väline

Paper

Lajityypit

Biography & Memoir, Nonfiction

Tarjoaja

Laura_Justo (

Tekijä

)

Linkit