maaliskuu 2023
Erä
Giveaway Ended

:

March 27 at 06:00 pm EDT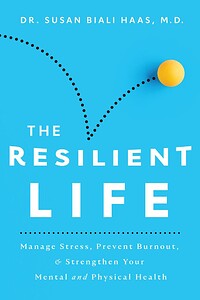 Quick Look
The world is experiencing unprecedented levels of burnout, stress, and mental health challenges. This comes with the inevitable fallout: poorer health, chronic exhaustion, strained relationships, and decreased satisfaction and performance at work. You're so tired of being stressed and tired, but how can you tell the difference between run-of-the-mill stress, burnout, and serious mental health issues like depression or anxiety? And what can you do about it?
Throughout the pages of The Resilient Life, you'll learn how to identify, address, and protect yourself from burnout; easy neuroscience-based techniques that can "rewire" your brain, reduce stress hormones, decrease anxiety, and help restore your sense of calm and control; and how to reconnect with and make time for what matters most, allowing you to reclaim meaning, purpose, and passion in your life.
Filled with easy-to-apply tips, straight-talking advice, practical wisdom, and stories from Dr. Susan Biali Haas's life (and the lives of her clients), The Resilient Life can truly help you to finally break free from overwhelm, get unstuck, and move forward with renewed clarity, energy, well-being, and purpose.
Väline

Paper

Lajityypit

Health & Wellness, Nonfiction

Tarjoaja

Beaufort Books (

Kustantaja

)

Linkit