maaliskuu 2023
Erä
Giveaway Ended

:

March 27 at 06:00 pm EDT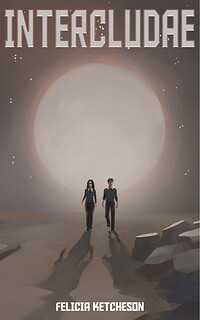 Quick Look
Ebook
In the isolated city of Lexum, following your heart's desire against the will of the collective could be deadly. But for seventeen-year-old Breel Sorep, the urge to express herself is just too tempting.
With her passion for drawing on the list of banned activities, Breel is devastated when she receives her final warning. Art offers an escape from the harsh realities of her life, but to be caught once more would have dire consequences for the rebellious teen.
If only Uncle Famut's stories of the fictional world of Intercludae were real. Then Breel could be free to express her creativity instead of being trapped in the field of computer programming—a career chosen for her as a small child.
Starting in a new role, Breel encounters Cafrec, a co-worker with striking sparkling blue eyes, who's unlike anyone the young woman has ever met. Together, the pair begin to decipher a series of clues which seem to reveal that Intercludae may not be so fictional after all.
Using her programming skills and cunning, Breel must decide how far she's willing to go to have the freedom she so desperately wants. But as Breel and Cafrec try to escape the forces of oppression, can Breel leave everything she knows and risk her own life for the faint hope of finally finding freedom?
2022 Killer Nashville Claymore Award finalist (Juvenile/YA).
Väline

Formats

MOBI, EPUB, PDF (downloadable via BookFunnel)

Delivery

I will send a download link to member's email address

Lajityypit

Science Fiction, Young Adult, Suspense & Thriller, Teen

Tarjoaja

FeliciaKetcheson (

Tekijä

)

Linkit