maaliskuu 2023
Erä
Giveaway Ended

:

March 27 at 06:00 pm EDT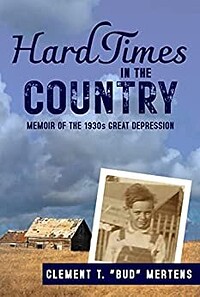 Quick Look
Ebook
A first-hand account of farm life in the 1930s
As a teenager during the Great Depression, Bud faces many hardships and family tragedies. With only an 8th grade education, he works hard to help his family put food on the table and stay together. When farmers are earning only 8 cents for a bushel of wheat, the family does whatever it takes to survive.
Supporting each other through tough times, Bud and his family demonstrate a can-do attitude and pride in what they can accomplish. The only way to get by is through their strong work ethic and frugal ways. Even after losing their home, they don't lose hope.
Bud and his brothers hunt rabbits, pigeons, and even blackbirds for food. They cut timber from their hill farm to sell as firewood and shovel snow for 15 cents an hour. Despite their own hard times, they don't hesitate to take in others who need a meal or a place to stay for the night.
Charmingly illustrated with artwork and photographs from the 1930s, Bud's story of hope in the face of desperate trials will inspire you. With the support and commitment of his family, he survives the Great Depression and matures into a self-sufficient and compassionate young man.
Väline

Formats

Kindle, MOBI, EPUB, PDF

Delivery

I will send an attached digital file to member's email address

Lajityypit

Biography & Memoir, General Nonfiction

Tarjoaja

vickilesage (

Independent Publicist

)

Linkit
joulukuu 2022
Erä
Giveaway Ended

:

December 27 at 06:00 pm EST
Quick Look
Ebook
Enjoy charming tales of yesteryear…
Take a look at life in the early 20th century through the eyes of a young boy. A natural storyteller, Bud shares tales of his childhood days in rural Missouri. The close-knit farming community where Bud lived with his parents and seven siblings stuck together and helped each other in order to survive.
Born in 1917, Bud grew up on a farm in the middle of America. He describes the old-fashioned ways of those days, including sewing clothing from flour sacks, making baseballs from balls of string, and riding horses to school. Taught the importance of hard work by his parents, Bud develops his own can-do attitude.
Despite many hardships and few luxuries, Bud grows up surrounded by love and optimism. He learns at a young age to take responsibility, respect others, and look to the future with hope. His quaint memoir has charming illustrations and artwork to complement the stories.
Bud's colorful anecdotes were originally written as a way to share the story of his life with his extended family. Now his tales of childhood in the early 1900s are available for all to enjoy.
Väline

Formats

Kindle, MOBI, EPUB, PDF

Delivery

I will send an attached digital file to member's email address

Lajityypit

Biography & Memoir, General Nonfiction

Tarjoaja

vickilesage (

Independent Publicist

)

Linkit