November 2021
Erä
Giveaway Ended

:

November 29 at 06:00 pm EST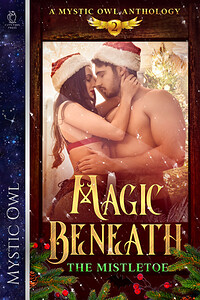 Quick Look
Ebook
Turn up the heat this holiday season with this sexy collection of gifts from your favorite City and Mystic Owl authors. Each story has been hand-curated by award-winning, bestselling, and debut authors to please lovers of romance in the science fiction and fantasy subgenres. Place it under the tree, in someone's ereader stocking, or give yourself the gift of a few stolen hours of pleasure as you sink into each winter themed happily ever after. From vampires to fairy tale retellings and everything in between, these scorching hot short stories are sure to hit the spot, curl your toes, and fill you with holiday cheer. So stoke the fire, nestle under a blanket, and slip in between the pages with your next new favorite authors.
Väline

Genre

Fiction and Literature

Tarjoaja

City Owl Press (

Kustantaja

)

Linkit
September 2020
Erä
Giveaway Ended

:

September 28 at 06:00 pm EDT
Quick Look
Ebook
Chosen of the Moon Goddess. Destined to rule. Fated to marry. A quest to save her family, kingdom, and heart. For the past five years Princess Eira has run from her impending wedding. As much as she loves her goddess and kingdom, she's searched the kingdoms for another way to rule as queen someday while also choosing her own husband. Yet, Eira's claim to the crown falls into jeopardy when her father, King Brennus, is poisoned and fated to a sleep of living death and Eira is next on the assassin's hit list – who happens to be her stepmother, Queen Amelia. After Eira escapes Queen Amelia's clutches she journeys to the northern Paravian mountains in search of an enchanted cup to save her father. Her quest is more than she anticipated with evading Queen Amelia's guards, traveling with the one man she shouldn't be with, and having to bargain with the ancient dragon guarding the enchanted cup. She'll have to decide how to save her family and kingdom, even if it means sacrificing her heart and all she's wanted her whole life. A fantastical retelling of the classic Snow White fairy tale.
Väline

Lajityypit

Fantasy, Fiction and Literature

Tarjoaja

City Owl Press (

Kustantaja

)

Linkit