maaliskuu 2023
Erä
Giveaway Ended

:

March 27 at 06:00 pm EDT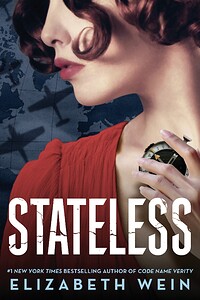 Quick Look
When a teen pilot witnesses a plane deliberately knocked out of the sky in what is supposed to be a friendly international air race, she must unravel the mystery before becoming a victim herself. A stunning new historical thriller from New York Times bestselling Elizabeth Wein.
Europe, 1937. Stella North, who has learned to fly planes as a teen, has the opportunity to participate in a race across Europe for a hefty sum of prize money. The race is billed by its eccentric organizer, Lady Frith, as the "Circuit of Nations Olympics of the Air" and is designed to promote peace and sport among Europe's young pilots; entrants must be under the age of 21. 
Europe pre-WWII is an unsettled and dangerous place: civil war is raging in Spain, Hitler is in power in Germany, Italy has embraced Fascism, and in the Soviet Union, anyone who speaks out against the government is ruthlessly imprisoned and executed. The air race is going to be an unusual propaganda event for many of the participants. Stella needs to be careful as she navigates her way across Europe's troubled skies, not least because of her own family background (her parents were murdered during the Russian Revolution, and her aunt and uncle fled to Britain with her when she was only three.)
Nevertheless, she is shocked when she witnesses one of the race's participants using his plane to ram another pilot out of the sky. Early evidence points to the sullen and enigmatic French pilot, Tony Roberts, but he also claims that his own plane has been sabotaged. As events unfold, further evidence points to Stella herself -- to outside eyes, it appears that she may be attempting to get rid of a competitor and pushing the blame onto her fellow racers. It's up to Stella to unravel the mystery before she becomes the assassin's next victim.
Väline

Paper

Lajityypit

Young Adult, Historical Fiction, Teen, Tween

Tarjoaja

Tundra Books (

Kustantaja

)

Linkit
May 2018
Erä
Giveaway Ended

:

May 28 at 06:00 pm EDT
Quick Look
Recommended for ages 12 and up. Before Verity . . . there was Julie. When fifteen-year-old Julia Beaufort-Stuart wakes up in the hospital, she knows the lazy summer break she'd imagined won't be exactly like she anticipated. And once she returns to her grandfather's estate, a bit banged up but alive, she begins to realize that her injury might not have been an accident. One of her family's employees is missing, and he disappeared on the very same day she landed in the hospital. Desperate to figure out what happened, she befriends Euan McEwen, the Scots Traveller boy who found her when she was injured, and his standoffish sister Ellen. As Julie grows closer to this family, she experiences some of the prejudices they've grown used to firsthand, a stark contrast to her own upbringing, and finds herself exploring thrilling new experiences that have nothing to do with a missing-person investigation. Her memory of that day returns to her in pieces, and when a body is discovered, her new friends are caught in the crosshairs of long-held biases about Travellers. Julie must get to the bottom of the mystery in order to keep them from being framed for the crime.
Väline

Paper

Lajityypit

Young Adult, Historical Fiction, Teen, Fiction and Literature

Tarjoaja

Penguin Teen Canada (

Kustantaja

)

Linkit