maaliskuu 2023
Erä
Giveaway Ended

:

March 27 at 06:00 pm EDT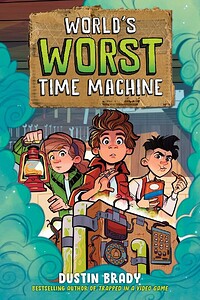 Quick Look
From best-selling author Dustin Brady comes a new illustrated novel series perfect for fans who love funny, unexpected adventures and wacky plot twists.
For kids, life can be boring, but Liam and Elsa know how to create their own fun--or so they think. After finding a $3 time machine at a garage sale, Liam uses the machine to summon Thomas Edison for help with his book report. It's not until the time machine sends a different Thomas Edison from the 1930s that chaos ensues. 
World's Worst Time Machine is the newest series from best-selling children's book author, Dustin Brady. Using his signature style, Brady's laugh-out-loud sense of humor and daring adventure will keep even the most reluctant reader wanting to turn the page. 
Väline

Paper

Lajityypit

Children's Books, Kids

Tarjoaja

TraceyMasonDaniels (

Independent Publicist

)

Linkit