All Genres

2

Fiction and Literature

2

Historical Fiction

2

Christian Fiction

1

Romance

2
maaliskuu 2023
Erä
Giveaway Ended

:

March 27 at 06:00 pm EDT
Quick Look
A surprise inheritance. A cache of family secrets. A choice that will change her life forever.
Lillian Doyle has lived her entire high-society life with her widowed mother, believing her father died long ago. But when news arrives that her estranged father only recently passed away—in jail—Lillian is startled to find that the man has left a business and all of his possessions to her, making her a rather unusual heiress.
When she goes to take possession of her father's house in a backwoods Georgia town, the dilapidated structure is already occupied by another woman who claims it was promised to her son, Jonah. In her attempts to untangle the mess, Lillian will discover not only a family she never knew she had but a family business that is more than meets the eye—and has put a target on her back.
To discover the truth and take hold of the independence she's always dreamed of, she'll have to make friends with adversaries and strangers—especially Jonah, the dusty and unrefined cowboy who has secret aspirations of his own.
Väline

Paper

Lajityypit

Christian Fiction, Romance, Historical Fiction, Fiction and Literature

Tarjoaja

Revell (

Kustantaja

)

Linkit
heinäkuu 2022
Erä
Giveaway Ended

:

July 25 at 06:00 pm EDT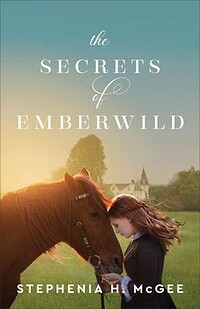 Quick Look
A gifted trainer in a time women are not allowed to race, Nora Fenton prefers horses to men. They're easier to handle, they're more reliable, and they never tell her what to do. After her father's passing, Nora is determined to save her struggling horse farm, starting with entering her prize colt into the harness races at the 1905 Mississippi Fair. If she wins, she may have a chance at independence. But when a stranger arrives and starts asking disconcerting questions, she suspects he may have other motives than unseating her in the training job that is rightfully hers.
Silas Cavallero will do whatever it takes to solve the mystery of his father's deatheven if it means training an unwieldy colt for Nora, who wants nothing more than to see him gone. But when mysterious accidents threaten their safety and circumstances shrouded in secrets begin unlocking clues to his past, Silas will have to decide if the truth is worth risking ruining everything for the feisty woman he's come to admire.
Väline

Paper

Lajityypit

Romance, Historical Fiction, Fiction and Literature

Tarjoaja

Revell (

Kustantaja

)

Linkit