All Formats

Ebook

1

Digitaalinen äänikirja

1
All Genres

2

Fantasy

1

Fiction and Literature

2

Suspense & Thriller

1

Horror

1

Mystery

1

General Fiction

1
maaliskuu 2023
Erä
Giveaway Ended

:

March 27 at 06:00 pm EDT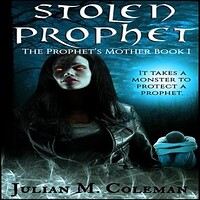 Quick Look
Will It Take a MONSTER to Find a Missing Prophet?
Satisfy your supernatural cravings with this intense and urban fantasy thriller from the author of the IAN 2016 Outstanding Paranormal/Supernatural book of the Year. Right at the beginning of The Prophet's Mother trilogy, Julian M. Coleman weaves a haunting tale of parental loss, heartbreak, and sacrifice.
Evelyn Adamson isn't ordinary. She's a demigoddess pretending an everyday life as a single parent and flower shop owner. Her nine-year-old son Victor is called "prophet" by his classmates, a nickname he hates. Somehow his paranormal ability fails when someone kidnaps him.
Distraught, Evelyn uses her suppressed paranormal powers to hunt the snow-encased city for her beloved baby boy, and then suddenly, dead bodies pile up in the morgue.
Only one person can find the stolen prophet: the logical and determined Homicide Detective, Harry Kurosawa. But first, he must believe the unexplainable, or more people will die.
Väline

Formats

Spotify Audio (downloadable via Spotify)

Delivery

I will send a download link to member's email address

Lajityypit

Fantasy, General Fiction, Mystery, Horror, Suspense & Thriller, Fiction and Literature

Tarjoaja

jmc001 (

Tekijä

)

Linkit
Legacy Member Giveaway
Erä
Giveaway Ended

:

October 8, 2021 at 09:52 am EDT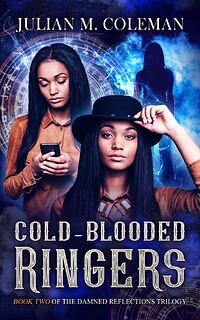 Quick Look
Ebook
Immortal identical twins, Sara and Sammy, mature into beautiful yet fierce fighters. Although they live in different centuries, they found a supernatural way of coexisting. They weren't born fighters, but the brutalities of their parallel realities made them ruthless killers. An intense and historical fantasy from the IAN 2016 Outstanding Paranormal/Supernatural Book of the Year author. From the beginning of the Damned Reflections trilogy, Julian M. Coleman weaves a harsh, paranormal saga filled with betrayals, sacrifices, and bloodshed. Samantha Montgomery turns the tables on a pair of murderers. Despite her heroics, guilt sends her to an asylum, and her once privileged life falls into a hellish nightmare. Unable to overcome the trauma she endures at the psychiatric hospital, she hides within herself until she appears to be in a vegetative state. The only person to shock Sammy out of her despair is Sara. Sara's life descends into chaos. Her beloved sister is dead, and she finds herself alone with a newborn. She tries to assimilate in a harsh mid-western town, but she's too impulsive to fit in with the population's norms. Armed with a six-shooter and a chip on her shoulder the size of Oklahoma, she quickly becomes a wanted fugitive as she racks up an impressive number of kills. Can Sara put aside her bloodlust long enough to jolt Sammy back to reality?
Väline

Genre

Fiction and Literature

Tarjoaja

jmc001 (

Tekijä

)

Linkit