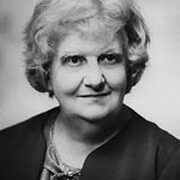 Frances A. Yates
(1899–1981)
Yleistieto
Virallinen nimi

Syntymäaika

Kuolinaika

Hautapaikka

Sukupuoli

Kansalaisuus

Syntymäpaikka

Kuolinpaikka

Asuinpaikat

Koulutus

Ammatit

Organisaatiot

Palkinnot ja kunnianosoitukset

Dame Commander, Order of the British Empire (1977)
Fellow, British Academy (1967)
Wolfson History Award (1973)
Member, Order of the British Empire (1972)
Foreign Member, Royal Netherlands Academy of Arts and Sciences (1980)
Mary Crawshaw Prize (1935) (

näytä kaikki

11)
Marion Reilly Award (1943)
Foreign Honorary Member, American Academy of Arts and Sciences (1975)
Premio Galilio Galilie (1978)
Fellow, Lady Margaret Hall, Oxford
Fellow, Warburg Institute

Lyhyt elämäkerta

Frances A. Yates received a master's degree in French theatre from London University in 1926. She taught at North London Collegiate School until 1939. A small inheritance from her father gave her the freedom to conduct some independent study and at some point she discovered forgotten documents in the London Public Records Office about the late 16th-century linguist and translator John Florio. In 1934, she published her first book, John Florio: the Life of an Italian in Shakespeare's England, which laid the groundwork for the rest of her prize-winning career as a scholar of the Renaissance. She also taught at the Warburg Institute of the University of London for many years.
Tilastot
Teokset

23

Also by

1

Jäseniä

3,926

Suosituimmuussija

#6,445

Arvio (tähdet)

4.2
Kirja-arvosteluja

55

ISBN:t

161

Kielet

12

Kuinka monen suosikki

20

Keskustelun kohteita

62