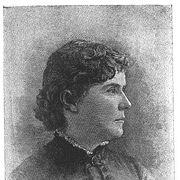 Constance Fenimore Woolson
(1840–1894)
Yleistieto
Muut nimet

Syntymäaika

Kuolinaika

Hautapaikka

Sukupuoli

Kansalaisuus

Syntymäpaikka

Kuolinpaikka

Asuinpaikat

Claremont, New Hampshire, USA
Cleveland, Ohio, USA
New York, New York, USA
St. Augustine, Florida, USA
Venice, Italy

Koulutus

Ammatit

Suhteet

Lyhyt elämäkerta

Constance Fenimore Woolson was a bestselling author of her day. Her relationship with Henry James has been the subject of speculation for biographers and novelists. She was born in the village of Claremont, New Hampshire; her mother was a niece of James Fenimore Cooper. Within a month of her birth, three of her five elder sisters died of scarlet fever. The family was left with a brooding depressiveness that haunted them all their lives. They moved to Cleveland, Ohio, where Constance attended the Cleveland Female Seminary and then a boarding school in New York. She began writing as a child but did not begin publishing until age 30, when her stories, essays, and sketches met with immediate success in major magazines of the time, including Harper's, Scribner's, and The Atlantic Monthly. Her work was marked by the realism that took hold in American literature during the second half of the 19th century. Besides depression, she suffered from early-onset deafness that was interpreted by others as coldness and contributed to her insecurity and feelings of isolation. Her most famous short story, "Miss Grief," published in Lippincott's Magazine in May 1880, demonstrated the complexities of the life of a woman writer of her time. Her first full-length story was The Old Stone House, a children's book that appeared in 1873 under the pseudonym Anne March. She published the first of several novels, Anne, in 1880. Following the death of her parents, she became financially independent and felt able to travel. In Florence, she met Henry James and they began a friendship that lasted for the next 14 years as they wandered around Europe together and separately. In 1894, at age 53, she either jumped or fell to her death from the window of an apartment overlooking the Grand Canal in Venice.

Erotteluhuomautus

Birth date note: Per the old book "A Woman of the Century", birth date is listed as 1848. Per the website "A Celebration of Women Writers", birth date is listed as 1840.
Tilastot
Teokset

32

Also by

10

Jäseniä

307

Suosituimmuussija

#76,700

Arvio (tähdet)

3.8
Kirja-arvosteluja

12

ISBN:t

168

Kielet

2