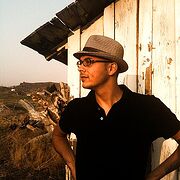 Yleistieto
Kanoninen nimi

Virallinen nimi

Syntymäaika

Sukupuoli

Kansalaisuus

Syntymäpaikka

Asuinpaikat

Koulutus

University of Tulsa (M.S. ∙ robotics ∙ M.S. ∙ Machine Learning)
Carnegie Mellon University (Ph.D. ∙ robotics)
Booker T. Washington High School

Ammatit

Palkinnot ja kunnianosoitukset

Lyhyt elämäkerta

Daniel H. Wilson, (born March 6, 1978) is a New York Times best-selling author, television host and robotics engineer. He currently resides in Portland, Oregon. His books include the award-winning humor titles How to Survive a Robot Uprising, Where's My Jetpack? and How to Build a Robot Army and the bestseller Robopocalypse.

Daniel H. Wilson was born in Tulsa, Oklahoma, the elder of two children. He is Cherokee and a citizen of the Cherokee Nation.

Wilson attended Booker T. Washington High School, graduating in 1996. He earned his B.S. in Computer Science at the University of Tulsa in 2000, spending one semester studying philosophy abroad in Melbourne, Australia at the University of Melbourne. He completed an M.S. in Robotics, another M.S. in Machine Learning, and his Ph.D. in Robotics in 2005 at the Robotics Institute at Carnegie Mellon University in Pittsburgh, Pennsylvania. His thesis work, entitled Assistive Intelligent Environments for Automatic Health Monitoring, focused on providing automatic location and activity monitoring in the home via low-cost sensors such as motion detectors and contact switches. He has worked as a research intern at Microsoft Research, the Xerox PARC, Northrop Grumman, and Intel Research Seattle.
Tilastot
Teokset

42

Also by

19

Jäseniä

5,512

Suosituimmuussija

#4,525

Arvio (tähdet)

3.8
Kirja-arvosteluja

337

ISBN:t

148

Kielet

15

Kuinka monen suosikki

1

Keskustelun kohteita

161