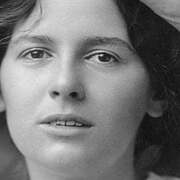 Rebecca West
(1)
(1892–1983)
Katso täsmennyssivulta muut tekijät, joiden nimi on Rebecca West.
Yleistieto
Kanoninen nimi

Virallinen nimi

Muut nimet

Syntymäaika

Kuolinaika

Hautapaikka

Sukupuoli

Kansalaisuus

Syntymäpaikka

Kuolinpaikka

Asuinpaikat

Koulutus

Ammatit

Suhteet

Organisaatiot

Palkinnot ja kunnianosoitukset

Royal Society of Literature Companion of Literature
Order of the British Empire (Commander, 1949)
Order of the British Empire (Dame Commander, 1959)
Women's Press Club Award for Journalism (1948)
Legion d'Honneur

Lyhyt elämäkerta

Rebecca West was the pen name of Cicily Isabel Andrews, née Fairfield, born in London, England (some sources say Kerry, Ireland), to an Anglo-Irish-Scottish family. She was educated in Edinburgh, Scotland but had to leave school at 16. She went to London to train as an actress, and took her pseudonym from her role in the Henrik Ibsen play Rosmersholm. She became a journalist around 1911, working first for the feminist publications Freewoman and the Clarion, in support of women's right to vote, and later contributing essays and reviews to The New Republic, The New York Herald Tribune, The Statesman, The Daily Telegraph, and many other national newspapers and magazines in the UK and USA. She was at times a foreign correspondent, and wrote social and cultural criticism, book reviews, travel writing, fiction, and nonfiction. In 1918, she published her first novel, The Return of the Soldier. Other works included The Judge (1922), Harriet Hume (1929), The Thinking Reed (1936), The Fountain Overflows (1957), and The Birds Fall Down (1966). After visiting Yugoslavia and the Balkans in 1937, she published the two-volume Black Lamb and Grey Falcon (1942). Her reports on the Nuremberg trials following World War II were collected in A Train of Powder (1955). West was created a Dame Commander of the Order of the British Empire in 1959. She had a 10-year liaison with H.G. Wells that began in 1913 and produced a son, Anthony West. At age 37, in 1930, she married Henry Maxwell Andrews, a banker.
Tilastot
Teokset

50

Also by

29

Jäseniä

7,666

Suosituimmuussija

#3,182

Arvio (tähdet)

3.8
Kirja-arvosteluja

186

ISBN:t

326

Kielet

9

Kuinka monen suosikki

30

Lisätietoja

2

Keskustelun kohteita

983