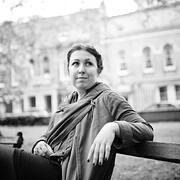 Yleistieto
Syntymäaika

Sukupuoli

Kansalaisuus

Syntymäpaikka

Asuinpaikat

Koulutus

Ammatit

Agentti

Lyhyt elämäkerta

Ruth Ware (born 1977), alias for Ruth Warburton, is a British psychological crime thriller author. Her novels include In a Dark, Dark Wood (2015), The Woman in Cabin 10 (2016), The Lying Game (2017) and The Death of Mrs Westaway (2018). Both In a Dark, Dark Wood and The Woman in Cabin 10 were on the U.K.'s Sunday Times and The New York Times top ten bestseller lists. She is represented by Eve White of the Eve White Literary Agency. She switched to Ruth Ware to distinguish her crime novels from the young adult fantasy novels published under her name, Ruth Warburton.

Ruth Ware was born in 1977 and grew up in Lewes. She studied English at Manchester University, where she developed a fascination with Old English and Middle English texts.

Before her writing career, Ware worked as a waitress, a bookseller and a publicist. She also spent time in Paris, teaching English as a foreign language.

Ware now lives near Brighton.
Tilastot
Teokset

18

Also by

3

Jäseniä

21,497

Suosituimmuussija

#1,004

Arvio (tähdet)

3.6
Kirja-arvosteluja

1,122

ISBN:t

350

Kielet

17

Kuinka monen suosikki

11

Keskustelun kohteita

191