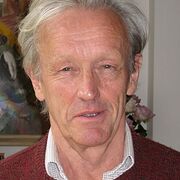 Yleistieto
Virallinen nimi

Syntymäaika

Sukupuoli

Kansalaisuus

Syntymäpaikka

Asuinpaikat

Koulutus

Ammatit

Suhteet

Organisaatiot

Palkinnot ja kunnianosoitukset

Order of the British Empire (Commander, 2006)
Royal Scottish Geographical Society Mungo Park Medal (2000)
Royal Society for Asian Affairs Lawrence of Arabia Medal (2001)
Fellow, Royal Society of Literature (1969)

Lyhyt elämäkerta

Colin Thubron was born in London on 14 June 1939. Educated at Eton College, he worked briefly for the publishers Hutchinson and as a freelance television film-maker in Turkey, Japan and Morocco. His first book, Mirror to Damascus, was published in 1967. He continued to write about the Middle East in The Hills of Adonis: A Quest in Lebanon (1968) and Jerusalem (1969).

Among the Russians (1983) describes a journey he made by car through western Russia during the Brezhnev era. Behind the Wall: A Journey through China (1987) won both the Hawthornden Prize and the Thomas Cook Travel Book Award. The Lost Heart of Asia (1994) narrates his travels through the newly-independent central Asian republics, exploring the effects of the collapse of the Soviet Union on the region. He returned to Russia for his most recent travel narrative, In Siberia (1999).
A Fellow of the Royal Society of Literature since 1969, Colin Thubron is a regular contributor and reviewer for magazines and newspapers including The Times, the Times Literary Supplement and The Spectator. He lives in London. His latest travel books are Shadows of the Silk Road (2006), an account of his 7,000-mile journey along the route of the Silk Road; and To a Mountain in Tibet (2011), about his pilgrimage to sacred Mount Kailas.
Tilastot
Teokset

34

Also by

13

Jäseniä

6,090

Suosituimmuussija

#4,045

Arvio (tähdet)

3.8
Kirja-arvosteluja

105

ISBN:t

308

Kielet

11

Kuinka monen suosikki

15

Keskustelun kohteita

172