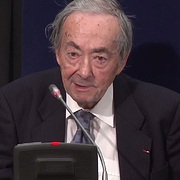 George Steiner
(1)
(1929–2020)
Katso täsmennyssivulta muut tekijät, joiden nimi on George Steiner.
Yleistieto
Virallinen nimi

Muut nimet

Syntymäaika

Kuolinaika

Sukupuoli

Kansalaisuus

Syntymäpaikka

Kuolinpaikka

Koulutus

Lycée Français de New York
University of Chicago (BA|1948)
Harvard University (MA|1950)
University of Oxford (Balliol College)
Lycée Janson-de-Sailly, Paris, France

Ammatit

Suhteet

Organisaatiot

University of Oxford
Harvard University
University of Geneva
University of Cambridge (Churchill College)
The Economist

Palkinnot ja kunnianosoitukset

Premio Príncipe de Asturias (Communications and Humanities, 2001)
Chevalier de la Légion d'Honneur (1984)
Fellow, British Academy (1998)
Zabel Award (1970)
Truman Capote Lifetime Award for Literature (1999)
King Albert Medal (

näytä kaikki

9)
Rhodes Scholar (1955)
Guggenheim Fellowship (1971)
Bell Prize (1950)

Lyhyt elämäkerta

Son of Dr Frederick George and Mrs Else Steiner, George Steiner was raised trilingually, in German, English and French. His first formal education took place at the Lycée Janson-de-Sailly in Paris and then at the Lycée Français de New York after the family moved to the United States in 1940. In his Memoirs, Steiner recalled being hit by a piece of chalk in the face by a teacher at the Lycée. His field is comparative literature. His work as a critic has tended toward exploring cultural and philosophical issues, particularly having to do with translation and the nature of language and of literature. Steiner's best-known book, After Babel (1975), was an early and influential contribution to the field of translation studies.
Tilastot
Teokset

85

Also by

28

Jäseniä

6,432

Suosituimmuussija

#3,829

Arvio (tähdet)

4.0
Kirja-arvosteluja

61

ISBN:t

534

Kielet

22

Kuinka monen suosikki

20

Keskustelun kohteita

63