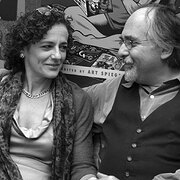 Art And Franciose Mouly Spiegelman, Editor/publishers (Raw Graphix Magazine).
Merkitty avainsanalla
ei avainsanoja
Yleistieto
There is no Common Knowledge data for this author yet. You can help.
Helper Hub
LibraryThing members improve authors by combining author names and works, separating out homonymous authors into separate identities, and more.
Tämä sivusto käyttää evästeitä palvelujen toimittamiseen, toiminnan parantamiseen, analytiikkaan ja (jos et ole kirjautunut sisään) mainostamiseen. Käyttämällä LibraryThingiä ilmaiset, että olet lukenut ja ymmärtänyt käyttöehdot ja yksityisyydensuojakäytännöt. Sivujen ja palveluiden käytön tulee olla näiden ehtojen ja käytäntöjen mukaista.