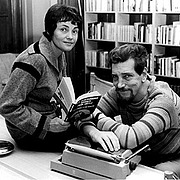 Yleistieto
Kanoninen nimi

Syntymäaika

Kuolinaika

Sukupuoli

Kansalaisuus

Syntymäpaikka

Kuolinpaikka

Kuolinsyy

Asuinpaikat

Ammatit

Suhteet

Palkinnot ja kunnianosoitukset

Agentti

Lyhyt elämäkerta

Maj Sjöwall grew up in one of the chain of hotels in Stockholm managed by her father. She was a 27-year-old journalist and art director, and a single mother with a small daughter, when she met Per Wahlöö, a prominent political journalist and former crime reporter nearly a decade her senior. They fell in love, moved in together, had two children, and talked about literature – including the possibility of writing books together. The result of their research and writing collaboration was Roseanna (1965), a detective novel featuring Martin Beck. It was the first in a series of ten novels produced over ten years. In 1971, The Laughing Policeman won an Edgar Award from the Mystery Writers of America and was adapted into a Hollywood film. Sjöwall and Wahlöö also wrote novels separately. Although they never married, their relationship lasted until his death in 1975.

Erotteluhuomautus

Do not combine this page with any of the pages that contain both Sjöwall and Wahlöö, or with Per Wahlöö's individual author page.

(See "Who Should/Shouldn't Get Combined" on the

Author wiki page

.) Thank you.
Tilastot
Teokset

56

Also by

7

Jäseniä

13,176

Suosituimmuussija

#1,771

Arvio (tähdet)

3.8
Kirja-arvosteluja

414

ISBN:t

867

Kielet

23

Kuinka monen suosikki

25