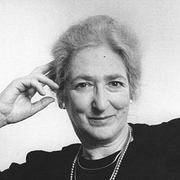 Yleistieto
Virallinen nimi

Syntymäaika

Sukupuoli

Kansalaisuus

Syntymäpaikka

Asuinpaikat

Koulutus

Ammatit

professor
novelist
translator
children's book author
Holocaust survivor
short story writer (

näytä kaikki

7)
essayist

Organisaatiot

Palkinnot ja kunnianosoitukset

American Academy of Arts and Letters Academy Award (Literature ∙ 1986)
Guggenheim Fellowship (1965-1966)
Dorothy and Lewis B. Cullman Center Fellowship

Lyhyt elämäkerta

Lore Segal, née Groszmann, was born in Vienna, Austria, to a middle-class Jewish family. Her parents were Ignatz Groszmann, a bank chief accountant, and his wife Franzi Stern, a homemaker.

After the Nazi Anschluss (annexation) of Austria in 1938, her father lost his job and was threatened. He signed up the family for the USA immigration quota. in December that year, 10-year-old Lore joined other Jewish children on the first wave of the Kindertransport mission to safety in England. Though she knew very little English when she arrived, she became conversant in six weeks.
While staying with her English foster parents, she began writing a novel she would eventually publish as Other People's Houses (1964).
On her 11th birthday, her parents arrived in England. Despite his refugee status, Lore's father was labeled an enemy alien and interned on the Isle of Man, where he suffered a series of strokes. He died a few days before World War II ended. Lore and her mother moved to London, where she won a scholarship to Bedford College of the University of London. She graduated in 1948 with an honors degree in English literature.
In 1951, after spending three years in the Dominican Republic, their American quota number finally came up and they settled in New York City. In 1961, she married David Segal, an editor at Knopf, with whom she had two children. Over the next decades, she published three widely regarded novels, Lucinella (1976), Her First American (1985), and Shakespeare's Kitchen (2007), as well as many short stories, essays, translations, and children's books, including a collection of Grimm fairy tales, The Juniper Tree (1973), illustrated by her friend Maurice Sendak. She taught writing at Columbia University, Princeton University, Bennington College, Sarah Lawrence College, the University of Illinois at Chicago, and Ohio State University. Among the many awards and honors her work has received are the Clifton Fadiman Medal, the O. Henry Prize, and a finalist for the 2008 Pulitzer Prize for Fiction. Lore and her mother appeared in the film Into the Arms of Strangers: Stories of the Kindertransport, which won the Academy Award for Documentary Feature in 2000.
Tilastot
Teokset

26

Also by

4

Jäseniä

1,870

Suosituimmuussija

#13,766

Arvio (tähdet)

3.6
Kirja-arvosteluja

46

ISBN:t

87

Kielet

6

Kuinka monen suosikki

3