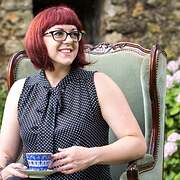 Yleistieto
Virallinen nimi

Muut nimet

Syntymäaika

Sukupuoli

Kansalaisuus

Asuinpaikat

Koulutus

Agentti

Lyhyt elämäkerta

Victoria (V. E.) Schwab (born July 7, 1987) is an American fantasy author best known for her 2013 novel Vicious, the Shades of Magic series, and for her children's and young adult fiction published under the name Victoria Schwab.

The Guardian called Vicious "a brilliant exploration of the superhero mythos and a riveting revenge thriller". It received a starred review from Publishers Weekly, which also named the novel one of its best books of 2013 for SF/Fantasy/Horror. The American Library Association's Reference and User Services Association likewise awarded it the top fantasy book in their 2014 Reading List. In late 2013 the rights for a film adaptation of Vicious were bought jointly by Story Mining & Supply Co and Ridley Scott's Scott Free Productions.

In 2014 Schwab signed a two-book deal with Tor Books. Her next novel, A Darker Shade of Magic, was published in February 2015 and also received a starred review from Publishers Weekly. "Vicious" and the Shades of Magic series are published by Tor Books. In 2017, she signed another book deal with Tor for the sequel to Vicious, Vengeful; a new trilogy set called "Threads of Power" in the same world as the Shades of Magic series; and a Blade-Runner inspired book called "Black Tabs."

In May 2018, Schwab gave the sixth annual Tolkien Lecture at Pembroke College, Oxford.
Tilastot
Teokset

98

Also by

5

Jäseniä

39,444

Suosituimmuussija

#453

Arvio (tähdet)

4.0
Kirja-arvosteluja

1,554

ISBN:t

541

Kielet

18

Kuinka monen suosikki

33

Keskustelun kohteita

211