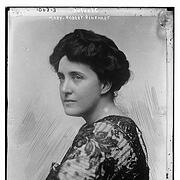 Mary Roberts Rinehart
(1876–1958)
Yleistieto
Virallinen nimi

Syntymäaika

Kuolinaika

Hautapaikka

Sukupuoli

Kansalaisuus

Syntymäpaikka

Kuolinpaikka

Asuinpaikat

Koulutus

Ammatit

Suhteet

Rinehart, Stanley Marshall, Jr. (son)
Rinehart, Alan Gillespie (son)
Rinehart, Frederick Roberts (son)

Palkinnot ja kunnianosoitukset

Honorary Doctorate (Literature | George Washington University | 1923)
Mystery Writers of America Special Award (1954)

Lyhyt elämäkerta

Mary Roberts Rinehart was a best-selling mystery writer of the "Golden Age" who was as well-known (if not better known) than Agatha Christie, to whom she's often compared. Critics praised the careful plotting of her novels. She's credited with originating the "had-I-but-known" literary school of mystery writing. Typically, the narrator digresses over the things she might have done to prevent the novel's numerous murders, had she only been able to see the dire consequences of her inaction or failure to report information to the police. Dorothy B. Hughes, crime critic and novelist, says Rinehart "has been and continues to be the most important American woman mystery writer." She was born Mary Ella Roberts in Allegheny City, Pennsylvania, which has been a part of the city of Pittsburgh since 1907. She attended public schools and graduated at the age of 16, then enrolling at the Pittsburgh Training School for Nurses at Homeopathic Hospital, where she graduated in 1896. She married Stanley Marshall Rinehart, a physician with whom she had four children. During the stock market crash of 1903, Rinehart and her husband lost their savings, and this spurred her efforts at writing to earn income. In 1907, she wrote The Circular Staircase, the novel that launched her to national fame. She wrote hundreds of short stories, poems, travelogues and special articles. Many of her books and plays were adapted for movies. Her regular contributions to the Saturday Evening Post were immensely popular and helped the magazine mold American middle-class taste and manners. She often pursued adventure, including taking a job as the first woman war correspondent at the Belgian front during World War I. While many of her books were best-sellers, critics were most appreciative of her murder mysteries. She also coined the famous phrase, "The butler did it." (retrieved from Amazon 1/30/2011).
Tilastot
Teokset

156

Also by

29

Jäseniä

7,059

Suosituimmuussija

#3,475

Arvio (tähdet)

3.5
Kirja-arvosteluja

176

ISBN:t

1,305

Kielet

13

Kuinka monen suosikki

16

Keskustelun kohteita

309