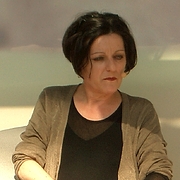 Yleistieto
Kanoninen nimi

Virallinen nimi

Muut nimet

Syntymäaika

Sukupuoli

Kansalaisuus

Syntymäpaikka

Asuinpaikat

Koulutus

Ammatit

Suhteet

Organisaatiot

Palkinnot ja kunnianosoitukset

Nobelin kirjallisuuspalkinto (2009)
Heine-Ehrengabe (2009)
Franz-Werfel-Menschenrechtspreis (2009)
Hoffmann-von-Fallersleben-Preis (2010)

Lyhyt elämäkerta

Herta Müller was born in Romania, but her family was in the German minority. She grew up speaking German and learned Romanian at school. Her father was in the Waffen SS, and her mother, at the age of 17, was deported to a Soviet labor camp in 1945 where she spent five years. Müller worked as a translator for three years, but was fired for refusing to cooperate with Ceauşescu's secret police. She worked as a teacher for a while and was a member of the Aktionsgruppe Banat, a literary society that fought for freedom of speech. Her works are fiction, but are often based on people she knew. In 1987, she and her (now ex-) husband, Richard Wagner, were allowed to emigrate to West Germany, where she lives today.
Tilastot
Teokset

71

Also by

9

Jäseniä

4,425

Suosituimmuussija

#5,662

Arvio (tähdet)

3.6
Kirja-arvosteluja

215

ISBN:t

373

Kielet

31

Kuinka monen suosikki

10