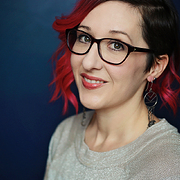 Yleistieto
Palkinnot ja kunnianosoitukset

Lyhyt elämäkerta

One bleary winter, Poppy Minnix accidentally wrote a novel—a paranormal romance she obsessively typed out in five weeks. Years later, she still barely sleeps, has nightmares of exploding biscuit cans when she does (it's a valid phobia!), and writes every waking minute.

She lives in Maryland with a husband who is far more romantic than she is and two delightful kids who kindly open the terrifying dough bombs for her. They are all kept busy by the best rescue lab-ish mongrel ever, and two cats who think they are dogs.

Along with authoring, she's also the co-host of Punch Keys Podcast, an encouraging podcast for navigating the writing world.

Her contemporary romcom series, Simona Island, kicks off November 23rd, 2021 with Holiday Hotel, a festive Christmas romp that starts with a breakup escape to a Caribbean island.

Winner of the Toronto RWA 2018 Catherine Award in the paranormal romance category with My Song's Curse, published in August of 2020. Book two arrives in 2024.