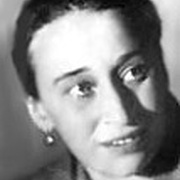 Nadezhda Mandelstam
(1899–1980)
Yleistieto
Kanoninen nimi

Virallinen nimi

Muut nimet

Syntymäaika

Kuolinaika

Hautapaikka

Sukupuoli

Kansalaisuus

Syntymäpaikka

Kuolinpaikka

Asuinpaikat

Saratov, Soviet Union
Kiev, Ukrainian SSR, Soviet Union
Moscow, Russian SFSR, Soviet Union
Cherdyn, Perm Oblast, Soviet Union
Voronezh, Soviet Union
Kalinin Region, Soviet Union (

näytä kaikki

9)
Tashkent, Uzbek SSR, Soviet Union
Cheboksar, Chuvashiya, Soviet Union
St. Petersburg, Russia

Ammatit

Suhteet

Organisaatiot

Lyhyt elämäkerta

Nadezhda Khazina, born to a Russian Jewish family, studied art as a young woman. In 1921, she married poet Osip Mandelstam. After Osip was arrested during Stalin's purges and sent to the Gulag, where he died in 1938, Nadezhda Mandelstam was forced to move about the country constantly, changing jobs, in order to avoid being arrested herself. Having made it her mission in life to preserve and publish her husband's works, she had to memorize them to keep them safe from destruction. Years after Stalin's death, she was permitted to return to Moscow. During the years of her nomadic existence, Nadezhda Mandelstam earned a college degree and taught English in various provincial towns. She originally published her memoirs in the underground press or samizdat, and they were smuggled into the West. She finally received recognition for her own writing when she was in her sixties.
Tilastot
Teokset

17

Also by

4

Jäseniä

804

Suosituimmuussija

#31,726

Arvio (tähdet)

4.2
Kirja-arvosteluja

14

ISBN:t

55

Kielet

7

Kuinka monen suosikki

4

Keskustelun kohteita

24