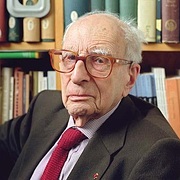 Claude Lévi-Strauss
(1908–2009)
Yleistieto
Virallinen nimi

Syntymäaika

Kuolinaika

Hautapaikka

Sukupuoli

Kansalaisuus

Maa (karttaa varten)

Syntymäpaikka

Kuolinpaikka

Kuolinsyy

Asuinpaikat

Koulutus

Ammatit

Organisaatiot

Académie française (1973)
American Academy of Arts and Letters (Foreign Honorary, Literature, 1977)
Centre national de la recherche scientifique
Musée de l'Homme
École Pratique des Hautes Études
École Libre des Hautes Études (

näytä kaikki

10)
New School for Social Research
Collège de France
University of São Paulo
French Army

Palkinnot ja kunnianosoitukset

Lyhyt elämäkerta

Claude Lévi-Strauss was born to French Jewish parents living and working in Brussels, Belgium. He grew up in Paris and attended the Lycée Janson de Sailly and the Lycée Condorcet.

He studied law and philosophy at the Sorbonne, passing the aggregation (civil service teaching exam) in philosophy in 1931. After a few years of teaching, he decided at the last minute to join a French cultural mission to Brazil as a professor of sociology at the University of São Paulo. He and his wife Dina lived and did anthropological work in Brazil from 1935 to 1939. During this time, he accompanied his wife, a trained ethnographer, on fieldwork in the Amazon rainforest. The couple returned to France in 1939 and he served briefly in the French army in World War II before taking a teaching job at a lycée in Montpellier. He was dismissed from the school under the Vichy racial laws. He fled France by boat to Martinique, and then went on to the USA. He took a position at the New School for Social Research in New York City. With Jacques Maritain, Henri Focillon, and Roman Jakobson, he was a founding member of the École Libre des Hautes Études, a kind of university-in-exile for French academics.

After a stint as a cultural attaché to the French embassy in Washington, D.C., from 1946 to 1947, Lévi-Strauss returned to Paris and received his doctorate from the Sorbonne. One of his theses was published the following year as Les Structures élémentaires de la parenté (The Elementary Structures of Kinship, 1948), which quickly came to be considered one of the most important anthropological works on the subject. Throughout the late 1940s and early 1950s, Lévi-Strauss continued to write and publish successful and influential works. He became involved with the administration of the Centre national de la recherche scientifique (CNRS) and the Musée de l'Homme before finally becoming a professor at the École Pratique des Hautes Études. He became one of France's best-known intellectuals with his book Tristes Tropiques (1955), a memoir of his years as an expatriate. In 1962, he published one of his most important works, La Pensée Sauvage (English translation, The Savage Mind). Lévi-Strauss spent the second half of the 1960s working on his masterpiece, a four-volume study called Mythologiques, which included Le Cru et le cuit (The Raw and the Cooked, 1964);
Du miel aux cendres (From Honey to Ashes, 1966);
L'Origine des manières de table (The Origin of Table Manners, 1968); and
L'Homme nu (The Naked Man, 1971). In 1973, he was elected to the Académie française, was invited to join the American Academy of Arts and Letters, and received the Erasmus Prize. France awarded him the Légion d'honneur, and Ordre national du Mérite, and he was named Commandeur des Arts et des Lettres. After his retirement, he continued to publish occasionally on art, music, philosophy, and poetry. His final book, Nous sommes tous des cannibales (We Are All Cannibals) was published posthumously in 2013.
Tilastot
Teokset

123

Also by

21

Jäseniä

8,018

Suosituimmuussija

#3,021

Arvio (tähdet)

3.7
Kirja-arvosteluja

68

ISBN:t

582

Kielet

26

Kuinka monen suosikki

13

Keskustelun kohteita

47