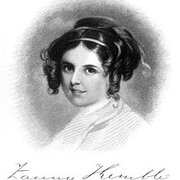 Yleistieto
Muut nimet

Syntymäaika

Kuolinaika

Hautapaikka

Sukupuoli

Kansalaisuus

Syntymäpaikka

Kuolinpaikka

Ammatit

Suhteet

Hatton, Ann Julia (aunt)
Kemble, Adelaide (sibling)
Leigh, Frances Butler (child)
Wister, Sarah Butler (child)
Wister, Owen (grandchild)

Lyhyt elämäkerta

Frances Anne "Fanny" Kemble was born into the First Family of the British theatre. Her parents were the actors Charles Kemble and his wife Maria Theresa Kemble, and Sarah Siddons was her aunt. Fanny was educated in France and made her own stage debut in 1829 at Covent Garden in London, where she was a smash hit in the role of Shakespeare's Juliet. Fanny became an icon of the British stage and achieved international stardom on her 1832 tour of the East Coast of the USA. In 1834, she married Pierce Mease Butler, an American planter and politician, and retired from her theatrical career. She then became a best-selling author when her "Journal by Frances Anne Butler" appeared in 1835. The book scandalized American readers with her frank opinions about her adopted country. In 1847, Fanny separated from her husband and returned to the stage to make a living. She had great success as a Shakespearean reader rather than acting in plays, and toured the country. She and her husband divorced in 1849; Butler kept custody of their two daughters and Fanny was not allowed to see them until they each reached age 21. Fanny was an outspoken abolitionist. She wrote "Journal of a Residence on a Georgian Plantation in 1838-1839," an account of life on her husband's plantations in the Sea Islands, with passionate commentary against slavery. It could not be published until after the start of the Civil War, for fear of Butler's reaction and alienating her daughters. Fanny continued to tour until her death in 1893 in London.
Tilastot
Teokset

26

Also by

7

Jäseniä

362

Suosituimmuussija

#66,319

Arvio (tähdet)

4.0
Kirja-arvosteluja

6

ISBN:t

51