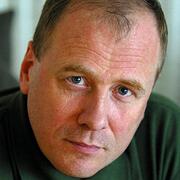 Arnaldur Indridason
Teoksen Räme tekijä
Yleistieto
Virallinen nimi

Muut nimet

Syntymäaika

Sukupuoli

Kansalaisuus

Maa (karttaa varten)

Syntymäpaikka

Asuinpaikat

Koulutus

Ammatit

Organisaatiot

Palkinnot ja kunnianosoitukset

Glasnyckeln (2002)
Glasnyckeln (2003)
Svenska Deckarakademin (2005)
Blóðdropinn (2008)
Suomen dekkariseura (2009)

Lyhyt elämäkerta

Arnaldur Indridason worked for many years as a journalist and critic before writing novels. Outside Iceland, he is best known for his crime novels featuring Erlendur and Sigurdur Oli, which are consistent bestsellers. The series has won numerous awards, including the Nordic Glass Key, and the CWA Gold Dagger for Silence of the Grave.
Tilastot
Teokset

52

Also by

4

Jäseniä

17,560

Suosituimmuussija

#1,259

Arvio (tähdet)

3.7
Kirja-arvosteluja

906

ISBN:t

1,018

Kielet

24

Kuinka monen suosikki

77

Keskustelun kohteita

911