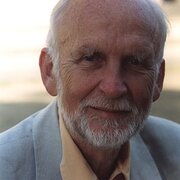 Reginald Hill
(1936–2012)
Yleistieto
Virallinen nimi

Muut nimet

Syntymäaika

Kuolinaika

Sukupuoli

Kansalaisuus

Maa (karttaa varten)

Syntymäpaikka

Kuolinpaikka

Asuinpaikat

Koulutus

Ammatit

Palkinnot ja kunnianosoitukset

Agentti

Lyhyt elämäkerta

Hill was born to a "very ordinary" working-class family—his father was a professional footballer long before sportsmen earned riches—but began reading young. His mother was a great fan of Golden-Age crime writers, and he discovered the genre while fetching her library-books. After National Service (1955–57) and studying English at St Catherine's College, Oxford University (1957–60) he worked as a teacher for many years, rising to Senior Lecturer at Doncaster College of Education. In 1980 he retired from salaried work in order to devote himself full-time to writing.
Tilastot
Teokset

81

Also by

54

Jäseniä

16,832

Suosituimmuussija

#1,334

Arvio (tähdet)

3.7
Kirja-arvosteluja

413

ISBN:t

996

Kielet

12

Kuinka monen suosikki

83

Lisätietoja

2

Keskustelun kohteita

446