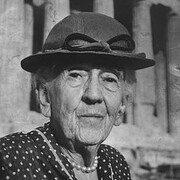 Edith Hamilton
(1)
(1867–1963)
Katso täsmennyssivulta muut tekijät, joiden nimi on Edith Hamilton.
Yleistieto
Kanoninen nimi

Syntymäaika

Kuolinaika

Hautapaikka

Sukupuoli

Kansalaisuus

Syntymäpaikka

Kuolinpaikka

Asuinpaikat

Koulutus

Ammatit

Suhteet

Reid, Doris Fielding (companion)
Hamilton, Alice (sister)
Hamilton, Margaret (sister)
Hamilton, Norah (sister)
Hamilton, Arthur (brother)
Reid, Dorian F. (son)

Organisaatiot

Palkinnot ja kunnianosoitukset

National Institute of Arts and Letters (1955)
American Academy of Arts and Letters (1957)
National Achievement Award (1951)
Golden Cross of the Order of Benefaction (1957)

Lyhyt elämäkerta

Edith Hamilton was born in Dresden, Saxony (present-day Germany) to American parents. She grew up on an estate in Fort Wayne, Indiana, the eldest of five children in an intellectual family. Her father taught her Latin at the age of seven and Greek at eight, and she became an avid reader of Greek and Roman literature. She graduated from Bryn Mawr College with a master's degree in classics in 1894, and with her sister Alice, spent a year at the University of Leipzig and the University of Munich. In 1896, they returned to the USA, and Edith began her career as an educator. She was named headmistress of the new Bryn Mawr School, a private college preparatory school for girls in Baltimore, Maryland. She remained in that position for 26 years. In 1922, she retired to devote herself to her classical studies and writing. This began her second career as author, the one for which she is best known today. Miss Hamilton was 62 years old when her first book, The Greek Way, was published in 1930. It was an immediate success, and was followed by further books such as The Roman Way (1932), Mythology (1942), The Great Age of Greek Literature (1943), and The Echo of Greece (1957). These writings made Miss Hamilton one of the most renowned classicists of her era. Critics acclaimed her works for their lively and engaging interpretations of ancient cultures, and the power of her writing. She was described as the classical scholar who brought the Golden Age of Greek life and thought into clear and brilliant focus.
Tilastot
Teokset

18

Also by

5

Jäseniä

18,363

Suosituimmuussija

#1,193

Arvio (tähdet)

3.9
Kirja-arvosteluja

119

ISBN:t

147

Kielet

10

Kuinka monen suosikki

1

Keskustelun kohteita

184