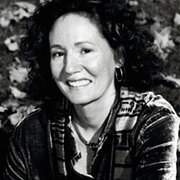 Yleistieto
Syntymäaika

Sukupuoli

Kansalaisuus

Syntymäpaikka

Asuinpaikat

Koulutus

Marymount College (English ∙ Philosophy)
Royal Holloway College ( University of London)
George Washington University
University of North Carolina, Chapel Hill (Literature)

Ammatit

Palkinnot ja kunnianosoitukset

Lyhyt elämäkerta

Patricia Gaffney was born on December 17, 1944 in Tampa, Florida, and grew up in Bethesda, Maryland, a suburb of Washington, D.C. She earned a bachelor's degree in English and philosophy from Marymount College in Tarrytown, New York, and also studied literature at Royal Holloway College of the University of London, at George Washington University, and at the University of North Carolina at Chapel Hill. After college, Gaffney taught 12th grade English for a year before becoming a freelance court reporter, a job shepursued in North Carolina, Pittsburgh, and Washington, D.C., for the next fifteen years.

Her first book, a historical romance, was published by Dorchester in 1989. Between then and 1997, she wrote 11 more romance novels (Dorchester; PenguinUSA), for which she was nominated for or won many awards.

In 1999, she went in a new direction with her hardcover fiction debut, The Saving Graces (HarperCollins). A contemporary story about four women friends, the novel explored issues of love, friendship, trust, and commitment among women. The Saving Graces enjoyed bestseller status on theNew York Times, Publishers Weekly, USA Today, and other lists. Circle of Three (2000), Flight Lessons (2002), and The Goodbye Summer (2004) followed,all national bestsellers.

Patricia Gaffney lives in southern Pennsylvania with her husband.
Tilastot
Teokset

30

Also by

5

Jäseniä

3,665

Suosituimmuussija

#6,905

Arvio (tähdet)

3.6
Kirja-arvosteluja

96

ISBN:t

229

Kielet

14

Kuinka monen suosikki

7

Keskustelun kohteita

75