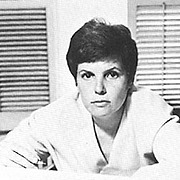 Louise Fitzhugh
(1928–1974)
Yleistieto
Syntymäaika

Kuolinaika

Sukupuoli

Kansalaisuus

Maa (karttaa varten)

Syntymäpaikka

Kuolinpaikka

Kuolinsyy

Asuinpaikat

Memphis, Tennessee, USA (Birth)
New York, New York, USA
Long Island, New York, USA
Bridgewater, Connecticut, USA
New Milford, Connecticut, USA (Death)

Koulutus

Ammatit

Palkinnot ja kunnianosoitukset

Lyhyt elämäkerta

Louise Fitzhugh was born to a wealthy and prominent family in Memphis, Tennessee. She began writing and drawing as a child. She attended Miss Hutchison's School and three different universities in the U.S., as well as a couple in Italy and France. She lived most of her adult life in New York City, where she studied at the Art Students League and Cooper Union. Louise was a successful visual artist and illustrator before becoming a children's book author, the work for which she is best remembered.
Her book Harriet the Spy, published in 1964, was a groundbreaking novel featuring a rude, inquisitive young heroine who was also extremely funny. The book was an instant hit and paved the way for other writers like Judy Blume to show contemporary children grappling with previously unmentionable problems. Harriet the Spy is a classic that is never out of print and continues to be loved by and entertain young readers.

Awards for her work included a New York Times Outstanding Books of the Year Award, an American Library Association Notable Book citation, and a New York Times Choice of Best Illustrated Books of the Year.
Louise died in 1974 at the age of 46. Her novel Nobody's Family Is Going to Change (1974) was adapted into a Tony-nominated musical called The Tap Dance Kid in 1983.
Tilastot
Teokset

14

Also by

3

Jäseniä

8,634

Suosituimmuussija

#2,787

Arvio (tähdet)

4.0
Kirja-arvosteluja

145

ISBN:t

149

Kielet

9

Kuinka monen suosikki

6