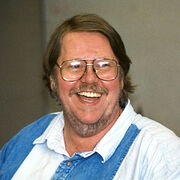 Gardner Dozois
(1947–2018)
Teoksen Rogues tekijä
Yleistieto
Virallinen nimi

Muut nimet

Syntymäaika

Kuolinaika

Sukupuoli

Kansalaisuus

Syntymäpaikka

Kuolinpaikka

Kuolinsyy

Asuinpaikat

Koulutus

Ammatit

Organisaatiot

Palkinnot ja kunnianosoitukset

SF Hall Of Fame (2011)
Locus Award Finalist (Editor, 2017)
Locus Award (Editor, 2019)
Hugo (Best Editor - Short Form, 2019)

Agentti

Erotteluhuomautus

Dozois' popular series The Year's Best Science Fiction has been reprinted as Best New SF and The Mammoth Book of Best New SF in the UK with different numbers than the US series. Some of the US volumes have never been reprinted in the UK. Some volumes have been reprinted in Australia under the names The Giant Book of Fantastic SF and The Giant Book of Modern SF (and possibly others).
Dozois' Best Science Fiction Stories of the Year is an unrelated series.
Tilastot
Teokset

581

Also by

85

Jäseniä

31,289

Suosituimmuussija

#630

Arvio (tähdet)

3.7
Kirja-arvosteluja

564

ISBN:t

605

Kielet

13

Kuinka monen suosikki

7