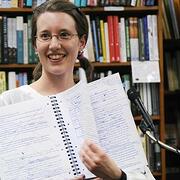 Yleistieto
Syntymäaika

Sukupuoli

Kansalaisuus

Asuinpaikat

Koulutus

Ammatit

Agentti

Lyhyt elämäkerta

Kristin Cashore grew up in a rural area of the northeast Pennsylvania, as the second of four daughters. During her childhood she read constantly. She received a bachelor's degree from Williams College and a master's from the Center for the Study of Children's Literature at Simmons College, where she worked with Liza Ketchum and was named a Virginia Haviland Scholar. She has worked as a dog runner, a packer in a candy factory, an editorial assistant, and a legal assistant. She is a freelance educational writer who writes content for textbooks and teacher editions, as well as book reviews for The Horn Book Guide and other publications. Since 2008 she also wrote fantasy novels for Young Adults.

She has lived in Pennsylvania, Florida, Sydney, Boston, Cambridge, Austin, Italy and even London before settling, for the moment, in Massachusetts.

Erotteluhuomautus

Kristin Cashore has been writing in-house type educational publications for several years; those nonfiction early readers in topics such as history, politics and biology are written by the SAME Kristin Cashore who authored (novels) Graceling and Fire. Please do not split the author!
Tilastot
Teokset

63

Jäseniä

21,442

Suosituimmuussija

#1,009

Arvio (tähdet)

4.1
Kirja-arvosteluja

1,134

ISBN:t

283

Kielet

18

Kuinka monen suosikki

110

Keskustelun kohteita

916