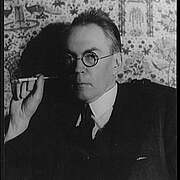 James Branch Cabell
(1879–1958)
Yleistieto
Muut nimet

Cabell, Branch
Washington, Burwell (pseudonym)
Jefferson, Henry Lee (pseudonym)
Anderson, Claiborne Hauks (pseudonym)

Syntymäaika

Kuolinaika

Hautapaikka

Sukupuoli

Kansalaisuus

Syntymäpaikka

Kuolinpaikka

Asuinpaikat

Richmond, Virginia, USA
New York, New York, USA
St. Augustine, Florida, USA
Williamsburg, Virginia, USA

Koulutus

Ammatit

Suhteet

Glasgow, Ellen (friend)
Cabell, Margaret Freeman (wife)
Munford, Beverley Bland (uncle)
Tompkins, Ellen Wilkins (cousin)
Harrison, Henry Sydnor (cousin)
Rives, Amelie (cousin) (

näytä kaikki

12)
Cabell, James Alston (cousin)
Cabell, Isa Carrington (cousin)
Harrison, Norvell (cousin)
Christian, W. E. (cousin)
Bouve, Pauline Carrington (cousin)
Bowie, Walter Russell (cousin)

Palkinnot ja kunnianosoitukset

Lyhyt elämäkerta

Cabell, Branch - (James Branch Cabell)kăˈbəl, 1879–1958, American novelist, b. Richmond, Va., grad. William and Mary, 1898. "As a mnemonic for the pronunciation of his name, he wrote: 'Tell the rabble / My name is Cabell.' (2004, F Brett Cox, editor)" After various experiences as a journalist and as a clerk for a coal mining company he began writing fiction. His early works, which are sophisticated novels deriding conventional history, include Gallantry (1907), Chivalry (1909), and The Rivet in Grandfather's Neck (1915). Many of Cabell's most popular novels are set in the imaginary medieval kingdom of Poictesme; among these are The Cream of the Jest (1917), Jurgen (1919)—Cabell's most famous work because of its attempted suppression on charges of obscenity—and The Silver Stallion (1926). Cabell's novels are usually pointedly antirealistic, and many of them can be considered moral allegories. Although he was enormously popular in the 1920s, his highly artifical prose style and subject matter lost favor with critics and public alike by the 1930s. His nonfiction writing includes Beyond Life (1919), The St. Johns (with A. J. Hanna, 1943), and Let Me Lie (1947).
Tilastot
Teokset

233

Also by

104

Jäseniä

5,042

Suosituimmuussija

#4,960

Arvio (tähdet)

3.7
Kirja-arvosteluja

104

ISBN:t

469

Kielet

12

Kuinka monen suosikki

37

Lisätietoja

10

Keskustelun kohteita

175