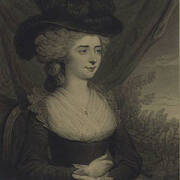 Fanny Burney
(1752–1840)
Teoksen Evelina tekijä
Yleistieto
Kanoninen nimi

Virallinen nimi

Muut nimet

Syntymäaika

Kuolinaika

Hautapaikka

Sukupuoli

Kansalaisuus

Syntymäpaikka

Kuolinpaikka

Asuinpaikat

King's Lynn, Norfolk, England, UK
London, England, UK
Leicester, Leicestershire, England, UK
Paris, France
Bath, Somerset, England, UK

Koulutus

Ammatit

Suhteet

Burney, Charles (father)
Burney, James (brother)
Burney, Sarah Harriet (half-sister)
Maitland, Julia Charlotte (great-niece)

Organisaatiot

Lyhyt elämäkerta

Frances "Fanny" Burney was the daughter of a well-known musicologist. She basically educated herself at home by her reading, and began writing at age 10. Her home in London was a center for musical gatherings attended and performed by elite English and European artists and musicians, and Fanny observed and moved easily among these personalities. She became an extremely popular and bestselling author whose works were admired by Samuel Johnson, Hester Thrale, Richard Brinsley Sheridan, and many other literary lights. Her first novel Evelina (1778), proved to be her greatest success and is still read today. In 1786, she was given a post at Court serving Queen Charlotte. She met and married a French exile, General Alexandre d'Arblay, and went with him to France, where she lived for 10 years. She's sometimes referred to as Madame d'Arblay. After her husband's death in 1818, she returned to London. An edition of her journals and letters in eight volumes was published in 1972–1980.

Erotteluhuomautus

Do not combine her with her niece and namesake Frances Burney (1776–1828), a governess known to have written one work, Tragic Dramas (1818).
Tilastot
Teokset

80

Also by

6

Jäseniä

4,871

Suosituimmuussija

#5,160

Arvio (tähdet)

3.8
Kirja-arvosteluja

73

ISBN:t

303

Kielet

4

Kuinka monen suosikki

35

Keskustelun kohteita

342