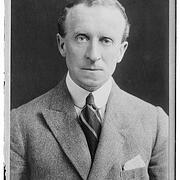 John Buchan
(1)
(1875–1940)
Katso täsmennyssivulta muut tekijät, joiden nimi on John Buchan.
Yleistieto
Muut nimet

Syntymäaika

Kuolinaika

Hautapaikka

Sukupuoli

Kansalaisuus

Maa (karttaa varten)

Syntymäpaikka

Kuolinpaikka

Asuinpaikat

Perth, Tayside, Scotland, UK
Fife, Scotland, UK
South Africa
Oxford, England, UK
London, England, UK
Ottawa, Ontario, Canada (

näytä kaikki

7)
Montréal, Québec, Canada

Koulutus

Ammatit

writer
journalist
military officer
politician
MP (Scottish Universities)
governor-general (Canada) (

näytä kaikki

8)
chancellor (Edinburgh University)
diplomat

Suhteet

Buchan, Anna (sister)
Buchan, Susan Grosvenor (wife)
Buchan, James (grandson)
Buchan, John Norman Stuart (son)
Buchan, William James de l'Aigle (son)
Buchan, Ursula (granddaughter)

Organisaatiot

Palkinnot ja kunnianosoitukset

Privy Counsel of the United Kingdom (1937)
Order of Saint Michael and Saint George (Knight Grand Cross) (1935)
Knight Grand Cross of the Royal Victorian Order (1939)
Order of the Companions of Honour (1932)
Hereditary Peerage (1935)
Deputy Lieutenant (

näytä kaikki

9)
James Tait Black Memorial Prize (1928)
Newdigate Prize (1898)
Stanhope Prize (1897)

Lyhyt elämäkerta

Buchan was the son of a Free Church minister, and grew up in Fife. He read classics at Glasgow University, winning a scholarship that enabled him to continue his studies at Oxford.

After graduating, he went to South Africa in the aftermath of the Boer War as aide to Alfred Milner. After an unsuccessful attempt to make his way as a lawyer, he went into publishing. In 1907, he linked himself to the English aristocracy by marrying the Duke of Westminster's cousin, Susan Grosvenor.

In the years immediately before World War I, he started to make a name for himself as a writer of adventure stories. T

During World War I he continued to write adventure stories in between propaganda work for the government and reporting the war for the Times.

After the war, Buchan settled down in a country house outside Oxford, later becoming a Unionist MP

In 1935 he was appointed Governor-General of Canada. At the time, this was an appointment that went with a peerage, so he became Baron Tweedsmuir. He died in 1940.


Tilastot
Teokset

259

Also by

68

Jäseniä

15,312

Suosituimmuussija

#1,486

Arvio (tähdet)

3.6
Kirja-arvosteluja

388

ISBN:t

1,655

Kielet

21

Kuinka monen suosikki

4

Keskustelun kohteita

817