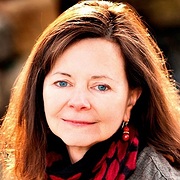 Geraldine Brooks
(1)
(1955–)
Katso täsmennyssivulta muut tekijät, joiden nimi on Geraldine Brooks.
Yleistieto
Muut nimet

Syntymäaika

Sukupuoli

Kansalaisuus

Maa (karttaa varten)

Syntymäpaikka

Asuinpaikat

Koulutus

Ammatit

Suhteet

Organisaatiot

The Wall Street Journal (Journaliste)
Sydney Morning Herald (Journaliste)
Harvard University, Sydney, Australie

Palkinnot ja kunnianosoitukset

Overseas Press Club's Hal Boyle Award
Radcliffe Institute for Advanced Study fellowship, Harvard University (2006)
Dayton Literary Peace Prize's Lifetime Achievement Award (2010)
Helmerich Award (2009)
Prix Pulitzer de la fiction (2006)
Officier de l'Ordre de l'Australia (2016) (

näytä kaikki

7)
Université de Sydney (Doctorat honoris causa)

Agentti

Lyhyt elämäkerta

Geraldine Brooks (born 14 September 1955) is an Australian-American journalist and novelist whose 2005 novel March won the Pulitzer Prize for Fiction.

A native of Sydney, Geraldine Brooks grew up in its inner-west suburb of Ashfield. Her father, Lawrie Brooks, was an American big-band singer who was stranded in Adelaide on a tour of Australia when his manager absconded with the band's pay; he decided to remain in Australia, and became a newspaper sub-editor; her mother Gloria, from Boorowa, was a public relations officer with radio station 2GB in Sydney. She attended Bethlehem College, a secondary school for girls, and the University of Sydney. Following graduation, she was a rookie reporter for The Sydney Morning Herald and, after winning a Greg Shackleton Memorial Scholarship, moved to the United States, completing a master's degree at New York City's Columbia University Graduate School of Journalism in 1983. The following year, in the Southern France artisan village of Tourrettes-sur-Loup, she married American journalist Tony Horwitz and converted to Judaism.

As a foreign correspondent for The Wall Street Journal, she covered crises in Africa, the Balkans, and the Middle East, with the stories from the Persian Gulf which she and her husband reported in 1990, receiving the Overseas Press Club's Hal Boyle Award for "Best Newspaper or Wire Service Reporting from Abroad". In 2006, she was awarded a fellowship at Harvard University's Radcliffe Institute for Advanced Study.

Brooks's first book, Nine Parts of Desire (1994), based on her experiences among Muslim women in the Middle East, was an international bestseller, translated into 17 languages. Foreign Correspondence (1997), which won the Nita Kibble Literary Award for women's writing, was a memoir and travel adventure about a childhood enriched by penpals from around the world, and her adult quest to find them.

Her first novel, Year of Wonders, published in 2001, became an international bestseller. Set in 1666, the story depicts a young woman's battle to save fellow villagers as well as her own soul when the bubonic plague suddenly strikes her small Derbyshire village of Eyam.
Tilastot
Teokset

13

Also by

8

Jäseniä

33,862

Suosituimmuussija

#565

Arvio (tähdet)

3.9
Kirja-arvosteluja

1,576

ISBN:t

353

Kielet

20

Kuinka monen suosikki

130